For a band, getting to play Warped Tour can take them almost a lifetime. For Night Argent, it only took them about a year.
Since winning the 2015 Ernie Ball Battle of the Bands, simultaneously earning them a slot on Warped Tour, Night Argent has been getting bigger and bigger. They released their debut EP, Night Argent, last month, and everyone is going crazy for it; it's definitely worth a listen. It's surprising that they've only been together for just a short amount of time, 2 and a half years, and they're only just getting started.
"We started playing together 2 and a half, about three years ago with a different band. Just a few of us and the remaining members, and it got to a point where we wanted to change things up and start at a fresh foot," said Chase Manhattan, lead vocalist for the band.
After writing their first song, "Nothing More Beautiful," which became the lead single off their EP, everything changed for them.
"We didn't want to rush any music out. We wanted to make sure it represented who we were as a band, and it gave us a good starting point," he said.
The band, which started off in Tri-cities, Washington, didn't start off until later in their lives. Despite being from the same town and all attending the same high school, the band members didn't meet until much later. Manhattan and Shane Santanna, the band's keyboardist, have been playing together the longest.
"We have been doing music together since we were in middle school and have been friends for a long time. We moved to LA together to pursue music," he continued.
Chase soon moved back to the Tri-cities to start a new band with Jeff Stachofsky, the band's guitarist, and Evan Taylor, the band's bassist. Together they started a new project, one which would later evolve to become Night Argent. Chase contacted Shane, telling him about the new project in hopes that he would join them.
"He had a job there, he had a career going, and music had always been his passion. So as soon as he heard that, as soon as he heard we had something solid, he dropped everything and came back," Chase explains.
The band wasn't complete yet, however, as it was still missing a drummer. Chase was soon contacted by Zac Burrell through his studio. After talking with him for about four hours about music and life, Zac, who previously told Chase that he was a guitar player, revealed that his first instrument was the drums. The rest was history for the band.
"And in my head, a light bulb went off and it was like the universe had placed him like fate," Chase said.
The Tri-cities not only gave the band a place to grow, but also to find their passion. High school teachers supported them along the way, both as individuals and as part of any projects they had at the time.
"We all attribute our love for music and wanting to pursue it as a career back to high school and both choir and band teachers who encouraged us to approach music not just an elective but as a way to express ourselves and to put something out into the world," he said.
Warped gave them a chance to see other places and view other parts of the country, but it didn't come without its challenges.
"It was our first major tour as a band, and we didn't have the funding to hire huge crews. So it was us, our buddies, and a camper. We'd haul all our gear, the mile or two to the stage area to set up and we had a lot of gear so we would have 8-12 hour days that were just constant work. And it was so much fun; it was the most fun we had, while kind of killing ourselves physically," he explained.
Night Argent's style was also different from those traditionally seen at Warped Tour. With bands like Breathe Carolina, New Found Glory, and A Day to Remember constantly touring with them year after year, it made sense for the band to have reservations with the tour. However, Chase states that the tour opened up his eyes to a different view of Warped and what it is.
"The biggest thing we learned is that the kids who go to Warped Tour aren't there because they just like one style of music, they're there because Warped tour is a place where people who love music come together to enjoy it," he said.
Warped was not the only place that Night Argent got to play with big bands. They also toured with Imagine Dragons, Andy Gramer, and X Ambassadors, all before they had their big break something that Chase says inspires them to continue to tour and promote their music.
"It gives us hope seeing these bands that are super down to earth that are kind of on the same path that we're on making it big. We just saw them as another independent band, because they were at the time, on the verge of making this a lifelong career. And then out of nowhere they just exploded which was so cool for us to see and to have the experience of playing with them," he said.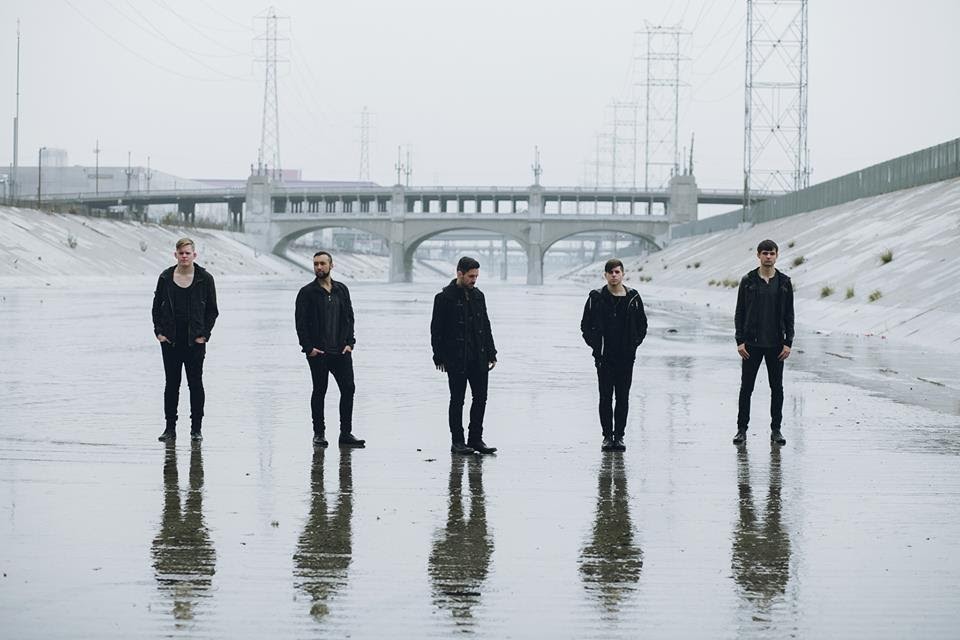 Courtesy of Night Argent
While on tour and whenever they had off, the band would work on new material that would soon be part of the EP. Using tours and live events as ways to get different opinions on their songs and trying new things.
"A lot of the parts that ended up on the EP are parts that happened spontaneously on stage while you're in the zone and feeling that energy... We started recording the EP before we started touring heavily with the songs, and we ended up going back and rerecording it because we found this new energy after playing them for fans and seeing the response because it really helps bring the songs to life," he stated.
One of their most popular songs on tour was "Widowmaker," their latest single from their EP. The song, which is slightly different and much edgier than their other tracks, shows the band's ability to take on different areas in rock while still maintaining their unique sound.
"'Widowmaker' has definitely been the song that, live, really draws people in and just really hypes them up. 'Widowmaker' was a way to show our edge a little bit more, show the heavy side of the music. So the reaction that we got from the fans, cause we got a lot of people asking about it we wanted to kind of listen to them and give them what they had asked for," Chase explained.
"Widowmaker" is their second single off the album, which the band just finished shooting the music video for. 
In this exclusive behind the scenes look, fans can see all the work that it took to make the video, all done by the band themselves.
"Nothing More Beautiful," the first single, was also the band's first time ever shooting a music video, something that Chase viewed as a challenge but that allowed them to be free to do whatever they
wanted.
"That's the nice thing about doing it yourself. At times, you're wondering 'well we don't know what we're doing.' We know what we want but we don't know how we're going to achieve it," he said.
The video, which features a fireworks scene that just has to be viewed by everyone, was something that Chase and the others hoped worked in order to make their ideas comes to life.
"We did research on pyrotechnics, how to wire it all up, and it was one of those things that none of us had previous expeience and so we just kind of crossed our fingers during our first shoot as we were standing there in this frozen lake, knee-deep in this ice water, while the dancers were on this platform. We were just crossing our fingers that everything works, and I will never forget that moment where we hit record, lit the fuse, and everything worked. Fireworks went off. Dancers started dancing. It was an incredible feeling seeing it all come together just the 5 of us putting our minds together and seeing what we could accomplish," he said.
Night Argent is also not limiting their creative freedom to just their videos. At their EP release show, the band premiered their songs with lighting behind them that they programmed themselves. You can check out their live version of "Towers" in an exclusive video below!
The band is currently getting ready to go on tour on the West Coast and will later be in the studio recording more music for their first official album.
"We are going into the studio with John Feldman this year who is currently in the studio with Blink-182 right now. A few of us I know grew up listening to Blink-182 so having them come back to do a record was cool enough on its own but knowing that we're going to be able to work with the same producer shortly after is amazing. The idea that hopefully some of what they are able to accomplish bleeds into our stuff cause your music is a combination of all the influences you've had over your life so we're happy to have those different influences in our music and we're really excited to get this EP finished," he said.
Afterwards, they'll be doing what they do best, playing and making more music for the world to hear.
"It's not just about the shows it's about going on the road, meeting people, the experiences we have together as a band and how it influences our music moving forward so no matter what happens we're going to enjoy ourselves and do what we love and that's make music."
Keep up to date with future releases from Night Argent by following them at their website as well as on Facebook, Twitter, and YouTube.