Raving George is a Belgium-based producer and DJ who recently caught our attention with her Oscar & The Wolf-assisted single, "You're Mine". When music is this good, you simply have to get to know the artist responsible for it. Charlotte de Witte is no exception and here you have PopWrapped's exclusive interview with her.
PopWrapped: Hey Charlotte, it's great to be having this chat with you! Would you like to shortly introduce yourself to those who haven't heard of you before, to begin with?
Raving George: I'm 23 years old at the moment. When I was 17, I started being involved with underground music by going out in clubs in Ghent and I simply fell in love with the kind of music that was played there. Eventually, that triggered me to do something more with it. Nowadays, playing and making music is my full-time job and I couldn't be more grateful to be able to do this.
PW: How did you become Raving George? What's the story behind the name?
RG: I actually never expected this to become anything bigger than it was at the time. I was playing around with the music I loved, initially for myself, not to please anyone else. So picking a name was something I found a bit ridiculous. It didn't really matter to me; the music did, not the name. I did pick a masculine name on purpose. I noticed that there was a strong cliché image hanging around female DJs and I wanted people to come to my sets because of the music, not because I was a feminine DJ. That worked out at first, but after a while people started knowing there was a girl behind 'Raving George'.
PW: As an artist, how does the creative process work for you? What drives you?
RG: I am easily inspired by the most basic things: nature, human interaction, architecture, listening to other music of course, reading interviews with artists I follow… I don't really know how it is that I make music. I just sit at my desk and start looking for a particular sound. It just happens. Sometimes it takes months to make a track, sometimes it only takes a couple of hours. The hardest thing for me is to get started. To ignore all the other stuff that could be done and immediately open Logic when I wake up.
PW: Techno is obviously your thing, but there are different sides to your music. How would you describe your own sound in four word
s?
RG: Melancholic, dark, aggressive, and basic (the "less is more" principle).
PW: Are there any other music styles that you would you like to experiment with in the future?
RG: I don't really like to categorise music. If music is good, it's good. You'll never find me making happy sounding music though. I like dark music because to me, it contains much more emotion. I can see myself making any genre of music, as long as there's a melancholic touch to it. After all, what's in a name? On Beatport, my track "You're Mine" is labeled as Deep House, while to me, the vibe of the track contains much more Techno elements.
PW: "You're Mine" is such an ethereal tune, and quite different from what you've been putting out. What was the inspiration for it? 
RG: I've made some remixes before that are much lower in BPM compared to the music I play out. I really enjoy making 100 - 110 BPM tracks because they set a completely different emotional vibe. I figured that accompanying such a track with vocals could work out well. So that's what happened. I called Max (Oscar & The Wolf) whom I've been friends with for a while, asked him if he would like to sing on one of my tracks and 'You're Mine' is the result.
PW: Tell us a bit about the plot of the accompanying music video.
RG: The music video is directed by one of our friends, Tobi Jonson, and after some brainstorming, we decided it would be good to have a music video in which you could sense the feeling of obsessive love that's also present in the track itself. That obsessive type of love is represented in the music video between the different classes (marked by facial paint) and between Max and I, who are, as children of a higher society, brother and sister. It's a story about a riot, in which Max get murdered in the end by the people causing the riot.
PW: Let's say you can pick any artist to lend vocals to one of your instrumentals. Who would be your very first choice?
RG: For the moment, that would be Lera Lynn.
PW: Unfortunately, not a lot of female artists do what you do in the industry. From your point of view, why is that the case and how do you feel about it?
RG: I think that's actually starting to change. Even before I started, there already were a lot of strong, female artist representing the scene such as Maya Jane Coles, Magda, Heidi, Tini, Nina Kraviz, Miss Kittin… Those are all very respectable artists that don't abuse their femininity to climb to the top. Nowadays, I see a lot of female artists around. They're starting to become more and more appreciated and respected. If you're in it for the music, that is.
PW: What would be the biggest struggle you've experienced as a young woman in today's music industry?
RG: People, especially people who were close to me, started acting very mean and shady at the point where I got the opportunity to play the big festivals. I don't know if it was out of jealousy, it probably was, but there were negative, hateful comments all over the internet saying that I was sleeping around to get bookings, that they only booked me because they liked looking at my boobs… It took me several years to convince people that i'm in it for the music, not because I'm some sort of attention whore. I've always wanted to become "one of the guys" in this. Even now, I make sure I don't play on a gig with a big cleavage. People can be very narrow-minded sometimes.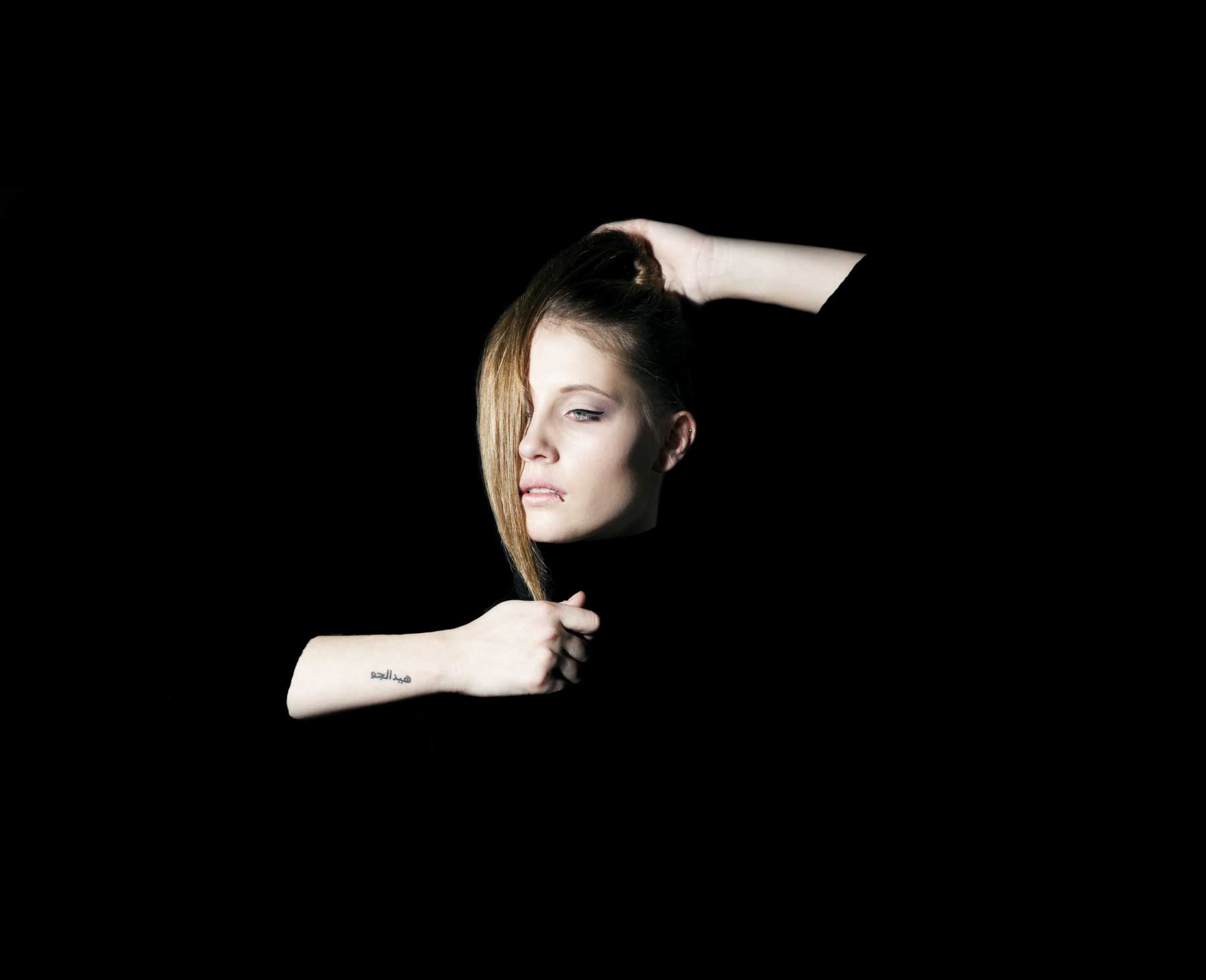 Courtesy of Marie Wynants
PW: On a more positive note, what's the best thing about being you at the moment?
RG: Nowadays, I have the feeling that people finally appreciate me for who I am and what I do. It's been years since I saw hateful comments about my sex. I think I've finally proven myself. I love what I do. Making and playing music makes me the happiest person in the world. I can see people come to my gigs and truly enjoy themselves. To experience that interaction, that energy, is the best feeling in the world.
PW: Having performed in Tomorrowland, how would you describe the experience?
RG: Playing on Tomorrowland is something else. I remember playing there last year, in front of 30,000 people. That's just insane. Even more so because I was able to play the music I love; Techno music. I didn't need to adapt in order to play in front of so many people. It is true though that it's becoming harder and harder to play underground music and please everyone. People are expecting EDM, and you could tell. But overall, the people there are so happy and appreciative of all types of music. They bring a typical kind atmosphere you could only see at Tomorrowland.
PW: Are any future live gigs scheduled for the fans to enjoy your music up close?
RG: My agenda is starting to fill up nicely! In September, I'm hosting another edition of my own concept "KNTXT" at Fuse, after which I'm heading to France for a little tour. Some other festivals and clubs shows (mainly in Belgium) have been added as well. It actually all changes quite quickly, but I'm adding all the confirmed gigs to my website and Facebook page as well, in case someone would like to stay up to date.
PW: What are your future plans in terms of new releases? More singles, a full-length album, what can we expect?
RG: There's actually a new EP coming up on Turbo Recordings, containing five techno tracks. Besides that, I also have a new vocal track finished and I'm working a lot in the studio these days, focusing on original mixes. I'd love to make an album one day. Maybe in a couple of years.
PW: And before we say goodbye, what would you like to leave us with a few notes for your fans? 
RG: To the fans: I'd like to thank you for supporting, appreciating and following me. It gives me the best feeling in the world to see you love the music I play as much as I do. There are a lot of new and excited things coming up. Let's say I'm ready to spread my wings and explore the world.
PW: Thank you for taking the time to answer my questions!
RG: You're very welcome!
There's no chance you don't want to hear more of Raving George, so don't miss anything by following her on Facebook and Twitter, while also visiting her official website, Soundcloud and Youtube pages.
Courtesy of Kurt Vandeweert