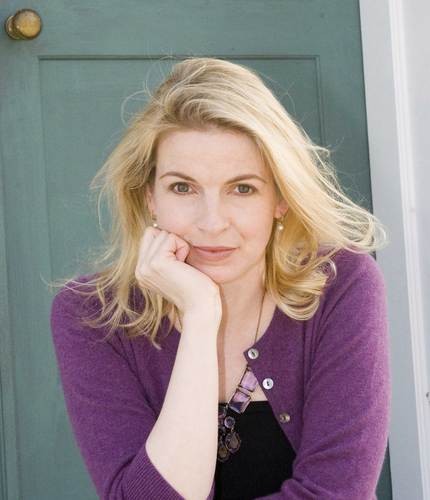 New York based author Jennifer Donnelly has entranced readers with her magical and mysterious worlds since the release of her first book in 2002.  Since then, Donnelly has taken readers on countless journeys into fantastical worlds, some imaginary and some drenched in historical intrigue.
This month, Jennifer Donnelly is releasing not one, but TWO different books for her fans!  The first is Dark Tide, the third book in her Disney-assisted Waterfire Saga, while the second is a piece of historical fiction titled These Shallow Graves.  Dark Tide hit bookshelves across the world on October 13, and fans are one step closer to an epic conclusion!
For those of you who are unfamiliar with the Donnelly's Waterfire Saga, the series tells the story of six young mermaids who are saddled with the serious task of saving the world.  These girls come from vastly different backgrounds, yet they are united by a common goal and destiny.
The saga's first book, Deep Blue, introduces readers to a sixteen-year-old, copper-haired princess by the name of Serafina, who finds herself plunged into a dark and dangerous adventure to right ancient wrongs.  It just so happens that Serafina is a direct descendant of a former ruler of Atlantis, and she is responsible for vanquishing Abbadon, the demon that destroyed the ancient city. Luckily for Sera she is joined by five other merls [mermaids] and descendants of The Six Who Ruled on the quest to vanquish Abbadon.  Armed with their friendship and some pretty impressive magical skills, Sera, Neela, Ling, Astrid, Becca and Ava head out on a journey to find ancient talismans and save the day!
The first book went on to win a Green Earth Book Award for it's messages about conserving the oceans, and Disney has some big plans for the series after the novels come to a close.  With plans for the development of a graphic novel and other spin-off deals, the Waterfire Saga is shaping up to be one of Disney's biggest new projects, and Jennifer Donnelly is directly in the center of it all!
We at PopWrapped had the opportunity to chat with Jennifer Donnelly in the days before Dark Tide's release!  As HUGE fans of the saga, you can bet that we had a lot of questions.
In our exclusive interview, Jennifer Donnelly discusses her experiences with the Waterfire Saga, special characters and what she would look like as a mermaid!  We also get some details about life on tour, advice for new writers, inspiration, and so much more!  Read on below for a solid introduction to Jennifer Donnelly and her Waterfire Saga!
PopWrapped:  The Waterfire Saga is scheduled to develop well beyond the series that you are currently writing. With so many different creative avenues being explored, this has truly become a massive collaborative project. Can you explain a bit about how everything progressed?
Jennifer Donnelly:  I'm pretty sure I owe the series to Alexander McQueen. I was casting around for a new idea, and happened to go see Savage Beauty a few years ago – a retrospective of McQueen's work at the Metropolitan Museum of Art in NYC. I was really moved by his work and drawn to the melancholy that pervaded it – particularly his collections inspired by the sea. I left the museum in a bit of a daze, certain that I wanted to write about the sea, but uncertain as to what the actual story would be. When I got home, I had a message to call my agent, Steve Malk, and I did, and he told me that Disney wanted to talk to me about a new project – one that involved mermaids and the sea. To this day, I believe that McQueen sent me a gift from his studio in the sky.
PW:  Do you think that the process changed how you think as a writer at all?
JD:  Very much so. The deadlines for this series were tighter than any I've ever had. And the books are complex, with lots of interweaving plot lines. To get them done on time, I had to learn to stop endlessly fussing with every sentence and get a (very messy) first draft down fast. Then I could go back and improve it, but it was critical to get the story down fast in order to see how the whole structure was lying on the page, and to make sure it worked both as an independent book, and as a piece of a larger series.
PW:  Speaking of Disney, coming on to this project you were undoubtedly familiar with a certain flame haired and seashell-wearing mermaid that the company had already experienced huge success with. How did you try to set the world you created in the Waterfire Saga apart from Ariel's in The Little Mermaid? Conversely, did you pull any inspiration from the movie that did help with your project's evolution?
JD:  I love Ariel, but this series is not The Little Mermaid. When Disney and I were first talking about the project, they sent over some preliminary sketches of characters. They were like no mermaid sketches I'd ever seen before and the moment I saw them, I knew I wanted to take on the story. The artists had taken their inspiration from actual sea creatures. Ling looked like a koi fish. Astrid had the coloring and form of an orca. Other experimental sketches showed creatures with an eel's body, or tentacles. Kora had the gorgeous coloration and spiky fins of a lion fish. I was captivated by the art, and excited about writing these undersea characters who very much reflected their marine environments.
PW:  With a solid base in historical fiction, ghosts have played a large role in your previous novels. After working with ghosts in the past, you have publicly expressed a desire to move on to a different topic… only to begin building a story around an ancient civilization. With such a setting it goes without saying that you have encountered a few ghosts and a vitrina (vain spirits who have been captured in a mirror) or two along this journey. How would you say these ghosts compare to those of your earlier work?
JD:  I've finally accepted that there's no getting away from the ghosts. After writing A Northern Light and Revolution, both of which were inspired by ghosts from the past, I felt wrung out and ready to leave them behind. The ghosts have other ideas, though!
The main difference between ghosts from my earlier books and the Waterfire ghosts is that ANL's ghost – Grace Brown, and Rev's ghost – Louis Charles, were real living, breathing human beings, who suffered tremendous injustice at the hands of other human beings. I have a compulsive need to tangle with ghosts such as these, to tell their stories once again, to try to come up with better endings.
PW:  The world that you and Disney have created undersea blends the life of creatures both above and below the ocean, yet it still is distinctly "other." It is hard to imagine mermaids without them being instilled with some sort of magic, and the abilities your characters have are truly impressive. How did you come up with ideas like the Bloodsong and the Merrovingia's magical abilities?
JD:  I don't know. These things just come. I try hard to get to know my characters, and their world, and once I've done that, the rest follows on. That's a waffle-y and probably unhelpful answer, but an honest one.
PW:  Mythology plays a large role in the development of your characters, especially the original Six who Ruled. How much of that is based in true mythologies of the past, and how much is of your own creation?
JD:  My merpeople's deities, their system of mourning, and their particular telling of the ruin of Atlantis are my own creation – but the idea of the lost island empire of Atlantis is one that's been around for a very long time.
PW:  Moving into the physical setting of the series, were there any real life or previously existing settings that helped you create your undersea world?
JD:  Every sea, ocean, lake, river, pond, and swamp I've ever been in or near has helped create my underwater world. The amazing creatures who live in them, or near them, have inspired the various Waterfire worlds, too. Wherever I go in the world, I need to be near the water. There's nothing I love more than hanging off a dock to watch a Lion's Mane jellyfish swim by in Scotland, or playing with hermit crabs in Nantucket, or watching whales surface off the coast of Iceland.
PW:  Do you have a favorite site that you have created in the mermish world?
JD:  One that I really love is Astrid's icy home, the Citadel, in the Arctic. But I also love Lena's house – made of things that humans have tossed away, and the river witches' underwater caves.
PW:  Concepts of conservation and the preservation of the ocean are closely interwoven into the Waterfire Saga. Even though the Merrovingia were once human, they seem both terrified and affronted by the horrors that humanity has committed against life under the waves. Did you enter the series with the goal of raising awareness about some of the errors we are committing on land?
JD:  The Merrovingia, and all mer, are indeed terrified by the crimes humanity is committing against their underwater homes. And they certainly have a right to be. The garbage lake in the Pacific, the horrific practice of finning, overfishing, sewage and fertilizer run-off – these things are destroying our marine environments. I hope very much that the Waterfire Saga will engender a deep respect for seas and freshwaters, and a deep love for the fish, animals, and birds who depend upon them, in young readers. Children may or may not engage with environmental messages, but I believe they'll connect strongly with orcas, octopuses, and even feisty little piranhas, and once they do, they'll fight to protect them.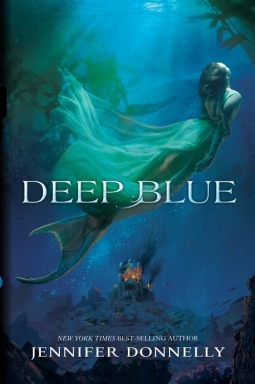 PW:  With that in mind how did it feel winning a Green Earth Award for Deep Blue?
JD:  Phenomenal. I couldn't be prouder that DEEP BLUE won a Green Earth Award. It's huge. It means a lot to me because it's different. It's not just an award to be put on a shelf and dusted from time to time, it's a directive. It's a daily reminder that our work as writers can matter. That it can make a difference. And that with the help of our young readers, we can turn the tide of devastation being inflicted on our oceans, seas, and freshwaters.
PW:  Another important element behind the Waterfire Saga is a strong cast of female characters. From beguiling and ancient sea witches, to eternally devoted queens, to the six who have inherited the duty of killing Abbadon, so many of your female characters in the Waterfire Saga display incredible strength in the face of adversity. What was it like writing about such a diverse but driven cast?
JD:  It was the best! It was so gratifying to watch each character meet both the quest, and her own personal quest. It was wonderful to watch Sera and Neela grow and develop confidence. So intriguing to discover Astrid's secret, and the deep silence in Ling's life. So moving to discover how Ava uses her blindess to immense advantage, and to learn the reason for Becca's hyper-organized nature. It was also exhausting to keep track of them all, and to do justice to each character's individual storyline!
PW:  Are there any particular characteristics that you think will help your characters succeed?
JD:  Definitely. Sera's understanding of her mother's advice to "Play the board, not the piece," when it comes to ruling will help her. Ava's ability to see inside people will be incredibly important, and Astrid's secret – the thing she's so ashamed of – will become the key to obtaining the very thing the six friends need.
PW:  Even though the world of the Merrovignia is clearly fantastical, many of the characters experience situations that could happen in real life. As teenagers (granted, teenaged royalty) Serafina and Neela both deal with bullying, pressure from their parents, matters of the heart, and many other things your typical teen would face. What is the most important lesson that you hope readers take away from the project?
JD:  That strong women and men often don't start out strong. In life, as in my fiction, a lot of us are scared, uncertain, insecure, or downright fearful about the challenges we face. Strong isn't something you are or aren't, it's something you become. Strength is built by failing. By screwing up. Getting it wrong. Falling on your face. You learn from that, and then you try again – a bit smarter, a bit stronger. We all fall down, but not all of us stay down. What makes a certain character get back up – that's what really fascinates me.
PW:  Do you think that Merrow (the first leader of the mermaids and a former ruler of Atlantis) made the right decisions for her people? Do you think think that she has any regrets about her plans for the Merrovingia?
JD:  Merrow made what she thought were the right decisions, given what she and her people had been through. If she were still alive, I think she would have regrets. If Sera is successful in taking back her realm, and defeating Abbadon, she'll have to make her own decisions to ensure the safety of her people. It's not an easy task.
PW:  Do you think that she [Merrow] would be proud of what Serafina and company have made while fighting to end Abbadon?
JD:  Extremely proud. And I think she'd agree with the decisions the six mermaids, and Sera in particular, make. (You're going to have to read the fourth and final book [Sea Spell] to find out what those decisions are!)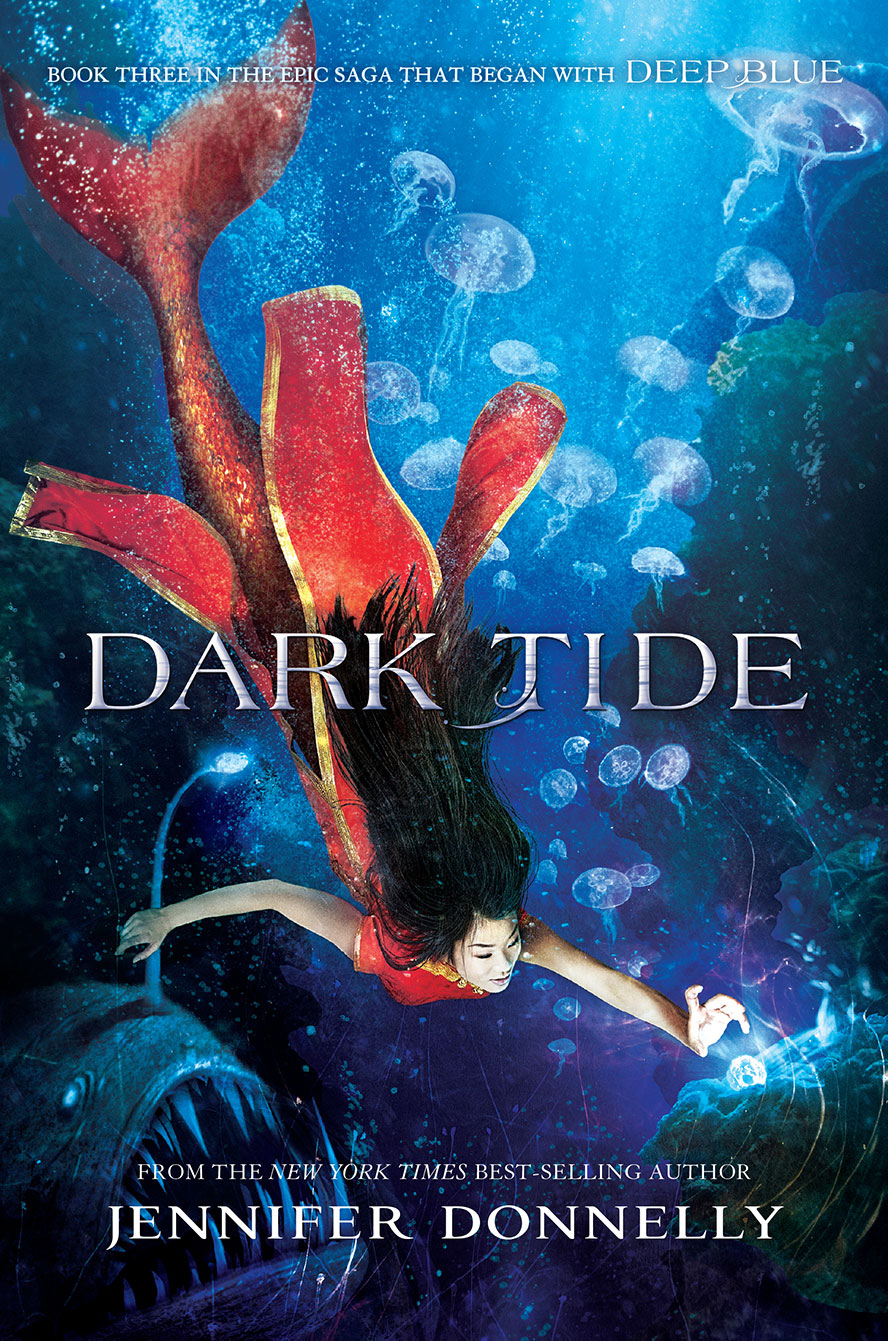 PW:  As you are moving the series into Dark Tide, the focus seems to shift away from Sera and Neela towards Ling, Ava, Astrid, and Becca. Sera and Neela are obviously preparing for war, but they have already found their talismans. What should readers expect as we move closer towards the conclusion of the series?
JD:  Readers should expect greater insight into the other four main characters: Ling, Becca, Astrid, and Ava. We get to know each individual mermaid better, and we learn some pretty big secrets. I can't tell you what they are, though – or they won't be secrets! Plus, expect another cliff-hanging ending – my favorite kind!
PW:  If you had the opportunity to speak to any character from the Waterfire Saga who would it be and why?
JD:  That's such a hard question! Probably Baba Vraja. She's wise and tough. She really intrigues me, and I'd love to learn from her. And I love her very distinctive rings! [Author's Note: I think we may have just gotten a little hint of something here possibly!]
PW:  If you were a merl, in what kingdom would you make your home?
JD:  Maybe in Ondalina, because I love the idea of an ice realm, or maybe in a river – just like Lena. I'd have a really unusual home built out of found objects, and too many dogfish!
PW:  Is there one of the six (either the Six who Ruled or the current Six) that you most associate with? What about them do you connect with?
JD:  I connect pretty strongly with Astrid – the difficult, blunt, kinda rude one! Probably because she likes to ride, and so do I. And she loves orcas, and so do I. And we both love northern landscapes – or rather, seascapes!
PW:  Every mermaid's appearance draws parallels from a real life sea creature. If you were to imagine yourself as a mermaid is there a specific creature or concept that you would like your look to be inspired by?
JD:  A sailfish mermaid look would be supercool. That blue color and that amazing fin – awesome!
PW:  No mermaid seems entirely complete without a fellow sea creature as a partner in crime or pet. Ariel obviously had Flounder, Serafina has Sylvestre, and we can never forget Ava's seeing-eye piranha Baby. Is there a sea creature that you would most like to befriend?
JD:  I would love to have a pet seal.
PW:  What made you decide on four novels instead of six to finish the series?
JD:  Well…we started out with the idea of a three-book series, but that first one went a bit long, so we made it into two, and then needed two more for a total of four to finish the series. I personally think six would have been too long. I love how the pacing's worked across four books.
PW:  With the release of These Shallow Graves and Dark Tide so close, you must have worked on the two somewhat simultaneously. Was it difficult to switch between the two worlds?
JD:  I worked on TSG and all four of the Waterfire books simultaneously and it wasn't easy. The deadline pressure was pretty intense, but no, it wasn't hard to switch worlds. In fact it was nice to take a break from the historical world, and ahem…dive into the fantasy realm, and vice versa.
PW:  What would be the most important piece of advice that you would share with aspiring writers?
JD:  To never, ever give up. Writing is hard. Getting published is hard. No one can guarantee that you'll ever get published – but one person can guarantee that you won't – and that's you…if you give up. So don't.
PW:  What is your favorite thing about hitting the road for a book tour?
JD:  I love talking to readers about my books, and other people's books, and writing. It's nice to go out and make some real friends, after spending so much time with my imaginary ones!
PW:  What was it like finishing the Waterfire Saga?
JD:  Bittersweet. I'm very satisfied with the way things ended, but I miss those characters already, and am always wondering what they're up to.
PW:  Do you ever think about revisiting worlds that you have already explored in previous projects?
JD:  It's more a case of are the characters thinking of revisiting me. Some of them ditch me when the story's over, and that's that. Others stick around and keep talking to me. But I'm always curious about all of them and what they're up to.
PW:  Can you give us any hints about what is coming after we see the end of the Waterfire Saga?
JD:  I can't, because I'm not quite sure myself. I have a few ideas – only skeletons, really – but I never talk about them until they're living, breathing creatures.
Be sure to pick up your copy of Dark Tide today [HERE] to read further into the adventures of Sera, Neela, Ling, Astrid, Becca, and Ava!  If you haven't started the series yet HERE is a link to Deep Blue, and HERE is a link to Dark Tide!  Prepare to dive right in to the magical world!
You can also pre-order a copy of These Shallow Graves HERE!  It is due for release on October 27!
Keep an eye out for future releases and information about Sea Spell on Jennifer Donnelly's Official Website or on her Facebook or Twitter accounts!