Mim's is an up and coming songstress and rapstress who comes straight from the Middle East and is based in London. Making baby steps into the industry, this lady's got her debut studio album,
One Step
, released and has already made an impact in France. With her talent, accompanied by great looks, it's hard not to notice her and pay attention to what she has to offer. Therefore, PopWrapped here has a little Q&A interview with her just for our readers so you can get to know Mim's better. Here we go!
PopWrapped
: Tell us a bit about yourself and how you got in the music industry.
Mim's
: Well what can I say, Mim's was just a regular girl who had always dreamt about becoming a professional singer someday. I came to Paris in 2007 originally for my studies, I graduated and obtained a masters degree in international relations... At the same time I used to go to karaoke pubs with friends and met a singer who said I should stop wasting my time in karaoke bars and audition at the
3 Mailletz
, where he performed. That was a challenge because the owner is a very demanding and impatient man, which is understandable when he had someone like Nina Simone performing on his stage. So I thought, why not just go there and see for myself? I wasn't planning on auditioning that day, just went for a drink with my best friend (who happens to play the guitar) to discover that place the singer has been going on to me about (his name is Pascal by the way). So I got there and Pascal just put me on the spot telling the owner "that's the girl I've been telling you about!" And naturally he pushed me on stage and said "let's see what your capable of" and I just thought to myself "your musicians don't have the partitions to the songs I know I'm just supposed to go a cappella?" and then I thought OK, let's do this. So I asked my best friend to play the guitar and I started singing just like that, followed by a freestyle rap. Bless him, he was so stressed that he kept making mistakes on the guitar so the musicians (the most talented people I've ever met) just took over. And the story goes...
PW
: You recently released your debut studio album,
One Step,
and I wouldn't say it's of one specific genre. How would you describe the sound of it?
M
: Indeed, my first album is somewhat of a mix of different types of influences. You can hear a bit of dance, electro, R&B, dance-hall sounds; the reason being that according to my producers, an artist should be able to perform on different genre. So they kind of wanted me to expand my palette in order to show the audience the different aspects of my voice and what I'm capable of doing, with a universe that is a bit far from my comfort zone, which originally is hip-hop and R&B.
PW
: Can you pick a couple of favorite tracks on it? If yes, explain what makes them special.
M
: My personal favorites are "No More Fighting", "One Step" and "Not Taking You Back", because I feel like these tracks are closer to what I usually am used to singing, but also because they are a bit more personal; I am not really a person who talks a lot about my issues and personal details of my past so it does feel good to be able to share a part of my life through a song.
PW
: Which artists inspired you for your own music?
M
: Wow... Actually believe it or not I have so many artists that I love, respect and that I think are inspiring, but when it comes to my music I don't really try and copy a style or lyrics, I really roll with the flow (laughs). On a serious note, I just write about what's on my mind when I'm in studio depending on my mood and the topic I want to deal with; as for the melody and instrumental, it relies on my beatmaker's mood (laughs); he just randomly comes up with a beat when we're together in studio based on the theme I want to write about.
PW
: Do you remember which was the first album you ever bought?
M
: Actually I do ! I was 7 and it was Tupac's
All Eyes On Me
cassette tape. I bought it in 1996 and my brother brought me my first CD the same year; it was Gala's "Freed From Desire" single and the only thing I remember is that it had a yellow CD cover!
PW
: What are you currently working on and what's to come?
M
: My team and I are currently working on my second single "Moi J'vais Pas Te Parler". It's the first French song I've ever written so I'm quite proud; the video clip shooting is soon so we're getting prepped.
PW
: Can you describe how it feels to be an up and coming female artist in the industry? What can you tell from your experience?
M
: As a performer and MC, I have been in the industry for quite a while and had to prove myself every single time. First of all, I'm a female rapper who also happens to sing; I feel like there are very few in France and that's the reason why I believe it is not taken very seriously. I believe they're not used to seeing a classy, pink-haired woman rap. They either expect you to be a tomboy, or not be able to sing, and especially not in different languages. Back at the
3 Mailletz
, the cabaret where I performed, I rapped but also sang in French, English, Russian, Portuguese, Spanish, Arabic, etc. It was a great experience because just the look on people's faces when I pulled the mic closer to my lips and opened my mouth was PRICELESS! My producer met me there and you could ask him... The look on his face when I jammed on "Foule Sentimentale", a French classic, I dropped raggamuffin bars and from that day, he wanted me on his label.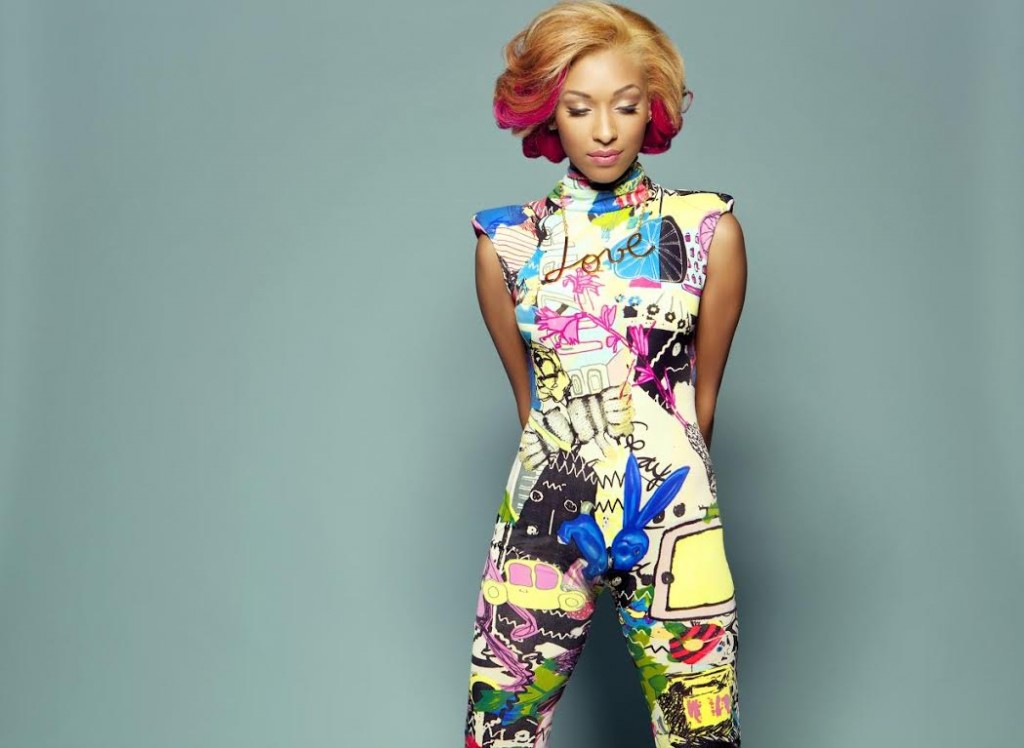 Courtesy of: Mim's
PW
: Where do you see yourself in, let's say, a couple of years from now?
M
: That's a tough one... I'm hoping to see myself tour and do what I what love to do best: PERFORM (not just sing). I'm a stage person, not a studio artist, so the only thing that makes me happy is the energy I get from the audience when I give it my all.
PW
: Can you name a few tracks you've been listening to lately?
M
: (laughs) I'm an old-school person, so I still listen to my one and only Tupac on a daily basis but lately... I can't really name tracks because when I listen to an artist, I kind of do a whole session with all the albums I've enjoyed. I've been jamming to Busta Rhymes' classics, "Whine & Kotch" (I love that song, just can't get enough), Somi (an amazing jazz singer), "Distant" by Treh Lamont, Tracy Chapman, Beyoncé, Whitney Houston, Alicia Keys, Jessie J and classical music to relax (Beethoven, Ravel, Debussy).
PW
: Is there a tune out there already that you wish you had recorded?
M
: Oh YES! "Take it" by Mavado ft. Karian Sang. I think that song is beautiful and it's just
so
ME! My mom caught me listening to it and she had a big smile on her face and said "That's you!! Oh my God, you've recorded a new song and didn't even tell me." I was like "Relax mom, I wish... but it's Karian Sang."
PW
: What would be your dream collaboration?
M
: So many... My biggst dream died... It was Tupac. But today my dream collaboration would be Busta Rhymes. He's amazing, skilful and humble, and I love that.
PW
: How about we call this a wrap with a few words for the fans?
M
: Well thank you for your time and this beautiful interview! As for the fans trust me there is more to come and I can't tell you how important your love and support is to me, but I promise to put my words into action the next time you see me perform. Until then... Mim's A couple of days ago, Mim's turned things up with the release of her brand-new single, "Moi j'vais pas te parler". As mentioned in the interview, its accompanying music video should also arrive soon. The track is fierce and only further shows off her sound and attitude, while her singing in French couldn't possibly sound better. Give it a listen below. For the latest news on Mim's, you can always check out her
official website
. Moreover, you can follow her every move on
Facebook
,
Twitter
 and
Google+
. You can also take a listen to her debut studio album,
One Step
, in its entirety, on
Spotify
.