If you haven't seen the first episode of the new American Horror Story: Hotel season, beware... there are spoilers!
Nathan Peterson sat down with Pop Wrapped sharing some on set secrets of how he almost checked into the American Horror Story Hotel... until Lady Gaga went and cut his throat. How rude.
PopWrapped: What was it like getting the call you had been booked on the show?
Nathan Peterson: Well, where do I start... When I received the call everything was still pretty secretive. I didn't have much info at all but I knew that it was AHS so I was pretty excited. I had tried out for a part on AHS: Freak Show that I didn't book. Eventually, I found out who I was working with and well... Matt Bomer, Lady Gaga, and Ryan Murphy are awesome!
PW: What was it like letting it all hangout in front of Lady Gaga. I think at one point in the 3 min long scene she mounted you.
NP: Obviously, it was a pretty intense scene, I was standing there naked with Matt, Gaga and Ryan directing so I was pretty nervous (laughs). I mean who wouldn't be - I'm about to have a bloody orgy!!! They were all so cool and right away made me feel comfortable. I have nothing but positive and great things to say about Ryan, Gaga, and Matt as well as the crew and everything involved. It was shot in 360, in a circle bed with the camera going all around – it was very artistic.  Just an amazing experience and my nervousness really did go away.  It was great!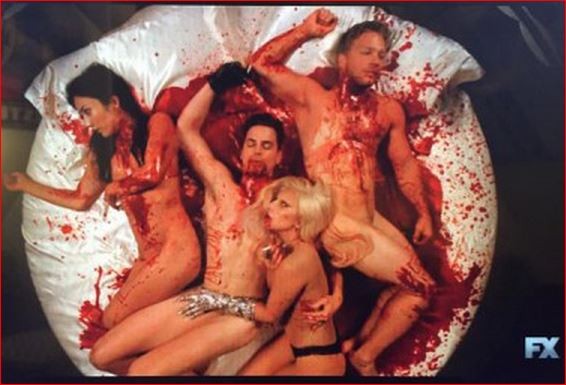 Courtesy of FX
Peterson filmed the scene over a month ago with Gaga, Bomer and actress Chasty Ballesteros who played his girlfriend. 
NP: Matt Bomer shared on The Ellen Degeneres Show that it was an amazing 4-way, and in between takes they would throw a tarp over the 4 of us because of all the blood and nakedness. We would just lay there and try make small talk until the cameras went back up. Just your average day on set.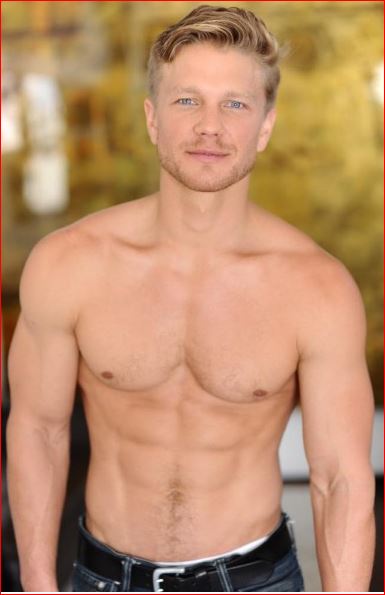 Courtesy of Nate Peterson Facebook
PW: How do you stay in such good shape?
NP: I don't like gyms. I like sit ups, and pull ups and push ups. I usually just work out alone in the garage. I walk my dog, try and get a little cardio.
PW: Blast from the past: we were all friends when we first moved to LA years ago. Catering and bartending events as we all chased dreams. You will always be Nate to us. Do you remember this photo?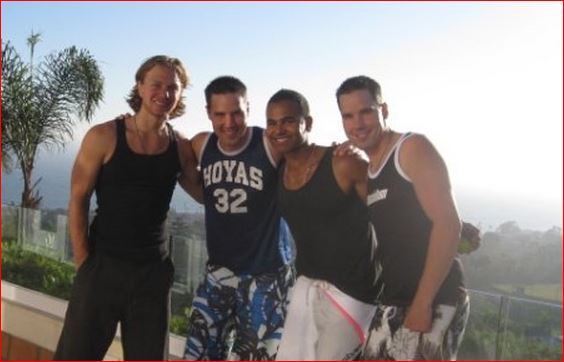 Courtesy of The Lane Twins
NP: Of course I remember. It seems like just yesterday that picture was taken! Working with you two always made it better. Time goes by so fast! I am glad to hear that you are both doing well and we are all still chasing after it.
PW: Where can your fans see you next?
NP: I have a film due out later this year called Fishes n' Loaves. I play Officer Denton. They can also follow me on my Instagram account.  Special thanks to Jeff Ballard Public Relations.