For six seasons comedy icon Ruth Buzzi kept us laughing each week on Laugh In. These days, over 40 years later, she's shining a light on a new passion of hers. Ruth is participating in the annual "8x8 Art Exhibition and Auction" for the Dallas Museum of Biblical Art and she's even contributing her own artwork! In fact, Ruth says the buyer can use her painted tile piece for multiple purposes. The comedienne explains, "It's suitable for framing or aiming.  You can hang it on the wall or throw it at someone you don't like." 
Ruth and her husband, Kent Perkins, have also encouraged a number of their showbiz pals to participate in this year's event. So far, friends who've sent in artwork include Lily Tomlin, Jo Anne Worley, Ruta Lee, Carol Burnett, Jane Seymour, Dan Aykroyd, Barbara Mandrell and Kris Kristofferson. 
PopWrapped caught up with Ruth, asking about the auction and her history with art.
PopWrapped: Ruth, how did you get involved with the "8x8 Exhibition and Auction"?
Ruth Buzzi: Through our friend Ara Dona, a classical painter. He and his wife Julia Stjernstrom were asked to paint small 8x8 works for the auction a few years ago. We went as their guests the first time, fell in love with the Museum, and some of the people who run it, and we've been involved since.  They have an annual dinner party, art auction, a "wine pull" contest, live music, and it is really a lot of fun.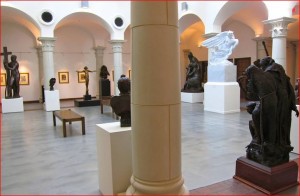 Courtesy of Dallas Voice
PW: Have you painted or sculpted in the past?
RB: My father encouraged me to go into art full-time. He loved my drawings when I was a child. Of course, I respected him for his own artwork. He was one of the leading stone sculptures in America.  And although I chose comedy for a career, I have always enjoyed painting and drawing. I have never sold my work for my own profit, but some of the paintings I have donated have raised thousands of dollars at Charity auctions.
PW: Who's idea was it to get some of your famous friends involved?
RB: My husband, Kent Perkins, decided to ask one of our celebrity friends if they would be interested in submitting their own artwork for this auction. It's sort of snowballed from there. I called Anne Murray, JoAnn Worley, Lily Tomlin, and he brought in Kris Kristofferson and Dan Aykroyd and others. We wrote a note to Carol Burnett and she submitted two wonderful, unique works of art. It has really been fun seeing what people painted, and some of them are really wonderful artists, like Barbara Mandrel!  Who would guess that a lady who sings country music would be equally talented with a paintbrush?
PW: Do you hope to do this event again next year?  
RB: At my age, I don't plan that far in advance. In fact, I don't even buy green bananas.
PW: What are you up to, when you're not participating in projects like the "8x8 Exhibition and Auction"?
RB: We live on 600 acres about an hour west of Fort Worth, where we raise horses, ducks, swans, and we host a large cattle herd. But let me tell you, raising ducks isn't everything it's quacked up to be.
Please continue to follow Ruth on her new adventures on her official Twitter account and official Facebook page.
The event draws its name from the small works of art, each measuring only 8 inches by 8 inches, which this year will include a wide variety of paintings, sculpture, glass, photography and works on paper. Over 100 artists will participate with a low starting bid of $100 or $500 (for celebrities). Pieces are valued between $400-$10,000 retail and many of the artists will be on site to meet guests and potential bidders. Some celebrity artists have also included signed photographs, CD's and other memorabilia with their art.
Tickets are $25 per person and may be purchased online at www.biblicalarts.org or at the door. RSVP to 214-368-4622or patricia@biblicalarts.org. 
The Museum of Biblical Art in Dallas, Texas is unlike any museum in the world.  It has a simple mission:  to display art with a Biblical theme.  It is one of the few museums in the country that is devoted to Biblical themes.  It was established in 1966 and named the Museum of Biblical Art in 1999.  Nothing of its size exists in the United States, making it a treasure trove for art enthusiasts. Diverse types of art are exhibited including bronze sculpture installations, drawings, fine prints, and oil paintings. Specialized galleries have been created for Biblical Archaeology, Jewish Art, Religious Architecture, Israeli Art, Women's Art, African American Art and Hispanic Art.