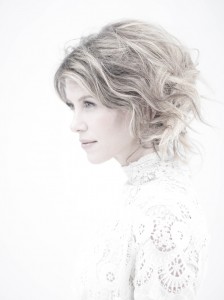 Courtesy of Sasha Lazard
Kelly Sinkavitch
Staff Writer
@LoveOutLoud
A powerfully haunting voice. Soaring melodies. With a face to match such an angelic sound. Meet Sasha Lazard, a talented singer/songwriter with a soprano so exquisite you won't believe your ears. And trust me, you are going to get hooked after just one listen! I chatted with her earlier to discuss her fifth album 'Lumière', and to get to know more about her creative mind.
I hear that you grew up in New York City! How did you get involved in music?
I was born in New York and lived there until I was 5. I lived in France for 3 years, came back, and then my family moved a little bit back and forth between New York and Paris. I was always studying music, and playing guitar and violin. I discovered singing probably when I was 11 or 12, in a really fantastic choir that was in my school. There was a really inspiring choral director, and she transformed a lot of us girls into academic musicians and music fans. She was a magical person, and an unexpected person at that school to have. So it all began with this choir in middle school. I was playing piano and playing violin, and going to see a lot of music growing up around that age.
And then for college, you went to San Francisco?
I originally went to Bennington College in Vermont, and then went to the San Francisco Conservatory of Music to get my master's.
What was it like living on the west coast as opposed to the east coast?
I felt like I really had to get serious about the academics of music. I had to leave New York because I was having way too much fun. I wanted to go completely immerse myself in classical music at that time, and I felt like I wasn't going to be able to do that in New York. I needed a complete change, and San Francisco was where I had a ton of cousins and family. I spent two years out there and it was absolutely the right decision. It was a quieter, more peaceful place, and met a lot of musicians there which opened up another world to me.
Tell us about your new album 'Lumière
'
. How did it differ from your previous works? This album has been a long time in the creation, and it's a lot more personal with the storytelling. I did a lot of writing on it. It wasn't done through a record company so I had control over the whole creative process. There was no one dictating, you know, what kind of songs I should put on there, what direction it should go in.  I chose the material that I loved and that was really close to me, and things that I had been working on for many years. There was a lot of people helping, making it possible.
You just shot the music video for 'Lumière'
, which is also the title track on your album. What is the concept behind it? The song '
Lumière'
 was written for a boy that I knew when I was living in Paris, who died when he was 12 years old. He was close to the age that my children are now. He was just like my little pal, and I was really close to him. So the video is about the relationship between a young boy and an older one, like a friendship. There's a boy in the video who's actually my best friend's son, and he so happened to look like Daniel. It's just he and I in the woods in the countryside, having a wonderful time, running through and appreciating nature, dancing, and being full of life. A celebration of a friendship.
What are some creative influences that you draw from?
I'm a big fan of Florence and the Machine. The artists on Broadway, Norah Jones, David Cassidy, Janis Ian. I listen to all different kinds of music, and the stuff that I listen to on my Iphone/Ipad it changes all the time.
Are you currently on tour?
I'm doing a performance up here in Maine in a few weeks, and then I'm doing a performance in Newport in August. August 18th I will in Portland, Oregon to do a run with this aerial dance company that I collaborate with every couple of years. I'm going to be going up there and am going to be the narrator of the show, and it all involves dance and being suspended in the air, with real storytelling. I'll be out there for ten days in August.
I saw The Myth of Red Creative Salon Series page on your website. Can you tell our readers more about what that is? 
We do them every couple of months. Everybody that's involved in the salon will do their own projects. Dave Eggar (Salon member) will say that he just did a song with an incredible singer/songwriter. And we basically recommend artists that we want to bring. There's a usual committee of people who perform, and each salon is tailored toward a specific theme. We vote in artists that we think would work for that particular theme. It's kind of a way for us to not only collaborate with each other, but also to give exposure to these artists that we feel we've been lucky enough to collaborate with, or that we want to expose our audience to. It's a real artist support group and everybody is involved in the salon. We love to perform and to support other artists. It's a pleasure for me to sit back and be in the same room as all these other singers, dancers, and poets. It's one of my absolute favorite things to do, and it goes on for hours and hours, and feels like it's only been a minute. Sasha Lazard's
'Lumière'
is out now on Itunes!
Keep Up With PopWrapped On The Web!