Get your tissues ready, Gracelanders. The season 3 finale, "No Old Tigers" is Graceland like we've never seen it before. USA Network's hit summer-drama never fails to make its audiences feel emotionally charged when watching the addictive series, and the season 3 finale episode is no exception! Fans are expecting an extreme twist of events to take place, especially considering the level of drama in the finale episodes from the first two seasons, but season 3 will bring viewers on a whole new kind of emotional roller-coaster ride with a turn of events that I don't think anyone will see coming. 
The third season has proven to be an absolute favorite for the show's fandom, with the individual gripping stories of the ensemble cast intricately woven together, and dare I say, some honesty actually being brought to light?  Not all of the secrets hidden in the walls of Graceland may come to fruition this season, but we can still root for our favorite agents to be victorious in their professional and personal trials.
Vanessa Ferlito plays FBI agent Charlie DeMarco, who has brilliantly 
acquired revenge against Germaine. Working a case that kept her in Miami for much of the season, Charlie has been removed from some of the drama unfolding between her FBI and DEA housemates, particularly in last week's episode, "Dog Catches Car." Throughout the season though, audiences were exposed to an even more raw and emotive side of Charlie as she struggled within herself to find the balance between being a mother and working as a special agent. 
Ferlito recently talked with PopWrapped about Charlie's dynamic growth this year, as well as on possible scenarios for Charlie in the future. We all know Charlie's a badass, both as an FBI agent and as a maternal figure among her housemates. Ferlito shared that as a female, being an undercover agent is an especially challenging, yet rewarding task. 
"You know it's funny," she said. "They just see men as strong and as 'Stand back; get behind me', but I mean, look at what women have to deal with. They have to take care of their families and their children, and they're undercover. I don't think people realize how much women have to carry, especially in this line of work. When we were training right before we started season one, there was one undercover who had two children. And I was just thinking 'How do you do that?' I couldn't imagine going out there not knowing if I was going to come home to my son. She was like 'I love my children, but I love what I do', and I was like 'Wow…'."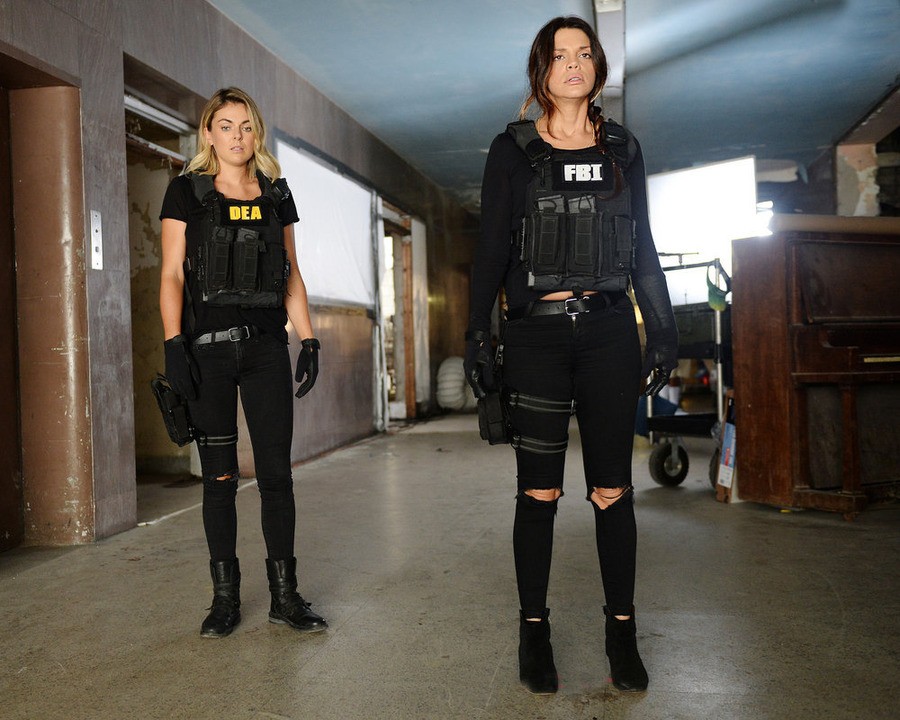 GRACELAND -- "No Old Tigers" Episode 313 -- Pictured: (l-r) Serinda Swan as Paige Arkin, Vanessa Ferlito as Charlie DeMarco -- (Photo by: Jeff Daly/USA Network)
Graceland continues to prove that female agents are just as physically and intellectually capable as their male counterparts, often taking risks to manipulate and take-down major criminals. "I would hope people have an open mind about it," Ferlito said, speaking on women's equality within the FBI. "I think we've come a long way, but I don't know if we're there yet."
Charlie collaborated with Amber this year, the feisty bank-robbing connoisseur from season 2 whose change in ethics struck a chord with fans. 
Commenting on whether Amber may make a return to the series in the future, Ferlito compared Amber's story arc to Jeremiah Bello. Much like Bello, "Amber had a really long, good run. I'm not sure if they're going to bring her back. Honestly, I think everybody loves her, but it might be time to move on. It just might be time to move on."
In her growing relationship with Amber, Charlie revealed more about her family's history with the mafia and her motives in becoming a federal agent. If (and when) Graceland gets picked up for a fourth season, Ferlito shared that having Charlie meet with her father would be something she'd like to do. "Jeff [Eastin] has talked about it," she said. "I always kind of have a separate story line from everybody and then they want to help out, so he was thinking maybe we can bring...the backstory with my family and the mafia and all that stuff to light." She went on to explain that she loves how the creative team is "always throwing ideas" at her and the rest of the cast. "We go back and forth," she said. "I totally trust Jeff Eastin and the writers, and whatever they throw my way, I do and I go for."
With the third season coming to a close, what's in the future for Chuck? "I would maybe like to see Charlie in a relationship outside of Graceland," Ferlito shared. "She has that relationship with Briggs where she just can't let go, and they have crazy chemistry and they're best friends, but she knows he's not good for her. I don't know if it would be interesting for her to be in a healthy relationship with a man. I think Charlie has a lot of different layers. She's obviously traumatized from her childhood and now what has happened to her—the things that have happened to her don't happen to normal, regular women. Some women have a miscarriage, or they choose to terminate the pregnancy on their own. Some women get caught up in domestic violence, but Charlie, what has happened to her with this baby…it would be interesting to see her with somebody outside of the house."
And what about future jobs as an undercover agent? Charlie's a chameleon with a tough shell. "I've already been a junkie," Ferlito said. "Maybe a dancer, or something very different. Out of the drugs, out of the bad...just something different. It's like when you're an actor and they ask you what kind of character you want to play," she explained. "As long as it's something that feeds my soul, and I don't know if that's the same for real FBI agents, but I guess if they find something that they feel passionate about and they can put these bad people away, then it's probably good for their soul."
Potential musings aside though, Ferlito's "just praying for a season 4 right now, so fingers crossed," she said. "I have been very, very happy with everything and where they took my character."
Off-camera, Ferlito is rumored to be pretty hilarious among her cast mates. "I am a little bit of a goof," she said. "I torture them all day on the set. I harass them; all the boys, I harass them. I love them. They're all beautiful. They're so beautiful that it's really frustrating working with them."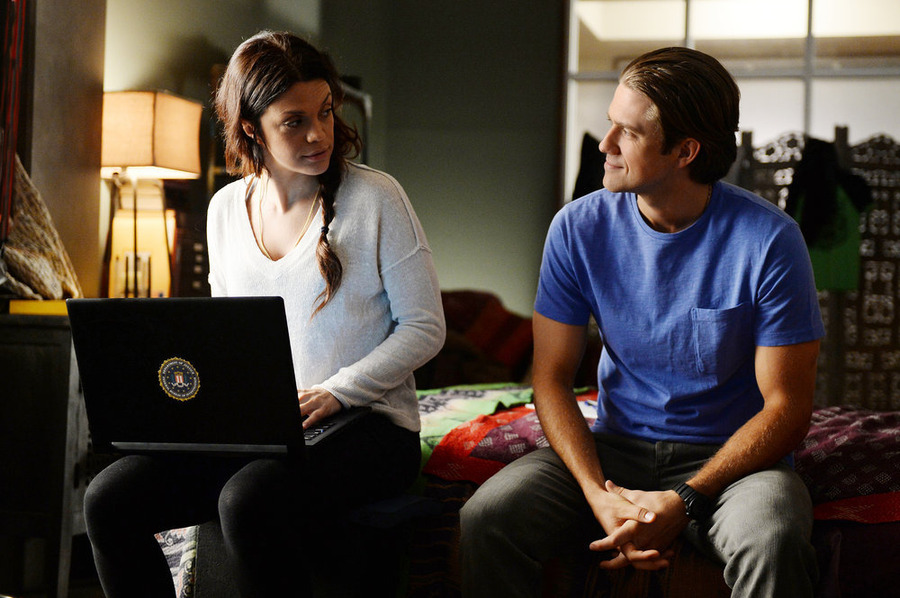 GRACELAND -- "Master of Weak Ties" Episde 310 -- Pictured: (l-r) Vanessa Ferlito as Charlie DeMarco, Aaron Tveit as Mike Warren -- (Photo by: Jeff Daly/USA Network)
That doesn't mean that the boys don't get their revenge. "I was torturing Aaron in season 1, saying 'I want to make out with him!'" Ferlito said laughing. "I was joking, obviously, and then when we were filming the finale, I was tied to the bed. I had blood all over me and I was sweaty and disgusting, and he grabbed me a gave me a big smooch, and I was like 'I wasn't ready!' We're always playing around. We're really, really close; I love that most about this cast. They're all fantastic, great people—all of them. I'm really blessed."
The cast's interaction with fans on social media has also been very impressive, and even though Ferlito is still holding off on joining the crazy world of Twitter, when asked about creating a handle, she admitted that she'll "never say never." 
If you thought the last two season finales of Graceland have been intense, you have no idea what you're in for with "No Old Tigers." "They have to watch!" Ferlito yelled. The fans are "gonna die; they're gonna be devastated. I'm still devastated about it!"
The Graceland finale airs TONIGHT at 10/9c on USA Network! Don't miss the epic conclusion to the season, and then check back with PopWrapped for more exclusive comments from Ferlito about the episode!