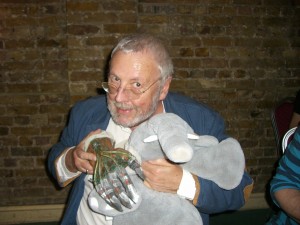 DJ SoundBite
Staff Writer
@DJSoundBite
EXTERMINATE! EXTERMINATE! Ah, the calling cards of the Daleks, one of the most influential creatures in TV history, especially for the show
Doctor Who
. While here in Australia for Supanova, I got to sit down with Terry Molloy who plays Davros, the father of all Daleks. If you are just getting into
Doctor Who
, or are a long-time fan of the show, it is recommended you check out "The Big Finish Audio Dramas" where you can revisit all your favorite Doctors and enemies fight it out in new adventures. By Terry's own words:
They are better than the Telly…plus on radio the pictures are always better.
Terry was just a lovely person (hard to believe he plays one of the most evil creatures in the universe) and a lot of fun. If you are interested in finding out more about the character Davros and his secret origins, be sure to check out the series "I, Davros" at Big Finish. While it wasn't shown in this interview, I spoke with Robin Hobb, the author, and apparently they love the Australian treat 'TimTams' so much he was on a mission to find the flavour "Salted Caramel." I went out after the interview and got a packet just for them to share. I have it on good authority he enjoyed it immensely. To check out more
Doctor Who
and other titles audio adventures, go to
Big Finish.
If you are in Australia, be sure to check out
Supanova.
Also be sure to check out Terry Molloy's
website.
Keep Up With PopWrapped On The Web!