The third best-selling Nintendo GameCube game of all time is turning  fourteen this year, and one fan is paying tribute by recreating it in Unreal Engine 4. Reddit user sp00kens is currently working on a rebuild of Isle Delfino from the classic game Super Mario Sunshine.
Unreal Engine 4, a game development program, is not a newcomer to hosting contemporary recreations of classic video games. However, sp00kens's modern Delfino Plaza is getting quite a bit of attention on Reddit. And it's no surprise, as recreating such an extensive and textured game is no easy task.
In Super Mario Sunshine, Mario's tropical vacation to Isle Delfino is turned upside-down, and he must work to stop a vandal from covering the island in graffiti while saving the island's power source, the Shine Sprites. The game received high praise for its upbeat tropical music, bright lighting, and textured water, all of which sp00kens is aiming to recreate saying, "Next thing on my list to do is to add water to the map, then I will fix shading, then texture and add music." The super fan offered a sneak peek of the in-progress water: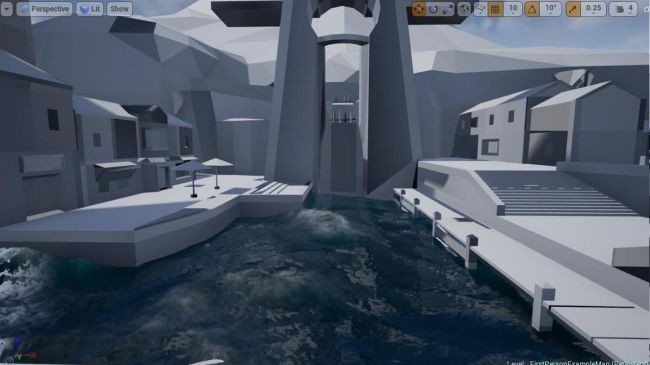 Reddit
According to TechRadar, sp00kens's redux will not only be a full recreation of Delfino Plaza (the sort of "home base" in the game) but will also include a few extra levels as well. In fact, the rebuild as it currently stands was actually created by copying the skeleton of the Isle Delfino stage in Super Smash Bros. Melee.
It is currently unclear how much gameplay, if any at all, will be included in the recreation.