A lot of people were not that confident about that newly released Fantastic Four reboot. Even though the trailers were kind of promising, the reviews have basically trashed the film and director Josh Trank believes the studio is to blame for ruining his original idea.
Josh Trank took to Twitter to inform fans that he had a version of the film he was happy with a year ago, implying that the one currently on the big screens is not completely his own. He didn't hesitate to express his disappointment that we will not get to see his kind of Fantastic Four, stating it would have got better reviews. Fox has yet to comment on his words, but the director has already deleted his tweet.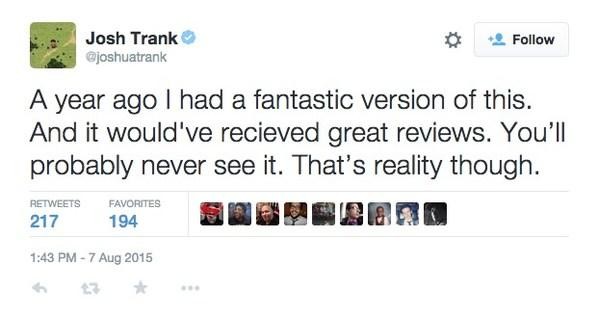 Courtesy of denofgeek.com

Previous reports stated that Trank's erratic and very isolated behavior forced producers Simon Kinberg and Hutch Parker get his job done and re-shoot bits of the film, just months before its air date. More recently, director John Campea revealed that sources close to the production of the film informed him that Fox had agreed to let Trank film his version of Fantastic Four, but then made him cut three(!) action sequences only days before he started filming. He went on to state that the ending was not Trank's at all and that he wasn't even present during the editing process. One way or another, the Fantastic Four reboot that is currently in theaters is really far from what it

could

should have been.