Most widely-known for starring in the web series The Guild and Dr. Horrible's Sing-Along Blog, Felicia Day has been cast in the Mystery Science Theater 3000 reboot. The reboot was launched as a Kickstarter campaign by creator Joel Hodgson and currently has funding for six episodes. Intended to be released as webisodes, Day is no stranger to creating premium content for the Internet, having founded the Geek & Sundry YouTube channel (now acquired by Nerdist Industries/Legendary Pictures).
Day will be playing the role of Kinga Forrester, the daughter of original series villain Dr. Clayton Forrester. Not much has else been revealed about the next Mad scientist character. Hodgson opened up about his thought process on developing the new character in a Kickstarter update:
When I started imagining the next season of MST3K, I knew we'd need the next Mad to be someone worthy of the Mad title and someone who could live up to the great work of Trace, Josh, Frank and Mary Jo. But I also thought we needed a new "flavor" – something that would lead to new situations. So, right away, I knew that I wanted the next Mad to be someone who could be both comedic and threatening... and if possible, both at the same time!

I also knew, from the start, that the next Mad should be a woman.
Hodgson liked Day for the role saying, "she can pull off being likable, intimidating and 'crazy' all at the same time: a total wild card! As the next Mad, she's gonna need all that and more." He didn't pursue her at first because he wasn't completely sure, and didn't know if she would be interested. Fate stepped in when Day reached out to meet Hodgson at Salt Lake Comic Con. Hodgson inquired the next day about joining a MST3K reboot.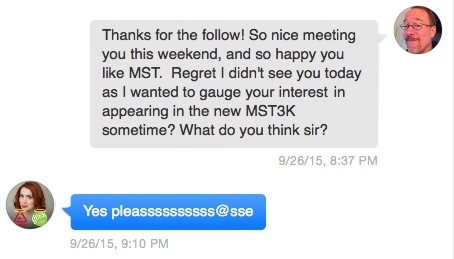 Courtesy of Joel Hodgson
Day joins the cast lead by fellow Nerdist comedian Jonah Ray, who plays the host. Comedians Baron Vaughn and Hampton Yount will voice Tom Servo and Crow T. Robot. With just the silhouette of the new evil henchman to be cast, it has been announced that Patton Oswalt will appear on camera in this role.
Oswalt is a big fan of Mystery Science Theater and hosted the 20th Anniversary Reunion panel at San Diego Comic Con. Hodgson describes Oswalt as "a very fun, articulate and witty soul – just the kind of person who we've always tried to bring onboard for MST3K." Oswalt was originally approached to be a guest writer for the new season. Wondering if Oswalt would be a good fit for an on camera role, Hodgson said this:
I first imagined Patton dressed up like TV's Frank. I figured maybe he'd be Frank's son, or at least a clone. But yeah: the idea of Patton wearing black lab assistant's garb, with a big mound of silver hair and a spitcurl...? It was just really funny to me, in a visual / cross-referential / meta kind of way.
With the campaign taking off, Hodgson got back in contact with Oswalt about this idea. His response was equally as enthusiastic as Felicia Day's and he later commented, "I want to be called something like 'TV's Son of TV's Frank.'" There you have it, Patton Oswalt will play TV's Son of TV's Frank, in addition to guest writing for the Mystery Science Theater 3000 reboot.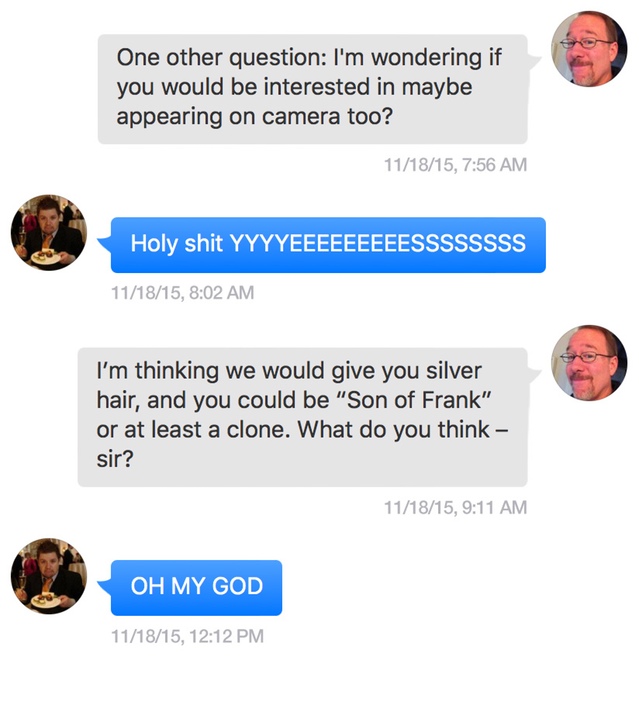 Courtesy of Joel Hodgson
Of course this is still an active campaign on Kickstarter, so nothing is concrete yet, and contracts won't be worked out until after the Kickstarter ends. Go support bringing back Mystery Science Theater 3000! "Do you want a full twelve episodes, or don't you!?"