NOTE: This review contains spoilers!
After a strong and much-praised world premiere at the Toronto International Film Festival, last night, it was London's turn to give its verdict on the hotly-anticipated adaptation of J.G. Ballard's 1975 book 'High-Rise', as it had its UK premiere at the city's annual film festival. I for one had never been to a premiere before and rather enjoyed having the opportunity to get dressed up (although my bank aren't so happy), and so was buzzing long before I met up with my Twitter friend Di, who had sold me her spare ticket.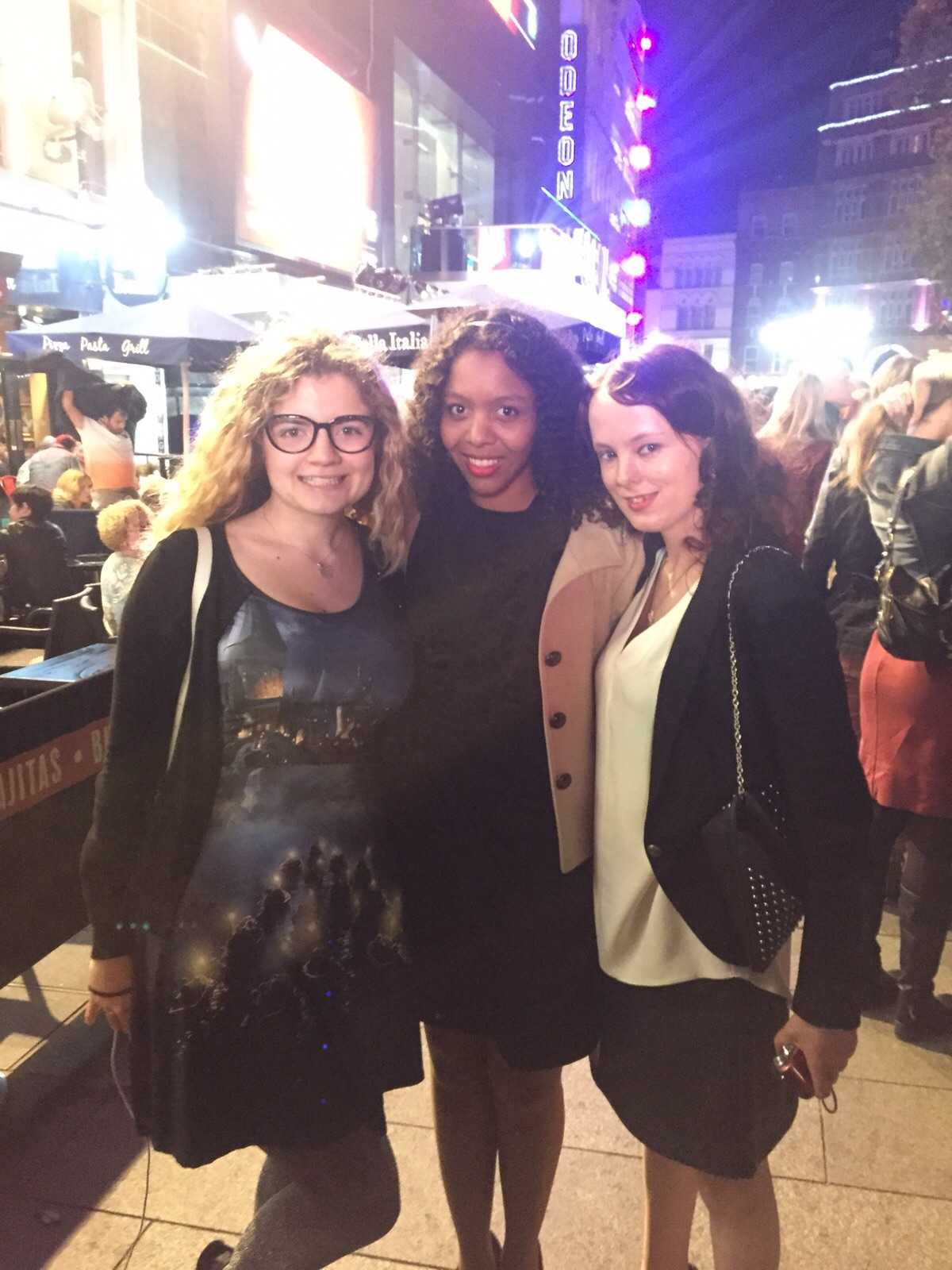 In attendance at the screening, held at the Odeon Leicester Square, were cast members including Tom Hiddleston, Elisabeth Moss and Sienna Miller along with acclaimed British director Ben Wheatley. They all walked the red carpet with Hiddleston (unsurprisingly) proving the biggest hit with fans, some of whom had been queuing since early in the morning to get into the crowd pens, as he signed autographs and happily posed for a number of selfies.
Inside the cinema (officially the biggest one I have ever been in), a full house greeted the BFI's Clare Stewart as she invited Wheatley and the numerous members of the cast on stage, but not before giving an extra-special mention to producer Jeremy Thomas who was suffering from a bad back.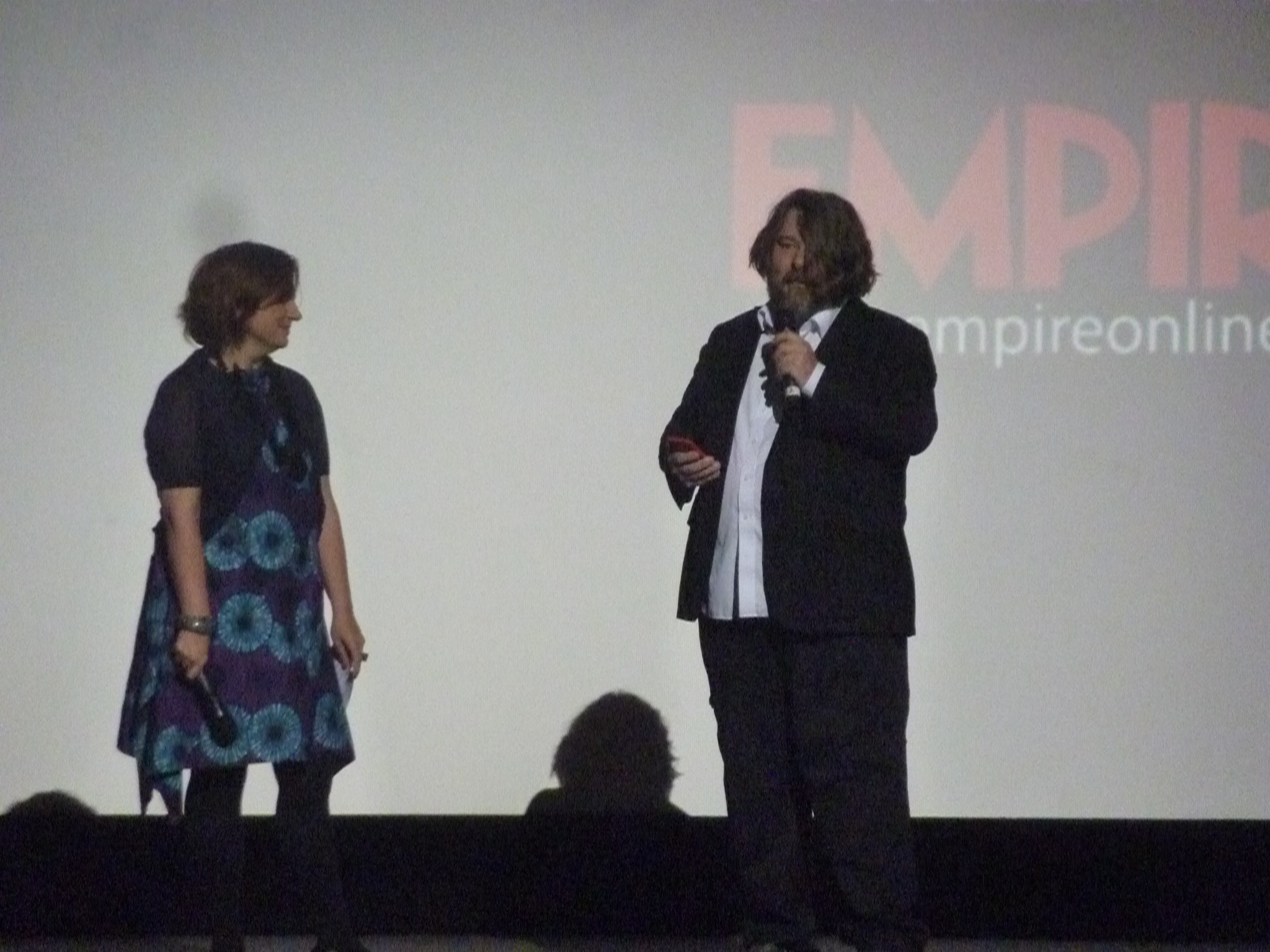 photo credit: Rebecca Haslam
Wheatley, phone in hand so he could read out some notes, took a few minutes to thank the cast and crew for all their hard work before, with a flourish, he introduced the film and together with the rest of the cast, made his way off stage. Seconds later, the lights went down and an excited, 'hold-your-breath' style hush fell over the entire audience as the film began.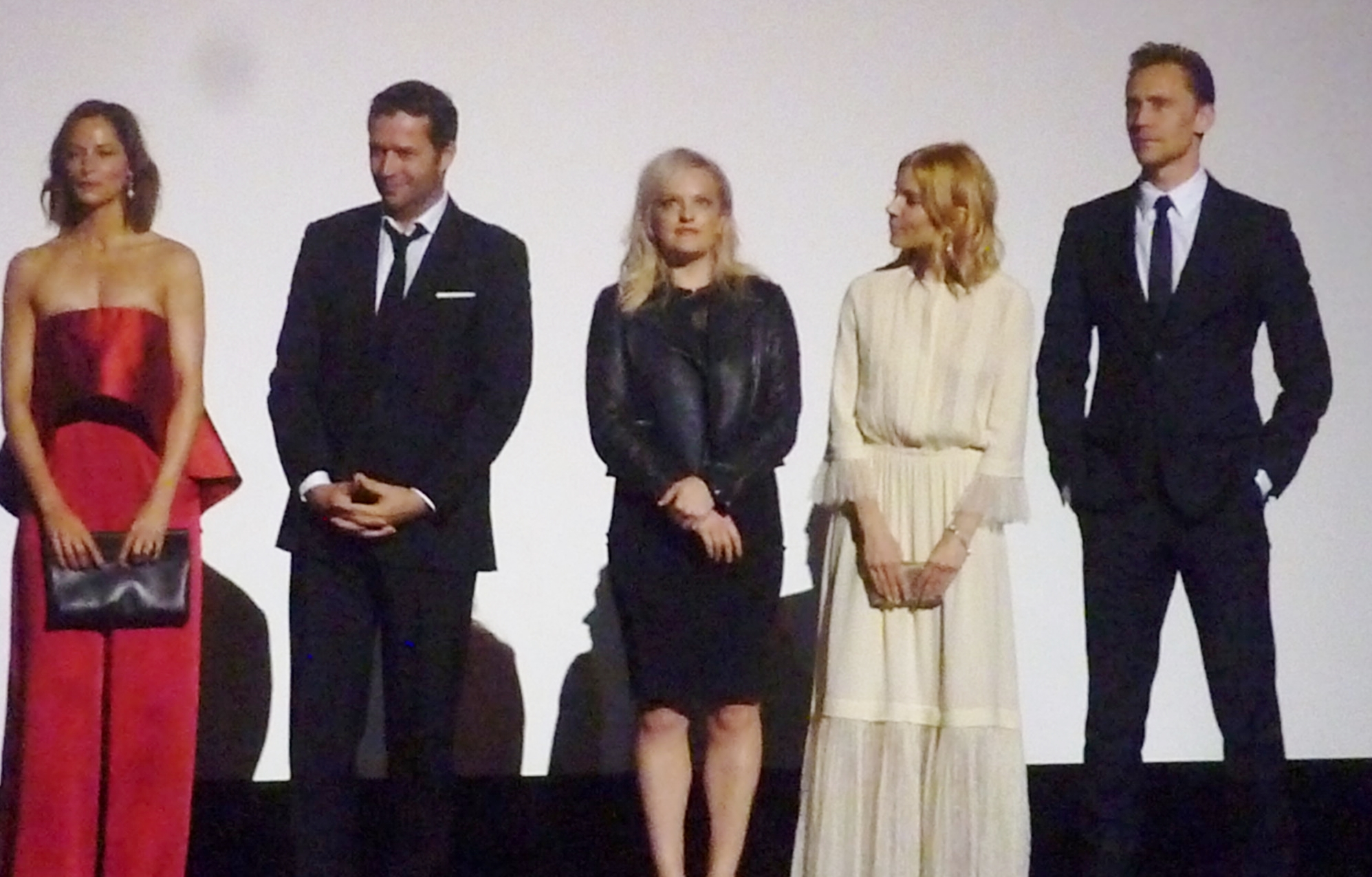 photo credit: Rebecca Haslam
Many reviewers have already said that there are some aspects of 'High-Rise' that aren't easy to watch, and they'd be right, especially when, early on, Hiddleston, in the role of Dr. Robert Laing, peels back the skin on a skull. It's little surprise to learn that, in preparation for the part, he attended an autopsy and had to leave the room to vomit – those of a particularly sensitive nature will understand why when they see the scene for themselves. Having moved in, Laing finds himself in a rather comfortable position, at least at first, as he's situated between the lower and higher ranks, but his personal demons (he is recovering from a family tragedy) mean he isn't the most open to company, although Sienna Miller as Charlotte Melville does break down that barrier somewhat.
Miller herself has been overlooked in recent years, but High Rise marks a return to form for her. As a single mum, Charlotte is somewhat outspoken, rather promiscuous (she hooks up with Laing pretty quickly and the two enjoy some saucy time on a balcony), but at heart, she's just a young woman trying to do her best for herself and her family – an issue of which comes to light and drastically changes her situation and relationship with one other particular resident.
Meanwhile, Laing meets the architect of the building, Anthony Royal (Jeremy Irons) and one of the most humorous moments (they are few and far between as you can imagine) crops up when he goes up to his penthouse and out onto the roof. "Is that a horse?" remarks Laing as a stunning white one casually walks around. Royal seems unaffected by the disbelief of his counter-part, simply responding with a casual "possibly" and as a result, laughter ripples around the cinema.
A lot of relationships among the residents are strained and affected by frequent power outages, overflowing garbage disposal shoots and the like, so when Laing meets Toby (played by Louis Suc), Melville's young son, it's refreshing to see the two of them bond as well and as quickly as they do. However, I wouldn't suggest anyone start off a conversation by enquiring as to whether or not someone has killed their sister. It shouldn't work, and you somewhat expect Laing to be shocked by such a comment (I know I would be), but instead, Toby's simple curiosity and inquisitive nature play on the fact that he is just a young boy surrounded by adults, many of whom ignore him.
As Laing and the other residents get pulled deeper and deeper into the anarchy unfolding around them, with violence erupting on every floor, in every corridor and every nook and cranny you see, Hiddleston truly comes to life when Laing has a fight on his hands for what he deems as an essential – no, not food or water – but a tin of paint. The supermarket has been all but stripped of its contents and he finds himself having to defend said tin with his fists – the energy and anger he puts in to beating his opposition to a pulp is strong, fierce and a good indication that, although he might not think it, he's as deep in the shit, chaos and madness of the building as everyone else around him.
It is around this time that, in relation to the soundtrack, Clint Mansell's score is hard to overlook, but Portishead deliver an unforgettable rendition of ABBA's "S.O.S." – its place in the film comes across like a thundering, hammering heartbeat, as if the building and everyone in it are having one united panic attack, although to be fair, the majority of them are actually enduring much worse. Cinematographer Laurie Rose captures the changes in and around the building with what looks like relative ease – the slow motion shot of a residents' suicide in particular being a stand-out - but in the darkness of a power depleted building, what he helps to create, in partnership with Amy Jump's screenplay and under Wheatley's direction, brings to life the struggles, the fight and the utter desperation of the buildings' inhabitants – all combined, it's chilling to watch.
Despite Hiddleston being the lead in this film, essentially it really belongs to Luke Evans as Richard Wilder, notably in the second half. Here, as chaos reigns and the hierarchy of the building crumbles, he is intense, animalistic and at times, just down-right threatening as he leads the lower floor 'revolution' against Royal and his cohorts including Pangbourne (The Following's James Purefoy). With Wilder continuing to undermine his so-called authority, Pangbourne prepares to throw Laing, who has refused to lobotomise Wilder in an attempt to get him under control, off the roof – only Royal's interference prevents him from joining a former resident who took one hell of a self-inflicted tumble earlier on.
Elisabeth Moss has herself admitted that, as an American, she was surprised to get cast in the film, and she doesn't offer a great deal for the time she has on screen. With that said, playing Helen Wilder, the pregnant wife of documentary-man Richard, she does what she can despite wearing an obviously fake, ridiculous sized bump. The most impactful delivery she gives, somewhat ironically, is that of her child, late on in the film, as other residents offer her what little assistance they can and her screams of pain reverberate in the background while Laing and Royal share a dinner.
If you've read the book, then you'll be aware that one pet in particular doesn't fare well (side note: no animals were actually harmed!) and as the film draws to a close, the sight of Laing first petting the fluff-ball that is the gorgeous white dog before roasting a paw and a leg on a spit, is somewhat unsettling and yet he doesn't seem at all bothered. Instead, gone is the stress of the past three months and in its place, a sense of calm has appeared to wash over him – it could easily be argued that he has lost all sense of normality (i.e. what is normal outside of the building) and that he has instead adapted to the new life ahead of him. The final scene, with a Margaret Thatcher audio, sees Toby sat overlooking everything around him and looking skyward – as if to the future – and to a world that upon reflection, can't be far removed from the one we live in today. With that idea left to linger in the minds of the audience, the credits roll, the lights go up and the cinema erupts into applause.
There are no other writers I can think of that have, with almost uncanny accuracy, been able to predict where the world and society will go in the future, and yet Ballard, forty years ago, summarised much of who and where we all are today in just a few hundred pages. Ultimately, this adaptation of his book is a mad, frenzied look at what it means to dehumanize and be dehumanized by others - Helen sums it up well in the film by declaring to Laing that "people don't usually care what happens two floors above or below them."
'High-Rise' is bleak, destructively brutal and completely unhinged in places, but so are we. Society today is almost completely dependent on technology, our commodities, what we see as things and products that we are 'entitled to'. Wheatley and his team, together with the cast, bring such matters and issues to life in an unflinching manner – there is no other way it could have been done – and as a result, the end product is unlike anything ever seen on the big screen before, and something that is almost certainly not to be seen again for some time.
'High-Rise' will go on general release in the UK on March 11 2016, although no US date has yet been announced.