First time Director James Vanderbilt did everything right in his debut writing/directing project Truth. 
The film is both eye opening and entertaining. A newsroom drama detailing the 2004 CBS 60 Minutes report investigating then-President George W. Bush's military service, and the subsequent firestorm of criticism that cost anchor Dan Rather and producer Mary Mapes their careers, played by Oscar winners Robert Redford and Cate Blanchett, respectively. Rounding out the all star cast are Elisabeth Moss, Topher Grace and Dennis Quaid.
I remember when this was in the news but had no idea the true depth of the story. The Truth made me feel compassion for the scapegoats and anger for the bullies that led one of the largest witch hunts in television history.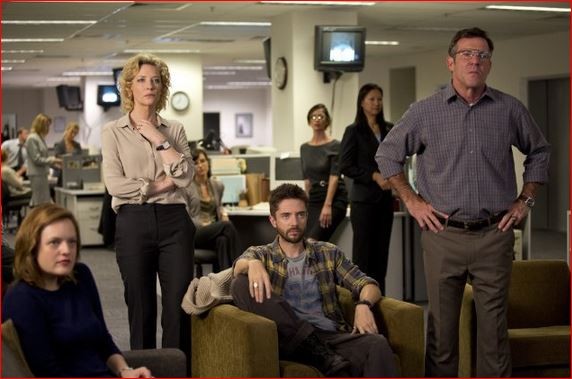 The film is based on former CBS News producer Mary Mapes' own book Truth and Duty that will back her view of events, and Truth and Duty: The Press, the President, and the Privilege of Power, in which she defends her record. Her view is that she was sacrificed when CBS caved in, without a proper investigation, to right-wing attacks as reported by its competitors without due diligence. Vanderbilt shared it was not easy at first to get her to negotiate the rights but he eventually wore her down. She was thrilled to learn that Cate was to play her in the film.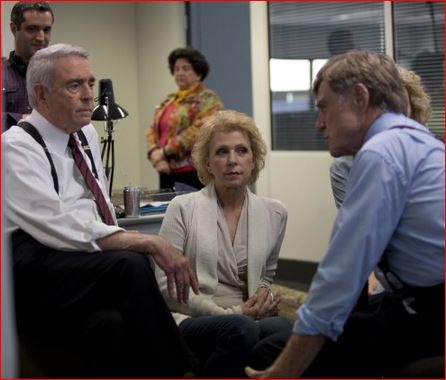 The film will be release everywhere on October 16th. We attended a screening last night at the Harmony Gold on Sunset Blvd. Following the screening was a Q&A with director James Vanderbilt and stars Cate Blanchette and Elizabeth Moss. Elizabeth was asked about her film Top of the Lake to which Cate interjected, "amazing film." Elizabeth appeared shocked and said, "I can die now." The moderator asked,  "Because she liked the film or your portrayal of an Australian accent?" Her response: "both and I will sleep sound tonight."
Cate also shared with the group she is bad about reading scripts and put it off until she got a call. They said" If you don't read it they are moving on." She picked it up and after page 7 she could not put it down. She had James on the phone right after she finished it. Director James Vanderbilt also shared that the film was a passion project after he read Mary's book and, after getting the film rights, his dream cast in place, and the budget, filming took 41 days, and the rest is history. He also shared that, when the film premiered at the Toronto film festival earlier this year Dan Rather held back tears and Mary sobbed and held his hand the last hour of the film. You can't get a better stamp of approval that that. He hopes the film will open people's eyes, as well as their hearts.