Excitement filled the internet as the announcement came that there would be an
Into the Woods
movie. Jubilation rose when the cast was announced. The interweb was about to explode when the first trailer popped up. But, there was slight disappointment when Johnny Depp's character, The Wolf.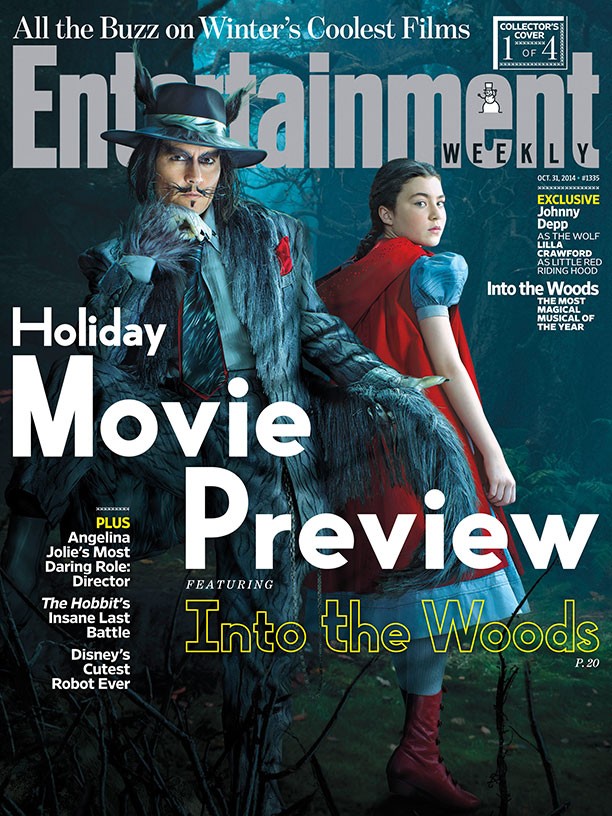 Entertainment Weekly
However, never fear,
Entertainment Weekly
has released several exclusive covers with their all-star cast. One includes Depp's lupine persona. You also will be treated to images of Anna Kendrick, Chris Pine, Meryl Streep, Mackenzie Mauzy, Lilla Crawford, James Cordon, and Emily Blunt. Those who are not familiar with the story, here's what you will find in this musical. It's a tale about a Childless Baker and his wife who wants to break a witches curse. On their journey, they meet titular fairytale character - like Little Red Riding Hood and, Cinderella, and Rapunzel. So, are you excited about this movie? Will you check it out even if it isn't a classic looking fairytale movie? Keep in mind
Chicago's
Rob Marshall made it with this in mind, "I didn't want this to look like a cartoon world. It's not sunny, sunny, sunny—we wanted a sense of danger." Sound off below!
Keep Up With PopWrapped On The Web!
Twitter 
SoundCloud
Facebook
Instagram
Tumblr
Pinterest
YouTube