Back in January, Netflix and DreamWorks Animation Studios announced they were teaming up to bring fans the long-awaited animated adaption of the Guillermo del Toro story Trollhunters.  DreamWorks is best know for several hit animated film franchises such as Shrek, Madagascar, Kung Fu Panda, and How To Train You Dragon, which makes me super excited to see what they can do with this story.
According to Entertainment Weekly, this project has been in the works since back in 2010, when DreamWorks first purchased the rights to del Toro's story, with plans of turning it into a 3D-animated feature film, but it never saw the light of day.  Then, in the summer of 2015, del Toro joined up with Daniel Kraus to release Trollhunters as an illustrated novel.
The novel follows a young boy named Jim Sturges Jr., whose life has been controlled by his father's endless fear for his safety.  That is, until Jim learns the reason for his father's paranoia...the existence of trolls.  Now, Jim must embark on a brave adventure and meet some unlikely companions to fight alongside him in a quest to save the world.  How closely the series will follow the novel is still unclear.
Now, we get our first look at this new series, as Netflix and DreamWorks have just released the very first image from Trollhunters. It promises to "unleash a new, fantastical world wrapped around the residents of the fictional suburb of Arcadia who make a startling discovery that the world beneath their hometown is as vast and mind-blowing as anything on the surface."
Check out the image below: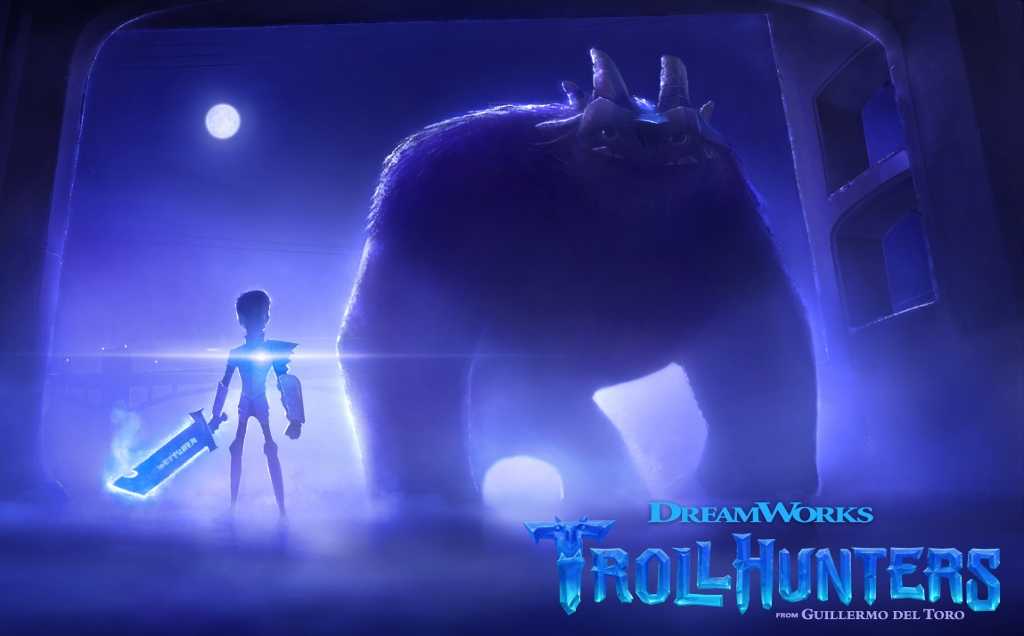 DreamWorks/EW
For a first image, this one definitely delivers, giving a shadowed look at the (presumably) main character (Jim?) holding a large, flaming sword, and what I have to assume is a troll.  Are they friends working together to save the day? Are they enemies preparing to battle?  I guess we'll have to wait and see.  The premise sounds great and the animation looks amazing.  I can't wait to see it.
Guillermo del Toro will be premiering some exclusive footage from the series at this year's Annecy International Animation Film Festival on June 15th.
Trollhunters will land on Netflix later this year.