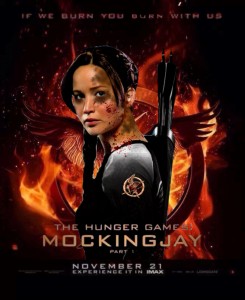 Kate McHale
Senior Staff Writer
The Hunger Games: Mockingjay – Part 1
rebellion that is.
The minute-long teaser clip was debuted
at San Diego Comic Con Friday in partnership with Samsung to a lucky group who patiently waited in line to have
The Hunger Games
experience. For the rest of us who were not as lucky to see the teaser on Friday, the clip was debuted on
The Hunger Games
Facebook page last night. If you were not already dying to see this movie before the little teaser, this surely will do the trick.
Mockingjay
has been much anticipated, and fans have been buzzing with excitement since the conclusion of
The Hunger Games: Catching Fire
. The newest installment into
The Hunger Games
is due out in theaters November 21
st
of this year. I don't want to spoil the clip for you, but to entice you to watch it, you get a glimpse of Gale, President Snow, Plutarch Heavensbee, and, of course, The Girl on Fire herself, Katniss Everdeen. Not to mention, fans' first look into the district that was thought to be no more, District 13. So go ahead and stop what you're doing to watch the newest look into
The Hunger Games: Mockingjay- Part 1
.  Let us know what you think! Spoiler alert: its awesome. Its only flaw is it's only a minute long.
Keep Up With PopWrapped On The Web!