Just when you think the plot-twists end, they don't. Apparently, Gideon was, more like will be, created by none other than Mr. Velvet himself, in addition, he's the director of CCPD, CSI division in the future. Talk about a major upgrade. Oh yeah, Iris and Barry eventually become a thing. Sorry Eddie x Iris fans. I don't know if you were excited about this part, but she was so close to mentioning that he's one of the founders of the Justice League. *squeals internally* However, before they can attain addition information from her, Wells is on the route to the secret hideout. Thankfully, they make it out in time with the help of Cisco, Barry, and the AI. I gotta say, that is pretty sweet. At Jitters, Eddie's trying to get Joe's blessing, but he soon responds with a no. Before further discussion, Barry alerts Joe of a group meeting on his new finds, and in this gathering, Cisco reveals his dream of Wells killing him. A lightbulb must have lit up because Barry just had a bad idea. Are you thinking what I'm thinking, Popwrappers? If not, his idea is to recreate a similar experience in order to get Wells to confess for his crimes. While this was occurring, Joe has a flashback to the time when Barry was first electrocuted. The doctors had no idea and no understanding of his condition until Wells 'takes the wheel', no pun intended, from their hands after getting Joe's permission. At S.T.A.R. Labs, the super sleuths (Caitlin, Barry, and Cisco) are making a dream device in order to get access to Cisco's dream. They are almost caught when Wells overhears them talking about lucid dreaming. It seems that Caitlin's able to lie to him now, but they did receive help from the head honcho himself. That must have been extremely awkward for the three; he's helpful, but has an ultimatum. Another person who turns out to be nice is Barry's Captain; he allowed him to 'send the reports whenever he can'. It turns out that he and his fiancé will be wed soon. I have never been in that situation before, but it seems like it can be stressful. Well, the Captain isn't the only one with wedding bells ringing in the distance. Eddie asks for Barry's help on his situation with Joe because any girl would like to know that her father is okay with this. Later that night, Cisco puts on the headset. While he claims that he can't fall asleep easily, he immediately knocks out to enter his 'dream'. He shares his knowledge of the situation just before he got killed by Mr. Wells, meaning that he awakes from his dream. It seems they will have close encounters with Wells since he calls Barry to let him know of a building fire, which the Captain's fiancé works. Not being able to save all of them,
The Flash
panics, but as usual, Wells assists him, making him able to save them all. It must be complicated to deal with conflicting feelings, no? And it's not just Barry. Joe's having dem feelings, too. The team attempt to recreate Cisco's dream, and they change a few things like Caitlin keeping a close eye on Cisco, for example. When Eddie, Caitlin, and Cisco leave, Barry and Joe have a heart-to-heart on the whole wedding situation. Joe tells him that he said no because he knows that his daughter likes Barry. He is further convinced when she calls Barry.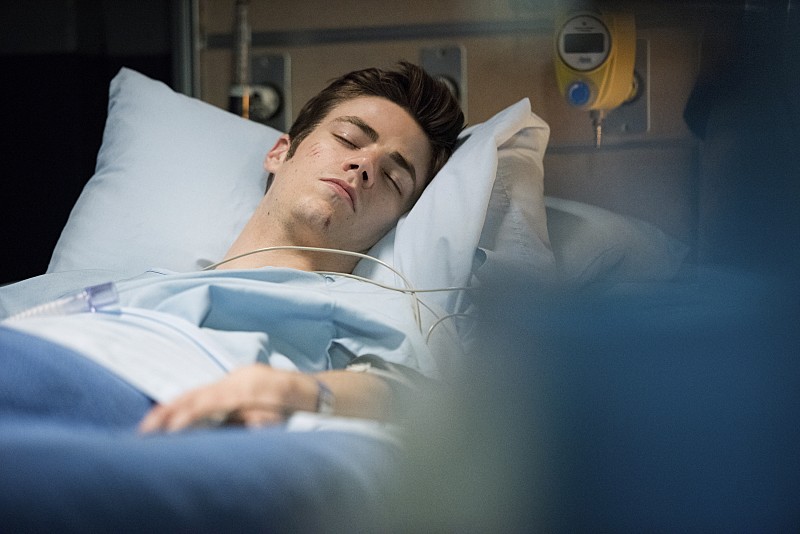 Courtesy of comicbookmovie.com
At Barry's lab, she shares with him on her theory on how some people have powers. He's definitely not good at hiding/lying because he keeps stuttering, but he manages to leave before she puts on her detective's suit. She soon gets a flashback of when she visited Barry; she can't be without him because she does stupid things like accept the 'pretty boy's offer' for a date. What's the most important part is when she reaches for his hand, she gets shocked. It's not just any kind of shock either. As for Barry's bad idea, things seem to be going smoothly. However, they never get the confession they tried so hard to get, and it's because Wells tricked them. He used the meta-human Everyman to pretend to be him while he made his escape. Did I mention that Wells has surveillance videos everywhere? Talk about the ultimate stalker. It looks like Iris is in trouble. Meanwhile, Eddie attempts to propose to Iris, but is swiftly taken away by the Reverse Flash.
The Flash
promises Iris that he'll rescue him, but before he speeds off (pun intended again), she feels that shock once again, helping her realize that the heroic speedster is none other than Barry Allen. In another part of town, Eddie finds out that the mysterious man in yellow is his grandson. The plot-twists are real. So freaking real. Wells isn't excluded from the flashback club (get it?). He talks to an unconscious Barry on how he feels about recreating his greatest enemy, and how he could easily kill him on the spot. Stay tuned for more of
The Flash
, Popwrappers!
Keep Up With PopWrapped On The Web!