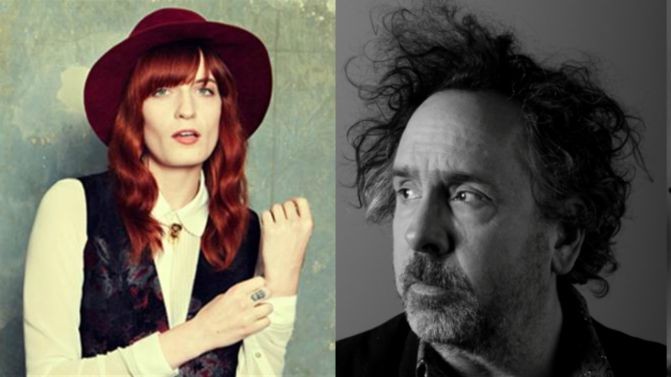 Florence and the Machine released a new track for the upcoming Tim Burton film, Miss Peregrine's Home for Peculiar Children. It is reported that Burton actually worked with Florence Welch on the song. How does such a unique pairing get connected? With a no less interesting and unique story, of course.
Welch always wanted to collaborate with Burton because they have similar interest in creating art that is "so beautiful and whimsical, but with an element of darkness to it." Saying that "he feels like a kindred spirit," Welch initiated contact with Burton.
I actually sent him a note about six years ago. I was in Australia on tour there for the first time and visited an exhibition of all his work. I wanted to leave him a message and all I had on me was an x-ray of my hand, as I had just broken my finger. So I wrote on the x-ray and gave it to the gallery to pass on and never knew if he got it. When we met for the first time, he told me it's been hanging up in his office ever since.
The new song, "Wish That You Were Here," has the typical Florence and the Machine vibe, but also matches quite well to the tone of the film. Welch describes the song as being "about the idea that love is a journey and a risk. Having been on tour, I've lived in a sort of magical time bubble, where the days almost blend together. It's amazing, but it comes at a cost — a cost of leaving the people you love behind for a year or two. You kind of feel like if you could sing a song into the wind, maybe the wind could take it to them in a way that you can't with a text or a call. You just want to send your love in a different way, in a way to somehow reach the unreachable."
This idea is clearly reflected in the lyrics. Have a listen and let us know what you think!
Tim Burton's new film, Miss Peregrine's Home for Peculiar Children, will be released in theaters September 30, 2016. That's plenty of time to read through the original Ransom Riggs novels that provide the foundation for the film.