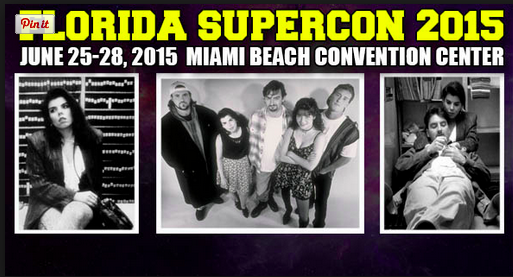 Courtesy of floridasupercon.com
The sun is shining, the summer is upon us and masses are flocking to the beaches of sunny south Florida for....
SUPERCON!
Ok - maybe not what you expected when you think summer and Florida, but during the last weekend of June, Florida Supercon returns to Miami to celebrate a decade of pop culture--and the guest list is quite impressive.
One of the biggest conventions in the country,  Supercon is a collection of everything and anything pop culture. Comic books, anime, animation, video games, fantasy, Sci-Fi, movies, and television - it is going to be a star studded event for fans of these things and more... Sounds right up our alley!
Among the collection of panels, art shows, Q&As, meet and greets, cosplay costume contests, and more, one of the events that has many excited is the reunion of the cast of Clerks. The amazingly talented Kevin Smith, known for creating the Clerks franchise along with many other films, is attending Florida Supercon  and bringing the whole gang with him.
This reunion will be the first time the cast will come together before uniting again for the making of the much anticipated Clerks III. The convention has an abundance of opportunities to interact with the stars of the vastly popular Kevin Smith movies such as Clerks,  Mallrats,  Chasing Amy,  Clerks 2,  Jay & Silent Bob Strike Back,  and Dogma. There is even an exclusive, "Evening with Kevin Smith" event planned.
Now would be the perfect time to rustle up some quotes from the films that perfectly satirized what it was like to be a young adult in the 90s, but unfortunately the thought of meeting Silent Bob himself has me speechless.  (Oh the irony!)
Planning to attend Florida Supercon? Signatures, photos, and meet and greets can be purchased ahead of time on their website here.  There is a full schedule of events, too. so you can make the most of this incredible opportunity.
Florida Supercon runs June 25th-28th in Miami Beach, FL.
I will be in attendance and hope to see you all there!