On March 31, the Warner Bros. Studio Tour in London will unveil an exciting, permanent expansion dedicated to Hogwart's Forbidden Forest.
As released earlier this week by Warner Bros., "The Forbidden Forest may be strictly off-limits to Hogwarts students, but, for the first time this March, guests are invited to defy Professor Dumbledore's orders and follow the footsteps of Harry, Ron, and Hermione deep into the grounds of the Forbidden Forest."
PopWrapped spoke with two representatives from Warner Bros. Studio Tour London to learn more about the new exhibit and the interactive features of the Forbidden Forest. "You'll be able to bow to Buckbeak, but he's not going to bow back -- but he's beautiful, and very stunning," the representative said. Though Buckbeak won't be animatronic, "we do have some interactives inside the Forest as well. You can change the weather, which is really good. We'll also be showing how a patronus is made," she added.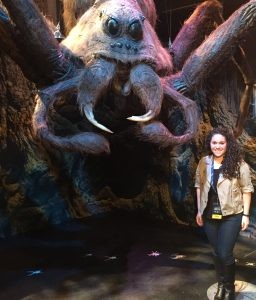 The Warner Bros. Studio Tour in London had not previously announced that there would be a part of the exhibit dedicated to patronus creation, but this news makes us want to book our flights to London ASAP! And you'll need to learn how to make your patronus in order to fend off any dangerous creatures in the Forest.
You might even run into Aragog, featured in the Harry Potter films, who stretches 18-feet wide. Aragog made an appearance this past weekend at "A Celebration of Harry Potter" in Universal Orlando. And trust us; it wasn't easy to get him across the Atlantic.
"His legs came off from the body and painstakingly wrapped up in bubble wrap and placed in a massive crate. And the team from the tour came out and they've been here a week already, and they helped the Universal team and the creature effects team put it all back together," she explained. With the combinations of teams in a new place, there were some unexpected challenges when it came to rigging Aragog from the ceiling of the soundstage. "They were quite a bit nervous about it and they really had to take their time with it to make all of the joints and everything. We got there — it was sort of a bit up, and bit down, a bit here, a bit right and left... It was a lot of effort."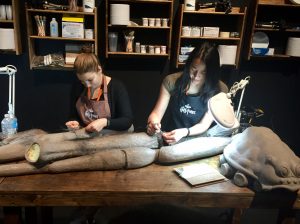 Aragog's and the mini-spiders' hairs are actually a combination of coconut hair and yak hair. Each strand is hand-knitted by a team into the molded legs. The intricate process takes months, but the result is incredible.
Later this week, Aragog will be packed up again, just how they brought him here, taken back to the UK, and installed in Forbidden Forest with some of his mini-spiders. He'll be joining Buckbeak and Hagrid in the Forbidden Forest exhibit at the Studio Tour in London starting March 31.