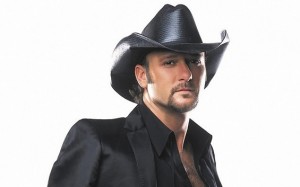 Photo by: LA Weekly
Tim McGraw drew controversy to himself after a video taken during a July concert had arisen online. In the video, he had
visibly slapped a fan
to remove them from off of his pant leg so he could refrain from having them torn as he tried to reach other fans during the remainder of the performance. Well, as the internet would have it the video went viral, and regardless of specifics the country star's been getting flack for it since. With that having been said though, it's all settled now according to McGraw, through "
a simple conversation
." McGraw went on to say of the altercation, "It is one of those things that happen, nobody feels good about it, but there's nothing that could be done about it. You are in that position, you are out there you are vulnerable, things happen and sometimes you react." No matter what the minutiae of the events leading up to the settlement may be, we're simply happy that Tim and his fan could allegedly leave this situation behind them.