The 7th period on the Periodic Table of Elements is now complete.
Four new elements have been discovered with the atomic numbers 113, 115, 117 and 118, and fill in the bottom row of the table: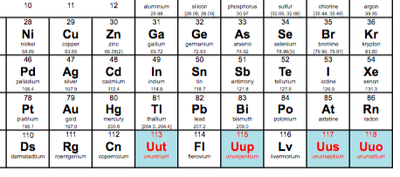 NPR
Several teams of scientists  from Japan, Russia and the United States worked to find the these elements.  Of the four new elements, three were discovered as part of a collaborative effort between scientists at The Joint Institute for Nuclear Research in Dubna, Russia and the Lawrence Livermore National Laboratory in California.  Element 113, having been discovered in Japan at  the Riken Institute, has been given the distinction of being "the first element discovered in Asia" by the team.
These new elements haven't been laying around on a shelf for scientists to find them.  It took a lot of work. The new "Fab Four" had an artificial birth:
According to NPR :
The new elements were created by using particle accelerators to shoot beams of nuclei at other, heavier, target nuclei.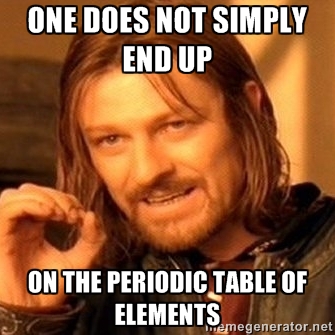 Once created, each of the elements is in existence for the length of time that makes a blink seem long. (Less than a thousandth of a second is the life span for Element 113.)  All of the new elements are considered superheavy because they carry so many protons and are also very unstable.  After all of this tricky observation, the newly discovered elements were  verified by International Union of Pure and Applied Chemistry (IUPAC).
Now the newbies on the chart can hang out and wait for the teams that discovered them to officially name them.  Again, the names will have to be verified by IUPAC. For now, however, we can refer to them as ununtrium, ununpentium, ununseptium and ununoctium.  
Once officially named, the elements will be given their two-letter symbol and put up for public review for five months.  The IUPAC will then give their final blessing leading to the editing of chemistry textbooks everywhere.