Funimation has delayed the highly-anticipated second season release of the hit sports anime Free! Eternal Summer until further notice; the company does plan on announcing a new release date as soon as possible.
Free! Eternal Summer was initially scheduled to be released on September 29, with Funimation offering three different editions of the hit series: the first being a regular DVD/Blu-ray combo pack, the second a limited edition set with a collector's box, and the last being a premium edition set that includes the collector's box, an art book, art cards, decals, and a sports towel.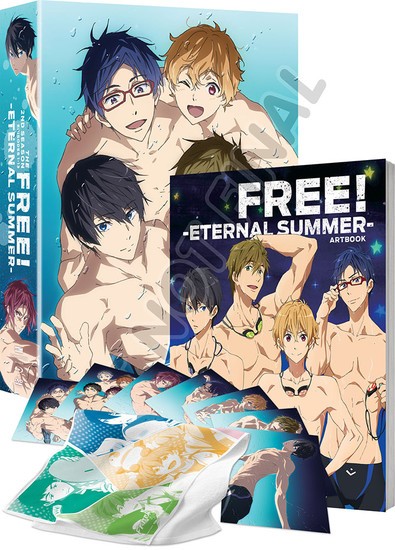 Anime News Network
Those who pre-order the series through Funimation's website will receive a discount on the OVA, which will be released on a yet-to-be announced date (perhaps summer of next year?). Funimation acquired the license of the second season of Free! last year and streamed the series along with Crunchyroll last July. The licensing circumstances around Free! are most certainly odd and quite disappointing, since Funimation was unable to license the first season; that honor went to Discotek, who released the first season on DVD with English subtitles earlier this year.
While it's disheartening to hear of the series delay, it gives more than enough time for fans and first-time viewers to catch up on the 12-episode first season by streaming it. The most common misunderstanding individuals have on Free! Eternal Summer is that that's where the story begins; they remain oblivious to the fact that there's a first season because of the licensing hiccup.
So, let's curb our disappointment and marathon Free! from the very beginning while we wait for the release of the second season.
Also, keep an eye out for a first season review by PopWrapped's PopTalk!