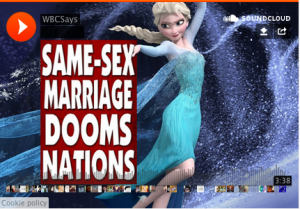 Courtesy of Pink News/ Soundcloud
Roxanne Powell
Senior Content Editor
Frozen 
gone too far? In its latest attempt to let us all know 
exactly 
how they feel about the "gay agenda," the Westboro Baptist Church has
released its own cover
of the the movie's most popular song, "Let It Go." Originally an empowering song about women coming out of their socially-induced seclusion, the WBC has turned the song on its head. Some new lyrics include:
"Your sin shines bright in this nation tonight
Not a good heart to be seen
A kingdom of fornication, and it looks like fags are queen
The mobs are howling as the heathen rage and cry
Tried to warn we all, heaven knows we tried."
Then there's the matter of the chorus: "
Let it go, let it go, don't give the fags any more,
Let it go, let it go, kick them out and slam the door.
We don't care what lying preachers say,
Let the mob rage on,
We're still gonna warn you all anyway."
[audio mp3="http:https://pop-wrapped.s3-us-west-1.amazonaws.com/photos/LetItGo.mp3"][/audio] Right-wing groups have been attacking the popular Disney movie ever since its release, targeting such "messages" as bestiality and gay character relationships. But come on! Just because a guy has a reindeer as a best friend does 
not 
mean what you think it means! Get your minds out of the gutter. Also, if a man wants to own a sauna with his family, who cares if that family may include a husband and several adopted children? As long as people are happy in their own hearts and skin, 
who cares
? To combat the negative vibes coming out of the WBC, the Equality House set up roots across the street, where they performed a same-sex ceremony last June. After the death of his grandfather, Pastor Fred Phelps, Zach Phelps-Roper took his leave of the WBC. Phelps-Roper shared his grandfather's change of heart later in life, which caused the older man to be cast out of his own order by some of the church's "more militant members." Phelps-Roper described the church and its message as a "mind trap."
Keep Up With PopWrapped On The Web!