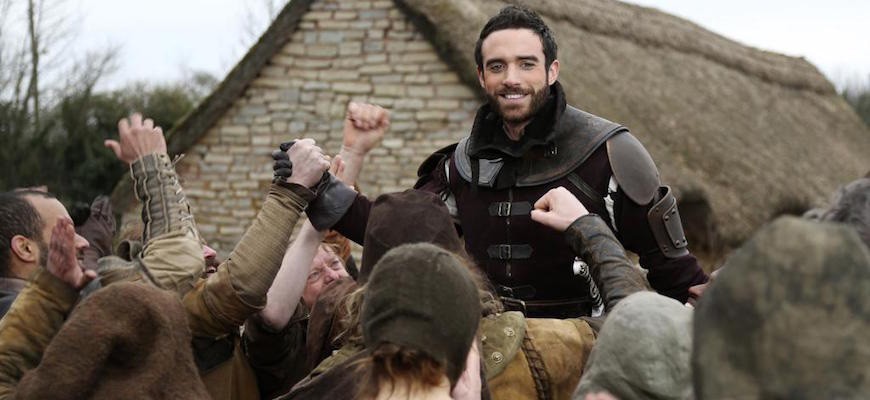 Yahoo
Once Upon A Time
 absolutely owns the 8pm Sunday night slot, but is on a bit of a hiatus until spring. Instead, fans of the show were treated to some amazing television last night with the premiere of 
Galavant.
Every time my friend Christina and I would see a commercial for the show, we'd immediately look at eachother like 'WHAT IS THIS!?' and then proceed to yell it at the TV. Expecting it to answer us, of course. For WEEKS we would see the commercial, with parts of the cast being shown, but only one word being sung: Gaaaalaaaaavaaaaaaant. You had us hooked before we even knew what in the world was going on, so I have to bow down and worship the marketing genius behind this. You win. The musical extravaganza started off on a high note, introducing us to the man, the myth, the legendary knight himself: Galavant (Joshua Sasse). Any show that starts off in song pretty much wins my heart a million times over, so when you combine that with a damn good looking British man, who can belt it out and rock medieval garb, I start to plan my fake wedding to him. His story is a cheesy one: He's the most amazing man in all the lands, he meets the most gorgeous woman in all the lands, they fall in love and fornicate like rabbits. His lady, Madalena (Mallory Jansen) is the epicenter of his heroic universe. Until one day, King Richard (the PERFECT Timothy Omundson) comes along, catches a peek of her and, well, kidnaps her. Nice and standard. Galavant takes off to steal her back, arriving just as the King and Madalena are about to wed. Gal pours his musically inclined heart out on the floor, then, in the cockiest way imaginable, tells the King that Marvelous Madalena will choose him. She throws him a little bit of shade and says that no, she'd rather be rich (causing the King to do the mini happy dance to end
all
mini happy dances, if you needed more reason to watch). We then cut to Gal, drunk and smelly in his little hut, with his perky squire Sid (Luke Youngblood). In strolls Princess Isabella Maria Lucia Elizabetta of Valencia (Karen David), who is having a bit of trouble in her homeland of... Valencia. She's got a green rock the size of her head that she stole away after King Richard took over  her castle and captured everyone in sight. They sing a song (there is a theme here, kids) and after hearing that Richard is involved, Gal is now 100% set on the mission. Gal, Sid and Princess LongName take off to kick some Kingly ass and win back the girl, who is the ultimate materialistic twat. She's mean and shallow and treats King Richard like crap... but he's a wuss, as is pointed out by his badass henchman Gareth (Vinnie Jones). Madalena lusts after the Court Jester (Ben Prestley), who has a way with his Jester's stick that we can't discuss in public. We're also introduced to the Chef (Darren Evans), who is another fantastic addition to this already hilarious cast. The King busts out in song, complaining about how Madalena goes on and on about Gal and all the glorious ways he wants to murder him. It's this nice little ditty that is so lighthearted it almost makes you forget it's listing off horrible ways to kill someone. The song is so damn cheesy that you can't help but giggle at it. That's kinda the heart of 
Galavant
... don't take anything too seriously! Just celebrate the guts it took to put this on television. I'm sure there's plenty of backlash about the show so far, but for me? It's perfect. We find out that Princess LongName is talking to Gal because King Richard ordered her to, not because she's desperate for help. The tables, they turn! The trio of travelers come across some Robin Hood wannabes in the forest and of course Gal takes them down... suddenly Madalena shows up and King Richard is by her side. They harass him, and de-pants him (THANK YOU OMG) when... wham... Gal wakes up. The troubled hero is all gung-ho again after being embarrassed in his dream, belting out his heroes journey song, travelling over the majestic lands. It's way  more epic and majestic than it needs to be, and that's what sets it apart. Holding a long musical note, Gal gasps for breath as he says "Holy sh*t, I'm out of shape. Ohhh, my tummy hurts. *whew* That was a long song." At it was at that moment I lost it. They bleep out curse words and for some odd reason, it makes the moment that more hilarious. So Gal is out of shape and broke on his heroes journey. LUCKILY there's a sign nearby saying there's a joust with a good amount of moola to win. Boom, problem solved. At the castle, Chef is feeding the King like he's a 1 year old, saying things like "Catapult at the readyyyy..." before a soundeffect and stuffing the King full of food. The King claps like a child who just opened his Christmas present and it's perfect. Timothy Omundson, you're stealing the show. The King notices that yes, he's a bit of a wuss, and asks Gareth how on Earth he can man up. It's at this point I notice that Gareth's earring has what I shall call Wandering Bling Syndrome... it switches from ear to ear from each shot. I don't know if this is on purpose but I really hope it is! Gal, Princess LN and Sid are at the joust and HOLY CRAP IT'S JOHN STAMOS. Good lord, who put this man in medieval chains... you're a bloody genius. He's Sir Hamm, who is indeed, quite the ham; he drops some horrible 'yo mamma' jokes and adds even more cheese to the platter. I think I am in love. The priceless stone of Valencia is their entrance fee, which makes the Princess upset. She notices that Gal doesn't have a chance in hell to win, so she talks him up and he's advanced to the final stage 'on  merit alone'. Talk about a reference. Princess is apparently fantastic with the sword, beating Gal at his own game. Wuss. She whips him into shape Rocky-style and he's back in the game. We get to see a soaking wet Gal, which Princess promptly sees and replies how the rest of us did: "Daaaaaaaaamn." Yes. A million times yes. Princess takes off to seduce Sir Hamm, ensuring that Gal wins. She brings him Absinthe and makes him chug it, promising sexyfuntime later. At the castle, the King puts on his big boy pants and starts to treat Madalena like the wench she is. "Yeah I burped. Do ya whiff it?" The joust is on! Sir Hamm comes out of his tent, barfing up the greenest puke imaginable through his facial armor. It was like a fountain, really. Gal comes out on his horse, explaining that they trained too hard and he can barely move. The joust is on! The excitement! The... slow horses. Sir Hamm and Gal meet in the middle after trotting up on their horses and both fall off. The announcer for the joust declares that the first man on his feet will be the winner. Immediately both men start to wiggle around like the sad little tin men they are. As expected, Gal remains on his feet and wins the joust, seconds before Princess knocks him back down, explaining she has something to confess. King and Mad are having an incredibly awkward dinner, but not bad enough that they can't burst into song. They have a moment together and the song is titled "Maybe You're Not the Worst Thing Ever". This is real. Gal and Princess also share the song, and it's just another point in the show where I'm sitting on the couch giggling at the cheese. The King tells Mad that one day she will love him, but she tears him right down. The King dashes off, seeking a hug from Gareth, who is the anti-teddy bear... but also so damn huggable!
Galavant
, I must admit, you were better than I expected you to be. Your cast is STELLAR and I love how the songs have a bit of an adult edge to them. I'm definitely tuning in next Sunday. More importantly, what did
you
think of the 
Galavant
 premiere? Tell us in the comment section below!
Keep Up With PopWrapped On The Web!