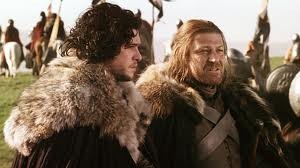 Sharmake Bouraleh
Staff Writer
Everybody loves Game of Thrones, the HBO TV adaptation of George R.R. Martin's A Song of Ice and Fire fantasy novel series. Don't listen to those who don't. They're blasphemers and you can watch them burn in Hell from your VIP seat in Heaven.
One of the most relevant and as-of-yet unsolved mysteries is the identity of Jon Snow's long-missing mother. You may know Jon Snow as the grim and seemingly perpetually-gloomy bastard son of Eddard "Ned" Stark. This particular fan theory claims to have solved that puzzle, but be cautious – potential spoilers may abound.
Are all those squicked out by spoilers gone? Good. Ladies, gentlemen and in/out-betweens – let's get down to it.
The theory, popularly referred to within the Game of Thrones/A Song of Ice and Fire fandom as "R+L=J", postulates on a few facts, and a few assumptions: It states that Ned Stark is not indeed Jon's father, but his uncle – Jon (J) is speculated to be the son of Lyanna Stark (L), the sister of Ned Stark who was kidnapped (but heavily implied to have left consensually) with Rhaegar Targaryen (R), the Silver Prince and heir to the Iron Throne before Robert's Rebellion which was sparked by said kidnapping and ultimately led to Rhaegar's death at the soon to be Usurper King, Robert Baratheon.
This theory is supported by the fact that Ned found his sister Lyanna in a pool of blood and was pressured into accepting a promise she bade him to make as she lay dying. It says that the pool of blood was one caused, not by murder, but by childbirth. This is further evidenced by the fact that Ned returned sometime later to his home of Winterfell with a bastard he claimed to be his own, which caused no end of heartache and disappointment for Catelyn, when she had to look upon the living embodiment of Ned's infidelity and dishonour in Jon Snow. It wasn't so easy for Jon, either, who didn't ask to be born nor to be rejected by his father's wife.
But that doesn't add up, does it? We know Ned to be an honourable man, to the point that it ultimately lead to his untimely death by the end of the first book/first season? The theory accounts for this by claiming that Jon wasn't Ned's son, but his sister's and that Ned only claimed it was his bastard to spare him from being murdered as a Targaryen and son of Robert's mortal enemy in Rhaegar; not to mention a threat to his claim to the throne. No doubt Robert would've had the embodiment of his rival's legacy with his betrothed put to death – somehow, Robert doesn't strike me as the Snape-esque "hate the progeny of my bitter rival and departed beloved but protect them all the same" type. He did, after all, condone the act Tywin Lannister had Ser Gregor "The Mountain" Clegane execute, and had Rhaegar's wife Elia Martell and  her children slaughtered.
Other supplementary facts that bolster this theory include: Jon being said to look like Arya, who is turn said to look like her aunt Lyanna; and Ned thinking that he's "lived his lies for fourteen years, yet they still haunted him at night" – Jon, at the beginning of the first book, A Game of Thrones, is fourteen-years-old.
That's certainly a doozy of a theory, isn't it? Do you think it's accurate in its deduction? Or do you think it's just too convenient to be true? Either way, you can't argue that George R.R. Martin has put countless clues and intricate thoughts and effort into his novel series – it certainly shows.
For the rest of the reasons explained by this theory, check out Alt Shift X's below. Let us know what you think of this theory, or any other ones you might have, in the comments below!
Keep Up With PopWrapped On The Web!