Pricilla Kumar
Staff Writer
Game Of Thrones
Season four,
"The Children,"
aired this past weekend and, although it left a lot of questions unanswered, fans seem to be clenching on to one element that didn't quite parallel the book: Where was
Lady Stoneheart
? Earlier this year, Lena Headey posted a photo on her Instagram that showcased an array of rocks in the shape of a heart. The fans who have read the book took that as a sign that Lady Stoneheart would appear in Season 4; and as the season came and went, there was no sign of the awaited lady.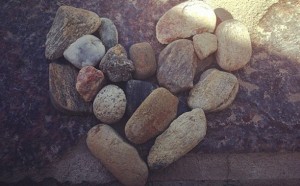 Lena Headey's Instagram
Who exactly is Lady Stoneheart? In the book series, it is Catelyn Stark; the beloved character that was killed off in the highly talked about episode,
"
Red Wedding." Three days after she was killed, she was resurrected by Lord Beric Dondarrion, a character introduced in season three. As her corpse is brought back, she joins the Brotherhood Without Banners as a killing machine. However, don't be expecting the Lady to be returning anytime soon.
Game Of Thrones
director Alex Graves doesn't want Michelle Fairley, who he calls one of the greatest actresses around, to be a zombie that doesn't speak and just axes off people. He also feels into doesn't fit into the show and the plot line. The emotion might lie in the fact that fans are still reeling over Catelyn Stark's surprising death and are looking for a way to bring her back to the big screen. We all know that with
Game Of Thrones
nothing is set in stone (see what I did there?), so there is still a small spark of hope that the Lady will make her way into the storyline.
Keep Up With PopWrapped On The Web!