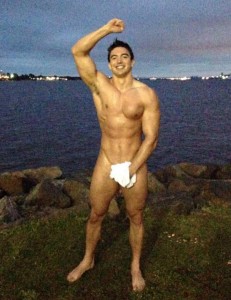 Courtesy of Google
I think Steve Grand totally wins.
Right? Out and proud country star Steve Grand had everyone reaching for a bucket of ice water for a totally different reason when he decided to take part in the ALS challenge. Everyone needed cooling off after Steve posted his challenge photo, along with a message after he had successfully skinny-dipped in Lake Superior!
I don't always get naked, but when I do, it's for a good cause. I didn't want to waste fresh water (since there are so many without) so naturally, I jumped into Lake Superior, naked, after my performance here in Duluth, MN. Video to come soon. I'm donating to ALS (visitalsa.org/donate) as well as 2 other charities I am passionate about. (Thewaterproject.org and a local LGBTQ homeless youth charity). I nominate ALL of you, to find a charity you are passionate about (in addition to ALS), do your research, and donate according to your means. Love you all!  -Steve
You read all of it right? Or are you still staring at the photo? Have to give Steve so much credit for what he did here, bringing awareness not only to ALS but also the charities he is passionate about as well. Thank you Steve.
Keep Up With PopWrapped On The Web!
Twitter  SoundCloud Facebook Instagram Tumblr Pinterest YouTube