Seinfeld fans are aware that Jason Alexander's character, George Costanza, likes to pretend he's an architect. The irony came when the actor revealed that his son is actually dating an architect in reality!
Every time Costanza is in trouble or wants people to consider him important, he claims to be an architect and makes everyone believe him. He never actually ended up becoming one, but at least there's an architect-themed story to tell, as Alexander revealed on Twitter. Take a look at his tweet for yourself.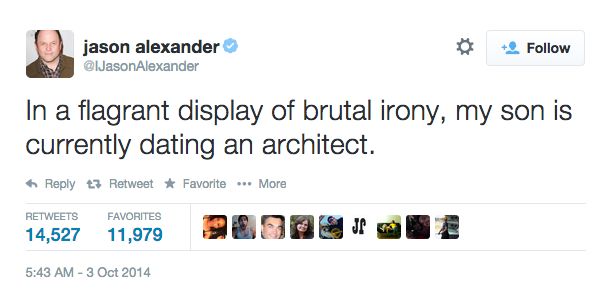 Courtesy of Twitter
Now isn't that ironic?! Pretending to be an architect really often for the needs of your own role, the character not being involved with the profession at all, and then your son seeing an architect. Life's really got a weird sense of humour, after all.
Keep Up With PopWrapped On The Web!
Twitter 
SoundCloud
Facebook
Instagram
Tumblr
Pinterest
YouTube