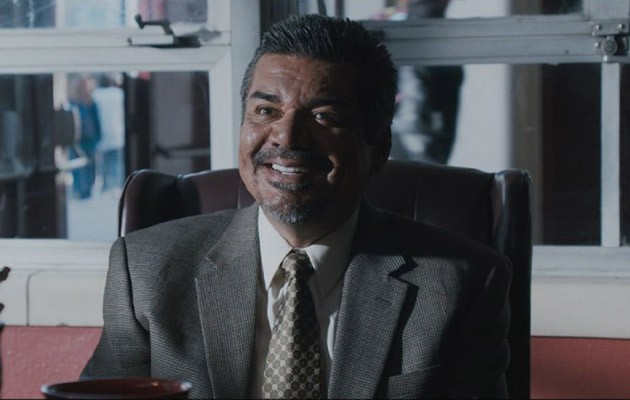 Courtesy of IMDB
Comedian George Lopez refuses to be stereotyped or pigeon-holed. Throughout his successful career, this proud and sometimes strongly opinionated Mexican-American performer has marked his own unique path in Hollywood as multi-faceted and multi-talented, noting how he is a groundbreaking performer on stage, movie screens, and television. Raised by his often harshly stern maternal grandmother after being deserted by both his parents at an early age, Lopez found comedy as an escape route from his difficult youth and meager home surroundings. He honed his stand-up routines in Los Angeles' competitive comedy circuit, inspired by the likes of comedy legends Freddie Prinze (Sr.) and Richard Pryor. Along the way, Lopez broke new ground for Latinos in entertainment. In 1999, Lopez was the first Latino to host a major morning radio show on an English-language station in LA, the nation's top radio market. One year later, with the support of actress Sandra Bullock, Lopez would produce and star in his own popular Emmy-winning sitcom,
The George Lopez Show,
which is distinguished as being the second longest running sitcom in TV history to star an Hispanic lead, behind
I Love Lucy
. It remains a huge hit to this day, in syndication after a six-season run on ABC. Lopez has also been featured in a number of feature films. He is now set to star in
Spare Parts,
 opening nationwide January 16th, 2015. It's the true life story about four Hispanic high school students who form a robotics club under the leadership of their school's newest teacher, Fredi (Lopez). With no experience, $800, some salvaged used car parts, and a dream, this rag tag team goes up against the country's reigning robotics champion, MIT. On their journey, they learn not only how to build a robot, they also learn lessons in self-esteem and cultural pride while building a personal bond among them that will last a lifetime. I recently chatted with Lopez via telephone from Los Angeles about his new film, his life, and his career.
What is it about this film, Spare Parts, that appealed to you most? Not only as an actor, but also as a Mexican-American and film producer ?
The things I've always liked about movies are the ones about underdogs and heroes. We see that in many animation films and what Marvel Studios are doing; but in the human form, it's much more powerful. A lot of times, a movie based on a true story tends to get a little bit melodramatic and wishy-washy. However, this one has surprisingly maintained the drive, the heart, the passion and the belief that these kids portrayed in the film don't have at the beginning; but then, they find it along the way. That trip along the way is what's been great about being involved with this film.
This is an inspiring film in general, but how does this film, in your opinion, inspire all Latinos who feel the odds are stacked against them like the kids in this story ?
Well, it seems to be a thing now that, especially because of the immigration topic, which we address in Spare Parts, that our lives don't matter… that our Latino culture is a second class culture or sub-culture – and its not. I believe that in the Latino culture that there's a lot of burden that we carry that we sometimes self-inflict. We're told from an early age to not think highly of ourselves in some ways because it's conceit. There's a knocking down of incentive, of drive and of hope among some of us, in some families. There's sometimes ( unsupportive ) parents or a kind of tension that exists. I think some of those aspects are shown through this film and triggers something very emotional for some individuals. But, the experience of the characters in this film shows we can definitely beat the odds.
In your autobiography, Why You Crying?, you relate how your young dreams weren't encouraged the way that they should have been. Are there parts of this film, and the young characters' experiences depicted in it, that you personally related to ?
When I first started doing stand-up comedy, I used to go with a buddy of mine. I would always say that you would feel better when you have somebody with you, than when you go alone. So, when he couldn't go – I didn't go. Then I started to think, if I'm ever going to get to some place in my career, I can't rely on someone else going with me to motivate me to do what I want to do. A dream or an accomplishment is not a right or something that is simply deserved; you have to go after it and make it happen. Sometimes it doesn't happen, but at least you tried and devoted yourself to it. And when it gets tough, you dig in even harder. When I was younger, one of the things my baseball coach told me that was dead-on was that when things got tough, I would quit. We had a huge fight about it, but he was right. When I started playing golf in 1981, and the golf got difficult, I quit that too. Finally, one time I was driving home thinking and I realized ( expletive ) that teacher was in my head and he was right. I remembered I had treated him badly, talked about him and made fun of him for trying to help me. As a result, our relationship just blew up. I eventually went back to the school when he was practicing with his team at the time and I apologized to him for giving him such a hard time in high school. I finally realized that what he was telling me was right all along.
One of the themes in Spare Parts deals with undocumented immigrants seeking the American Dream. One young character in the film tries unsuccessfully to enroll in the Army but can't because of his undocumented status. Why is that theme, in your view, such an important part of this film ?
America and the military is made up of many different people and nationalities. One thing that I know from the work I've done with the Wounded Warriors Project, Walter Reed ( Army Medical Center ) and the time I've spent with soldiers at different hospitals around the country is that there is a camaraderie that is beyond color when you are in the military together. And, to want to join the Army when the country is telling you that they don't want you here ( because of being undocumented ) is even more impressive and even more inspirational. When the film shows that there are people who want to serve under those circumstances, it's very emotional and heartwarming.
A lot of people may not know that in 2004, Harvard University honored you for your artistic and humanitarian work. Given your upbringing and what you've overcome to achieve your success, how important is it for you to give back via your charity and humanitarian work ?
I remember that day at Harvard. When I walked into the first meeting room and all those kids started clapping; I did my little pose that I do on stage when I get down on my knee and they just went crazy. I wrote about that day in my autobiography and said seeing them made an old Chicano very happy. I cried when I said that and even right now… it's just beyond my imagination and beyond my expectations were for myself when on June 4th, 1979, I left my house to go to the Comedy Store in Westwood ( Los Angeles ). I never imagined any of this happening and could not have imagined any of it. Even if they had given me a notebook and said write down all the things you would wish would happen to you in your life; I'm sure I never would have dreamed of all the wonderful things that have happened for me.
I understand you premiered Spare Parts for the students at the real life school in Arizona, Carl Hayden High School, before the official film premiere in Los Angeles. What was their reaction to the film and your reaction to seeing them?
Well, I love students and I love to see kids. ( Spare Parts co-star ) Carlos PenaVega probably got a larger applause, but for a 53-year-old dude, I was happy with the reception that I got. A lot of the kids were quoting me and saying stuff that I've said in my stand-up comedy. One kid told me, "I've grown up with you" and some even wanted to hug me. When I was in high school, I loved ( comedian ) Freddie Prinze and Richard Pryor and I can't imagine what it would've been like for me to have hugged either one of those guys and how much it would have meant. It was pretty special to go to Arizona and to screen it for the kids at the school. To have the film premiere that night in the city of Phoenix, with all the things that are going on there immigration wise… the city was so open and accepting of our film.
Comedian Chris Rock recently wrote an article for The Hollywood Reporter magazine about how difficult it is for African-American actors in Hollywood. What's your view of what its like for Latinos in Hollywood and why can't more films like this one with a positive message for Latinos get made ?
We've always been a little behind in the race from the beginning in Hollywood. We think about the beginning of television and the movies where Italians played Latinos and everybody played Latinos except Latinos. Now, there's a thing where they're often making movies that are mostly all black or all white; and that doesn't do a service to the world in general by targeting the films to a certain audience. On the other hand, as a producer of Spare Parts, I wanted to make sure that everyone could see this movie and be ( represented ) in this movie. I don't see my world as all brown. Nor do I see it as all black and white. I see it for what it really is, which is diverse and inclusive. Sure, there are troubles and there are lives that matter and there are hashtags saying "All Lives Matter"… and yeah, all lives do matter and everything that bothers other cultures bothers we Latinos as well.
One of your biggest successes was the TV sitcom The George Lopez Show on ABC. It's now huge in syndication. What made that show such a success and what about it are you most proud of ?
The thing about that show was ( the writers and producers ) looked to me and my life for the stories; instead of them telling me how the stories were going to be. A lot of the show reflected parts of my own life. The elements of the show were based on my own grandmother who worked at a factory. I really had a friend named Ernie and he was always having trouble with women. I didn't have a father around in real life and, even though I had kids in the show, I was trying to be a better father to them than the way I grew up with my grandmother always being hard on me. The show had a lot of emotional moments and incredible humor which, for that time, was cutting edge and a little bit edgy. But, the fact that its never been off the air since it premiered in early March of 2002 is a testament to me always believing that if I got a chance to do a show like that, I would be able to do it right.
You mentioned earlier how comedians Freddie Prinze and Richard Pryor had a big impact on you. What advice would you give other comedians out there?
It's easy to become a shadow of somebody else that you admire. However, the true comedians that have made it, have always been individuals that have had their own mind and spoken their own mind. I'm not worried about what any other comedian is doing of whatever nationality. I'm only worried about what George Lopez is doing on stage. It's very difficult when you're starting out because you want hit big; but, the more introspective you are and the more you try to mine things that are important to you and your point of view… it may be riskier, but the reward is worth the risk.
Final pitch for you. Why should people see your new film, Spare Parts ?
It's what movie making is all about. It's about seeing underdogs go in and become heroes. It's a film that translates to all and everyone in the family will love. And, if you're a kid, it will inspire you. If you're a parent, it will inspire you to help your kids and also influence our own lives and what we can do ourselves to be better.
Keep Up With PopWrapped On The Web!