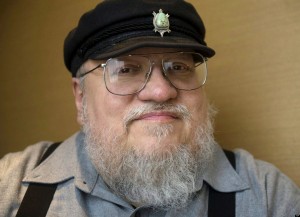 Alyssa Harvey
Staff Writer
Game of Thrones
, is giving
two fans the chance to be killed
… in one of his future novels, not in real life. Martin has started a fundraiser to
help the Wild Spirit Wolf Sanctuary
and the Food Depot of Santa Fe, New Mexico. Fans will get different prizes based on the amount of money they pledge. Two fans have each pledged $20,000 and will have a character named in their honor in a future novel.
Martin's Prizeo page states that:
There is one male character and one female character available. You can choose your character's station in the world (lordling, knight, peasant, whore, lady, master, septon, anything) and you will certainly meet a grisly death!
Doesn't that sound lovely and special? The two "grand prizes" have already been claimed, but there are many more still available. For $15,000 you can have breakfast with the author, a measly $7,500 you can get one of his hats, or for $50 you can get a really overpriced T-shirt. Every donation also earns you an entry into a drawing to win a trip to Santa Fe to spend time with the author and visit the wolf sanctuary. Martin's final goal is to raise $200,000 by August 4
th
.
Keep Up With PopWrapped On The Web!