Are you ready, ladies and gentlemen, to venture back to the hometown we all wish we had: Stars Hollow? It's winter when we finally get back, but, before we can drift onto the snowy scene, we're given a recap of sorts of important, funny, and poignant dialogue from the original series on a black screen. Oh, I didn't expect hearing Edward Hermmann's voice would be such a gut punch straight away. I guess I knew I'd see him, as the giant portrait was in the trailer, but I didn't know we'd hear him. His voice always commanded attention, didn't it?
"Winter"
We started with the lovely ladies Gilmore in the gazebo. Rory is fresh off a plane -- "fresh" is the operative word there -- and we get a lot of meta comments about how long it has been. It's sweet, but a bit much, as I feel like they are moments away from turning to look directly into the camera and saying "Did you miss us?" Of course we missed you. We petitioned for this day. We bothered you senseless on Twitter and at conventions. Believe me, you've got our attention.
Rory has fifteen thousand phones (or three). She explains that they all have different purposes -- but the one which is supposed to get signal in Stars Hollow does not, and she runs all around town trying to take a call. Lorelai declines to follow her, as she is all of us when she says "I just got my steps." The moment that Fitbit buzzes, baby, I want to be carried off to my bed and allowed to sit perfectly still until midnight.
Rory runs into Doose's -- who are we going to see?! -- and climbs the shelves to try to get phone signal. Lane comes in! She reports that Zack has gotten a promotion (a bad thing?) and now has to dress up for work. Lane is sweet enough to lie to him and say he looks like a young Leonard Cohen (RIP).
Kirk has a new business: Ooober. It's not Uber. They are completely different words and completely different businesses. He hasn't got an app, after all. You just call his mother, and she'll call him, and, eventually, he might show up with a car to take you someplace. He also has a pig now. Lorelai explains to Rory that he and Lulu were discussing having kids, so the town all pitched in and got them a pig to push that conversation down the line a bit.
Lorelai smells snow, and, just like that, it's snowing in our favourite town square.
The troubadour is there, adding to the ambience. Man, I missed this place. I don't even care that it's fictional.
The house looks bigger, doesn't it? Yay, Paul Anka is still around! Lorelai prepares Rory (and us) for Super-Proud Luke, and that he is. He's all about her "Talk of the Town" piece in The New Yorker about someone called Naomi Shropshire. Considering Google and I both don't know who this woman is, I'm guessing she will feature somehow as we move forward.
Luke has changed the kitchen to reflect that ovens are for more than warming socks. He's got a set up that brings a kitchen fiend like myself nearly to tears. 
He is making a huge dinner, and they're snacking. Some things never change; Lorelai and Rory are eating junk, and he wants to feed them real food.
Honestly, I wasn't sure in what state we'd find Luke and Lorelai, given the trailers. We saw them together, but we also heard Lorelai hesitate when saying that they are happy. Right now, though, it seems like a warm family vibe, so I hope it'll stick around. #TeamLuke.
Rory has given up her Brooklyn apartment that was apparently AWFUL. She is going to just crash with people forever. That seems like a grown-up decision. She should be, what?, 32 here -- the same age Lorelai was when the original series started. It's hard not to think about all those awful arguments against millennials when you see how hard Lorelai worked to put down roots and how eager Rory is (at least pretending to be) to stay rootless. She has boxes stashed all over in different friends' houses in different cities, and now she's looking for her lucky dress.
Paul is here.
No one knows who he is.
He is Rory's boyfriend, who she has forgotten she invited to dinner. He has stories about each of them -- he seems like a good listener -- and they don't remember him at all. He has virus software for Lorelai's computer and an antique wrench for Luke. He and Rory are celebrating(?) their second anniversary, and she seems to have no clue about the relationship, really.
Lorelai has a DVR now! It is just as cluttered as her boxes of VHSs and DVDs. It's a nice little callback. 
She has a recurring dream about bloody disgusting bathrooms. I'm shuddering even thinking about them. Luke swears that she won't have one tonight, but she does and wakes to hear a constant banging sound.
Rory has taken up stress tapping. By the looks of it -- not that she's very good -- she has a lot of stress to handle. She has hidden Lorelai's phone, so there can't be any evidence of her pitiful dancing. Rory's career doesn't sound like it's going as well as super-proud Luke would make you think. One of her pieces just got bumped from The Atlantic.
Grandpa is mentioned. We all miss him. "To absent friends."
We've reached the first real laugh of the series: Taylor has a sign in the town square that says, "All I want for Christmas is my two front teeth ... and SEWERS for Stars Hollow". Oh, Taylor! Never change.
I think Luke's wifi password is fake! He keeps giving different -- but believable and cutesy -- options. 
He also has a new sign (next to his "NO CELL PHONES" sign):
NO - Texting while ordering
- MAN BUNS! - Taking Pictures of Food - Headphones - If I can hear your music through your headphones, WHY ARE YOU WEARING HEADPHONES?
It's a classic Luke rant in sign form! I imagine that's what his script pages look like sometimes.
Luke's has new menus, and they have Rory's New Yorker piece on the back. Super-proud! It also looks like he might have included a photo of her when she's about 17.
Caesar is there and has long hair now! If it weren't for his voice -- I can just hear him shouting 'chilaquiles!' -- I'm not sure I would recognise him.
Taylor wants Luke to give a septic tank testimonial. I think this one isn't going away.
Kirk's Ooober business is picking up! His fare was only ten minutes late for her chemo! He wants to use a corner of Luke's Diner as a hub for his business.
Everyone forgot Paul again. Lorelai and Rory have shown up for breakfast, and he comes running in like a puppy who got left behind. He wants tea, not food. That's just not Gilmore. He's going to go to wash his hands while they wait -- I think they're going to leave him while he's in the bathroom. The food is ready, they're out the door, aaaaaaand Rory (barely) remembers him! ... but not his tea.
Michel's sexuality is addressed in the first moment we see him. His husband wants children, and they were together for five years before marrying. Of course, Michel does not want children. He has never liked them, and Frederick, his husband, seems to think that putting babies in his arms will change his mind.
They acknowledge the Dragonfly's empty dining room and empty kitchen -- I ache for Sookie -- so they are hosting pop-up nights. Tonight is Roy Choi, who Lorelai quickly sends away (to Momo's) after he dares to move the coffee machine:
"Wait, it's a tire store?"#GilmoreGirlsRevival

— Papi MF Chulo (@RidingShotgunLA) November 25, 2016
The name drop Anthony Bourdain! and other famous chefs (but Anthony Bourdain!). Sookie was on a six-month sabbatical, but now she's been gone a year on a farm evolution-ising food-growing techniques. Michel clearly misses her because it's coming out as anger.
Gypsy calls, but it's an accident, and Lorelai's car isn't fixed. She reluctantly calls Ooober. Kirk has a freezing car with no radio -- but he's willing to sing anything by the Carpenters! He's just barely made it to the Gilmores' driveway when his car breaks down.
Emily's new maid Berta looks familiar -- if you don't already know who is playing her, I'll let you know in "Fall". Emily is all but ignoring Lorelai while praising Rory. How early years of her. There is a handyman (Alejandro) Emily is trying to instruct through charades. Children run through, and Emily thinks they are Berta's children because they appeared when she did. They needed a home. She needed a maid. It seems to make sense to her.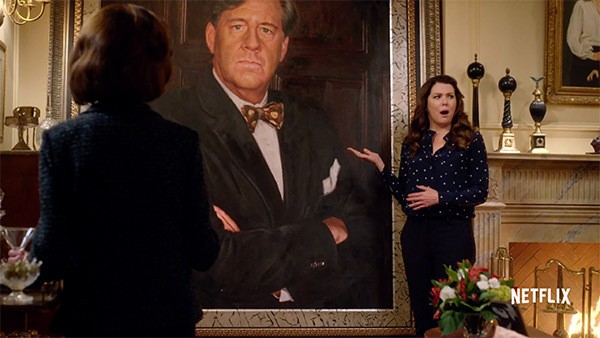 Netflix
There is a GINORMOUS portrait of Richard in the sitting room. Emily tries to explain it away. Lorelai says, "It's a real presence" to which Emily replies, "As was your father".
Wasn't he?
Lorelai badgers her into admitting she got the dimensions wrong, and she snaps back about Lorelai remembering something else for her eulogy and walks away.
Emily and Lorelai are very Gilmore in their argument. We haven't seen this kind of dynamic in the episode yet.
Lorelai tells Rory about what happened at Richard's funeral. It was four months earlier, and we see snapshots of it against a lovely Tom Waits tune. It feels like genuine emotion -- probably because he wasn't just some actor; he was like family to them. It kills me to see his artifacts: Chuck Berry Live at the Fillmore, golf clubs, a photo from his and Emily's vow renewal, Leaves of Grass, Euclid's Elements (though he actually mentioned Euclid's Geometry, nerd alert), and a handful of other books mentioned throughout the show -- no doubt including Mencken's Chrestomathy.
He must have forgotten that he promised Emily she could go first.
Back at the house, Rory is following Emily to take care of her. Digger is there. He mentions something about Italian widows, and I'm really hoping to see an interaction between him and 'Duke'. Luke is repairing everything in sight. He just happened to have a screwdriver in his suit pocket. We also see Berta explaining that her family will move in and take care of everything. No one seems to know what language she speaks.
It's later now, and most of the guests have gone. Emily wants the remaining people to tell stories of Richard, and Lorelai gives a couple of appalling instances of her dad from her childhood, not adulthood. Lorelai is sorry -- she hasn't eaten in days from her grief, and she was drinking her dad's scotch. Emily berates her like in the early days of Gilmore Girls in the kitchen. She accuses her of not caring that her father was dead, and, when she shows her the door and tells her to go back to her town, Lorelai says "Full freakin' circle". Isn't that the truth?
They have no idea what they're eating. Berta just makes food, and Emily eats it. Gone are the days of her overseeing everything from the sourcing of food to the setting of the table. Kirk is eating dinner with them -- because they heard him yowling like a stray cat outside.
Emily has determined Rory is a vagabond. She is so upset that her granddaughter is homeless. Luke arrives to take them all home. (I guess Kirk's business is official ooover.) He's not allowed to sit in Richard's chair, so he stands with his plate until Kirk goes outside to play with Berta's kids, making space for him.
Luke has a letter from everyone's favourite surprise daughter, April. She's at MIT and just as obnoxious as we remember. She has addressed the letter to "Pater". Ha. Ha.
Luke and Lorelai have the kid talk! Do they want a fresh kid? They say they always thought the other would bring it up if they wanted more kids. Luke says he did, once, in Luke-talk, but Lorelai missed it. I don't know how -- he couldn't have been more clear!
They visit a place called "Dynasty Makers". Lorelai doesn't want him to settle and resent her. Paris Gellar owns a surrogacy business! It's full service, legal and medical. She's doing both of her career choices! They will get VIP treatment; the bargain bimbos aren't for them -- they will get the prime meat! Luke is so uncomfortable. Does he not want a kid, or is he just worried about the process? It's hard to tell.
Rory is meeting in a fancy dinner club with Naomi Shropshire, played loudly by Alex Kingston, who wants to write a book together. She steals plates meant for other tables, and they let her. She agrees to split the money from the book 50-50 with Rory, which I imagine is not the usual deal.
Rory is, then, wandering around a plush London apartment, talking about her day to ... whom exactly?
Logan.
Fan-freaking-tastic.
He's still handsome and charming, and I still don't like him. I also don't like this Vegas-style relationship they seem to have cultivated. You know, what happens there stays there. She has stashed a bunch of her boxes at his place, too. It doesn't sound new. She hasn't broken up with Paul yet, either.
Paris has brought a few of her best "breeders" into Luke's Diner. He's understandably uncomfortable and calls the inn to talk to Lorelai about it. Rory bounces in to grab coffee.
Can we stop pretending that she just got off a transatlantic flight? I know those flights. You don't arrive looking or acting that perky. You arrive looking like you've gained 12 pounds and slept with your face on a cast iron grate.
Taylor comes in, still talking about the sewer system. He snaps, mentioning Zoella on the way through his rant, and gives up, exasperated. Luke suddenly has a bit of respect for Taylor, and he agrees to give his septic tank testimony. Taylor gets a spring back in his step as he walks away down the street.
Kirk's Ooober business lives! He is now driving a little electrical cart, but it has wheels, so I'm going to count that one as a win for Kirk.
Paris and Doyle have split. Doyle has gone creative. She can't handle that mess. They have kids, but she's going to kill him in court. They're over at Lane's house, and Rory is looking through her boxes for her lucky outfit. Paris insists that she needs to know which doctor helped her and Zack to have the twins (while we remember it was a nasty Mexican beach that helped them).
Rory lies to Lorelai and says she's been staying with "Didi" in London -- like always. She still hasn't broken up with Paul. Still.
We get to see a rehearsal of Hep Alien -- yay Hep Alien! -- who are finally good! It's great to see. Lane was always afraid motherhood would mean she'd have to give up her drums for good, but the house just transforms into a rehearsal space when it's time. Also, is that Sookie's house?
Lorelai shows up to the Gilmore house, and it's madness. Emily is following Marie Kondo's advice; if it doesn't bring her joy, it goes. When she's alone and it's quiet, she feels like the house is suffocating her. It seems like nothing brings her joy anymore. She is wearing jeans and a Candies t-shirt, and I will never not Google that image when I need a laugh. She wants to die with dignity if she ever has a terminal illness.
She's breaking my heart. She's forgotten which side of the bed to sleep on. She takes a snipe at Lorelai for not being married. She and Luke are "roommates" -- until she decides she wants a new roommate. Lorelai mostly shrugs it off and suggests that Emily go to therapy to deal with her grief.
Lorelai and Luke meet in the town square and have a tiny tiff about the idea of surrogacy, and the matter seems settled, whether or not Lorelai was actually done with the conversation. It seems like Luke decided for them this time. Kirk is being sued over Ooober, and Gypsy has finally finished working on Lorelai's jeep.
Emily phones to say that she's found a therapist she loves. She speaks so highly of this woman and her practice and casually mentions Lorelai might want to come and see her when she's there on Tuesday. It's not until she has hung up the phone that Luke finally makes her realise that she's just agreed to go to therapy with her mother.
Instead of our jazzy, jingly tune, we end with Dolly Parton's "Here You Come Again" -- which is a lovely surprise but doesn't feel like the end of a Gilmore Girls episode. I guess spring is on the way?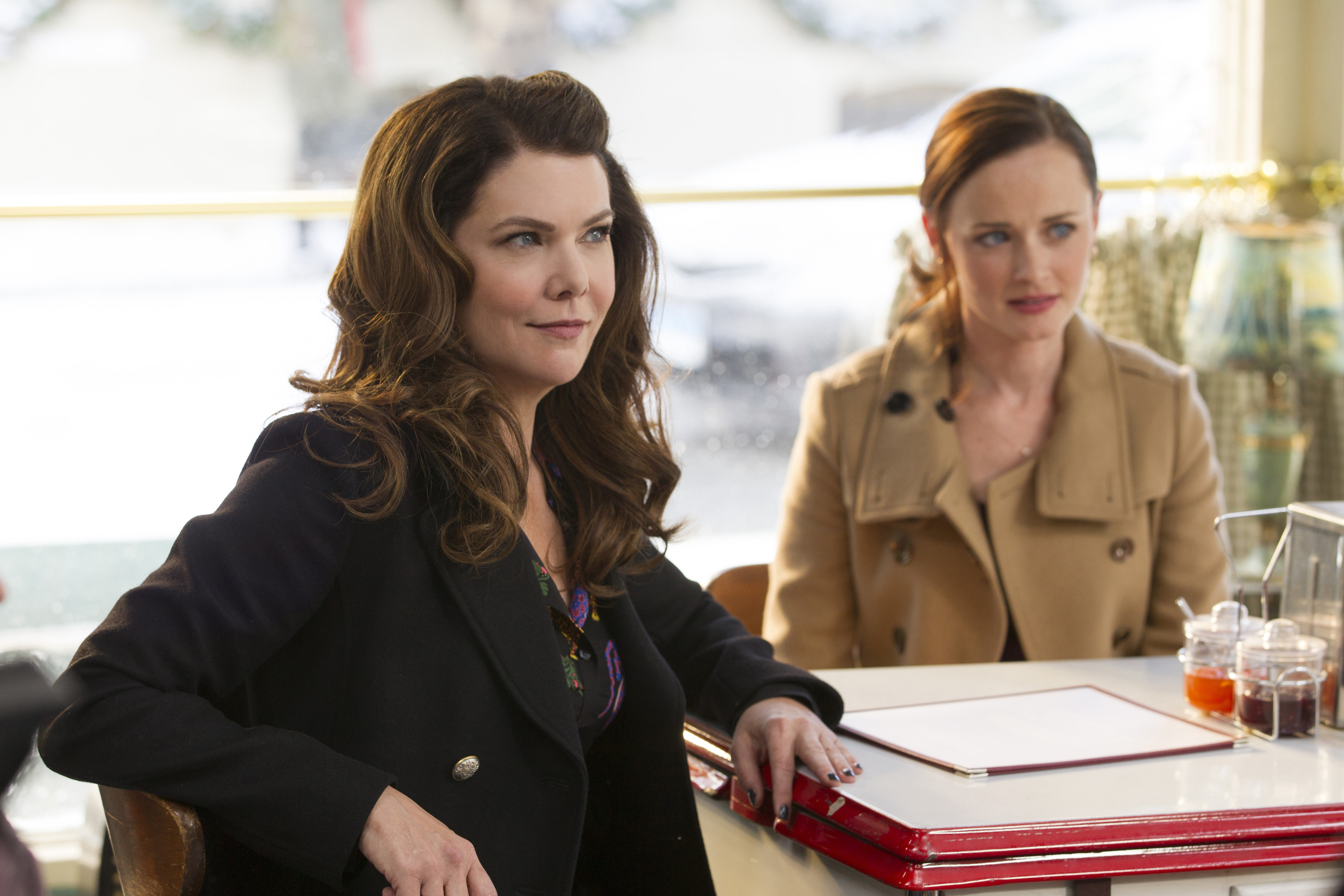 Saeed Adyani/Netflix
Let us know how this episode made you feel, and see if you agree with our gut reactions to the series as a whole (which contains spoilers for further episodes).
Check back tomorrow for our recap of "Spring". Gilmore Girls, the original series, is available now on Netflix or on DVD.