Not much is heating up for the Gilmore girls in the summer besides the weather -- Rory is back home and Lorelai is questioning her relationship to Luke.
Summer
Rory and Lorelai are hanging out at the town pool, not really understanding why they are there and why everything about a town pool is so gross -- pee, chemicals, nakedish bodies. The floaty hut is broken, and Steve and Kwan are pretty upset. Everyone says how nice it is that Rory is back -- she's not back, folks!
April is having dinner with them -- it's unclear if she's "back" or not -- where she is perfectly April, bragging about going to MIT where Noam Chomsky is. She plans to go campaigning for marijuana legalisation.
Luke and Lorelai are watching Netflix, but they can't binge because Luke falls asleep. April corners Rory in her room and has a panic attack because she's searching and doesn't know where her life is going. Rory is doing the older sister thing -- she's got a lot of little sisters for an only child!
Luke is going to help April go study in Germany. He doesn't want Lorelai to help with the money; it seems Lorelai and April is STILL a sore spot for him.
Rory chats with Logan about visiting. He ups the creep factor a wee bit by telling her she has to stay in a hotel when she comes to town. Odette has moved in with him. I think it's starting to get to her that she's his mistress.
Patty's now has air conditioning! Everyone keeps telling Rory how much they're glad she's back. Babette introduces her to the Thirtysomething Gang -- they're all back. Obnoxiously so.
The air conditioning is incredibly loud. I can see we're going to get a lot of 'sensitive millennial' jokes.
Yay.
Taylor announces that there will be Stars Hollow: The Musical! The composer and director is a sunken, sallow young man named Nat. He's going to be a blast. A lot of people, including Lorelai, volunteer to be on the musical advisory committee.
Taylor also announces that, after 89 years, the Stars Hollow Gazette is closing down because the editor retired. Rory is upset about this news (almost as upset as Luke is about the floaty hut).
Rory and Lorelai are back at the pool. They have hired (?) a couple of local kids to hold parasols over them so that it's almost like they're not outside at all! Luke has a LIFEGUARD t-shirt and ends up yelling at people for horseplaying in and around the pool.
Michel is at the pool! Frederick makes him go to the pool to be around kids so he knows how to handle them when they make them, have them, whatever.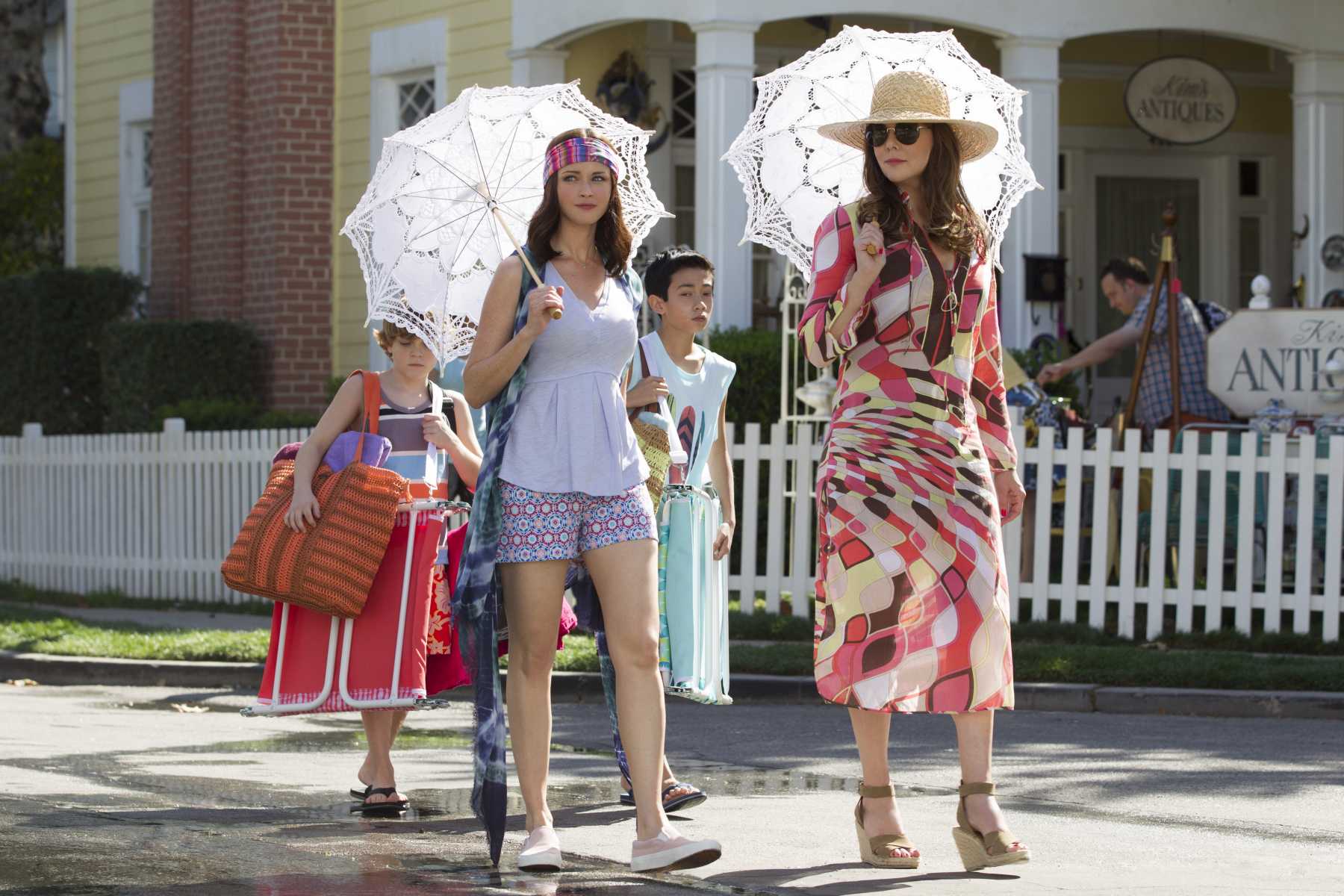 Saeed Adyani/Netflix
Babette and Patty are signing up folks to audition for the musical. Claudia, the therapist, is auditioning. She is way too excited to see Lorelai. Shame for her, though, as Taylor has already fallen in love (maybe literally) with Sutton Foster.
Rory is mad that the Gazette isn't covering the musical. It's a big deal, you know! She storms into Doose's and declares that they can't close the newspaper. She will edit it! Her qualifications are mainly that she's there (plus that Ivy League journalism degree) and doesn't expect any money.
The staff is Esther and Charlie, two reeeaaaally old-timers. I think she'll manage.
Michel is chatting with some kids at the inn. He almost seems like he likes them! He's mostly concerned that he sounds like a child molester; he's getting better, though! He's had a milestone birthday and suggests that Lorelai take him out for a drink to celebrate -- and talk.
They go to the Secret Bar, where the Van Gerbigs (Lane and Zack, for those not in the know) are playing quietly in the corner. So much ambience! Michel admits that he had a meeting at the W Hotel in New York. Before he moves on, he wants to give her the chance to expand the Dragonfly. He doesn't want to leave, but he doesn't get enough responsibility, money, spa-running time.
The conversation is halted by yells of "5-0!" and everything goes undercover, as Taylor walks by. When they resume talking, Michel says he knows that Lorelai pays part of his salary out of her own; she can't afford to pay him more.
Rory is floundering a bit at the Gazette because the computers are still on MS-DOS. She doesn't have the seasonal poem on the front page of the layout like in EVERY OTHER ISSUE EVER. Taylor is not happy. Lorelai joins her and says that Michel has given her three months (a season?) to replace him.
Oh, and Rory still hasn't broken up with Paul.
When the paper has been printed, Rory realises that she doesn't know how the papers get delivered around town.
Luke is cooking in the Dragonfly kitchen; it's Tuesday Burger Day! I can't imagine that would go over too well with Sookie if she knew! He also doesn't do well with the poncey clientele.
Rory calls Lorelai for help delivering the paper, and they enjoy a madcap near-montage of running around town, missing stops, doubling up others, and wearing their feet into the ground. Oh, apparently Doyle had a movie review in the paper, which makes total sense. And everyone is missing the poem. Way to mess with tradition, Rory.
The next morning (I'm assuming), Rory calls Emily at nearly noon and wakes her in bed. She has only one thing on her schedule the whole week and hangs up on Rory without saying goodbye.
The advisory committee gets a sneak peek at the Stars Hollow musical.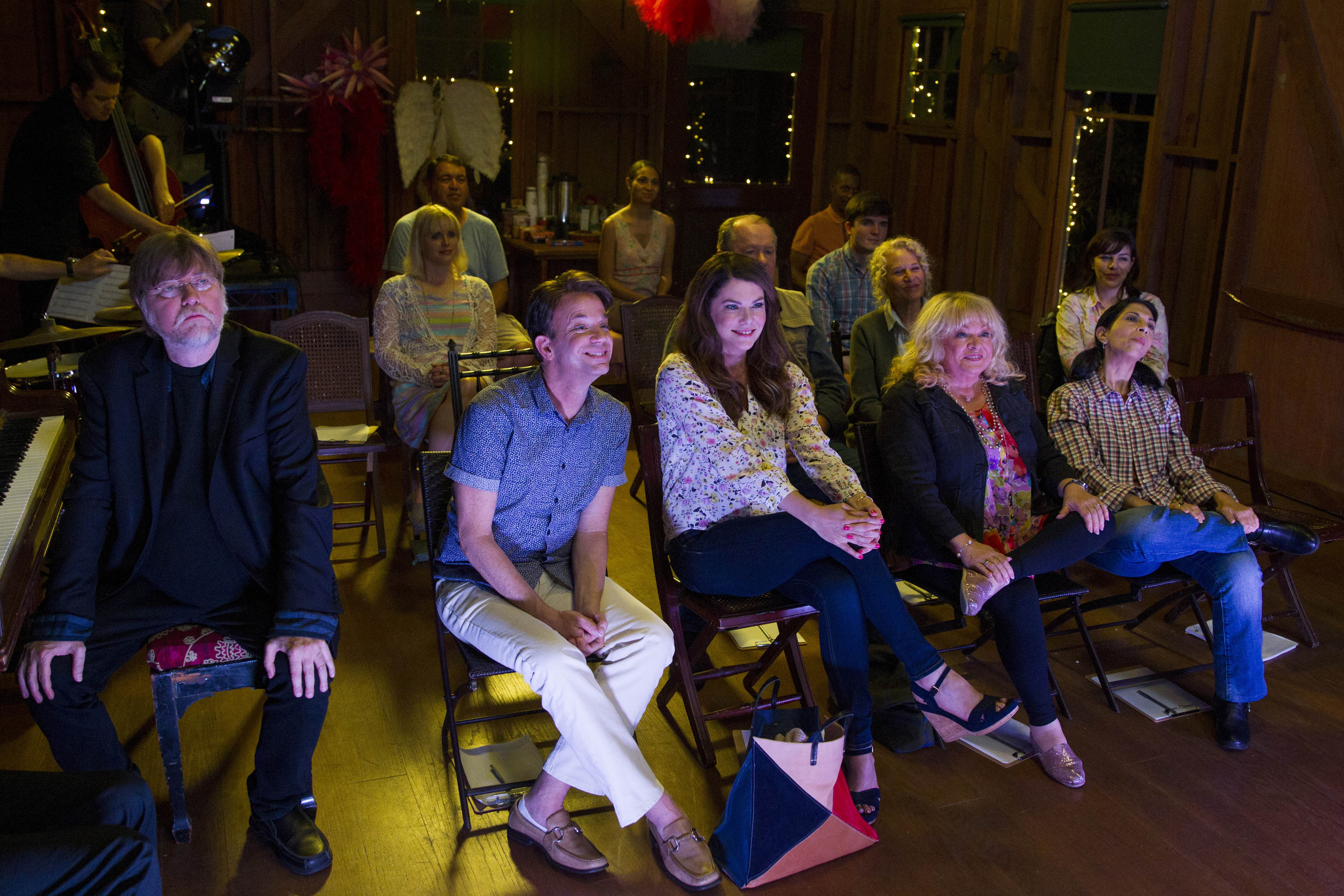 Saeed Adyani/Netflix
Oh, the musical. It's lovely and weird and hilarious and goes on far, far too long. The amazing Sutton Foster and Christian Borle are the actors in it, and I think the less said about the content, the better. Let's just say: a Hamilton shoutout, kissing siblings, and technophobia abound! And there's a "Waterloo" encore!
Lorelai can't wait until it's over to dish with the others about how simply bad it was, but ... they all loved it. Is it possible that Lorelai has lost touch with her beloved town?
Taylor considers the late, great Edward Albee as his mentor because he once slipped him a script and asked him to call him if he had notes, and, get this!, he never called. He must have thought it was perfect!
Apparently there were NINE ABBA SONGS in the encore. Taylor has been told that he might get into some legal trouble if he doesn't hear back from Benny and Bjorn, so Sophie (!) says she's written some songs (!) and says they can use them for the musical if they want. She moves over to the piano, and Carole Freakin' King (!) starts singing "I Can Feel The Earth Move" ... and Taylor isn't impressed.
As Lorelai leaves, she's confronted by Violet, the lead in the musical. She knows Lorelai doesn't like her, and she smarts off before walking away, shouting, "I don't need your validation!"
Emily is meeting with the ladies of the DAR in her garden, and she's feeling out of touch with them. Hrm, is this summer about all the Gilmore girls losing touch with what used to define them?
Emily is definitely changing. She doesn't care about the food she eats as long as it's tasty. She is sleeping in. She is eating in the living room. She doesn't know if her membership at the club is up-to-date. She is exhausted with the DAR ladies.
She also won't let poor Richard have a gravestone if it isn't EXACTLY perfect, so that's kind of on character. He's on #5 now. Fingers crossed it's right this time.
Rory has put the poem back on the cover of the Gazette. Peer pressure! Who walks in but Jess Mariano! They haven't seen each other in four years or so, but he's back to help Luke get Liz and TJ out of the vegetable cult. He's still got the book press! Good for him.
Rory unloads all her issues on him (brought up by the reminder note "Break up with P"), and I think #TeamJess is sitting pretty right now. She says she has no car or license, but she does seem to be driving places (like Emily's in the scene just before). He says she should write a book about her and Lorelai. Luke appears out the window, and Jess takes off -- they're on a mission, after all!
Rory starts researching, and she finds a story about teenaged "Loralai" coming to town on microfilm (or is it microfiche? Don't tell my old boss at the archives, but I can never remember which is which.)
A week later, Lorelai arrives at the Gilmores' to find the house has become full service with Berta's family. Jack (from Richard's funeral) is there and making drinks for them. He's a venture capitalist, and he looks like he might be Emily's new boyfriend. Lorelai can't manage to Google him because his name is "Jack Smith", and it's too vague with no real information. Rory has lost track of time at the Gazette, but unGoogleable Jack is going to drive Lorelai and Emily to the cemetery, and she will meet them there.
Lorelai thinks her mother is vulnerable and wealthy -- a catch! Emily insists that Jack has even more money and is a widower. If it's good that she's moving on, it must be because she's now someone else's problem. She asks Lorelai if Luke ever followed up on the real estate options she took him to see, which catches Lorelai off guard since she knew nothing about it. Emily keeps using the word "partner" like it's poison -- just another dig at Lorelai for not being married.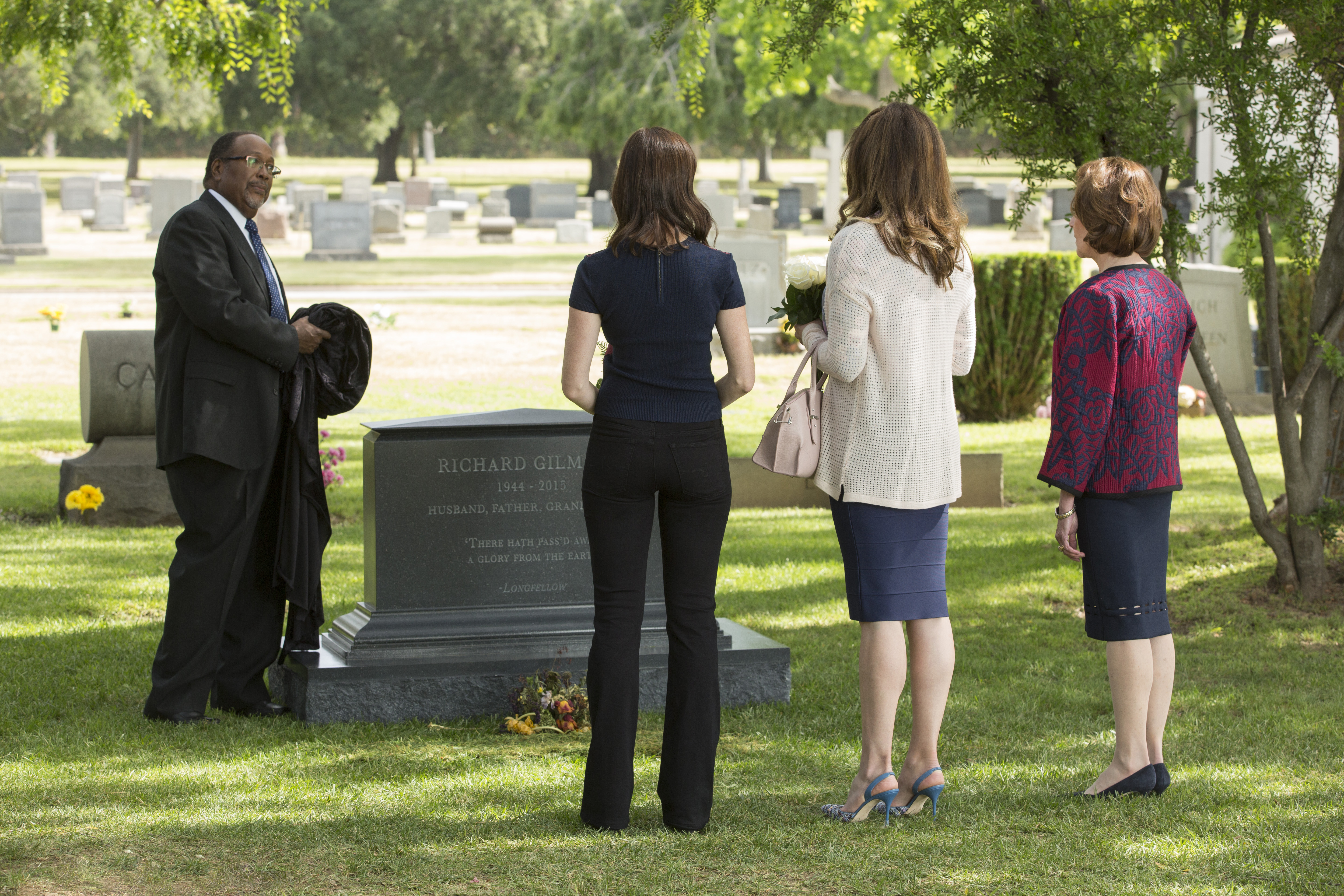 Robert Voets/Netflix
Richard's gravestone has yet another error. That's five now. 
Rory brings up that she might be moving to Queens and is writing a book. She's excited to tell her mother that she is writing about the two of them, their journey.
Lorelai tells her no.
She doesn't want to be included in the story. She says Rory should stick to her own side of it. She has, apparently, gone through a lot of effort to make sure that people only know what she wanted them to know -- not things like that she left her baby in a bucket at a hardware store.
Lorelai storms into Luke's and argues over a pot of coffee. She's clearly upset over Rory and the realisation that Luke didn't tell her about the real estate meetings. He throws back that she didn't say she was not going to therapy with her mother anymore. He says that they have a deal: she keeps her crazy family away from him, and he keeps his crazy family away from her. She doesn't know where he got this idea; partners are not supposed to be this separate.
Rory is unloading the drama on Lane. Apparently Rory's other drama reaction is to automatically dial Logan. Over and over. She realises that she has to let go of him.
Taylor leaves a voicemail for Lorelai that he and Nat have gone on retreat together and reworked a new song for the musical if she wants to hear it with the rest of the advisory committee. When she arrives, she is shunned by the rest of them, so she sits by herself. It's a moving tune, and it speaks directly to what Lorelai feels like she's going through. Maybe she's really on her own in life.
One of the lines, in particular, rings true to her. "It's never or now."
She walks into the kitchen at her house and tells Luke they need to talk. She's going away. By herself. Without him. For a while. She's going to do Wild (the book, not the movie). She's going to go there and hike part of the trail. It doesn't matter how out of character it is. She's going to do it.
Why? Because it's never or now.
And, with that, the bright shiny summer comes to an end. Things have to change. The heat has reached a fever pitch, and the only thing that will help is a breaking storm. 
Let us know how this episode made you feel, and see if you agree with our gut reactions to the series as a whole (which contains spoilers for the further episode).
Be sure to read up on "Winter" and "Spring", and check back tomorrow for our recap of "Fall". Gilmore Girls, the original series, is available now on Netflix or on DVD.