That's right ladies; the first ever girl geek-fest WiSHCon is coming to Ohio! 
The Women in Sci-Fi & Horror Convention (WiSHCon) is the brain child of Chairwoman Crystal Taylor and Co-Chair Kerry Carnell.  Deb Counts-Tibor and Emma Loggins are also part of the founding team.  Their mission is to host a "multi-fandom celebration of women in the industry".  
The team of four are all fans of sci-fi and horror themselves and has a heavy amount of experience behind them.  Crystal is a both a convention attendee and volunteer, and Kerry has been active in developing fan groups.  Head of Vendor Relations, Deb Counts-Tibor, has unsurprisingly been a vendor, and Emma has been out there in all types of media as a pop culture expert.
The founding Sisters of WiSHCon told Girl Geek Authority that 
they
  "
 …hope this event opens the eyes of people around the world to the kind of work, effort and artistic flavor that women play, not only in TV, but in all of entertainment…We want fans to be able to completely let loose and forget about real life and live in the moment at our event."
The girls have a strong line-up of industry estrogen.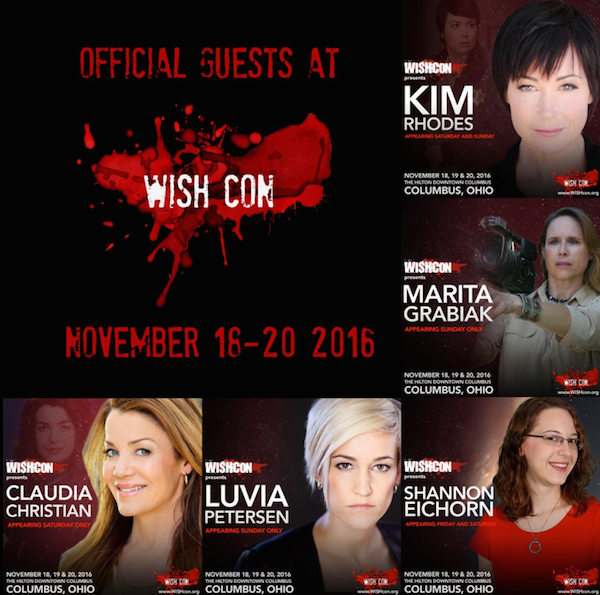 geekgirlauthority.com
Girl Geek Authority reports that 
Claudia Christian (Babylon 5 and Atlantis: The Lost Empire)
, 
Kim Rhodes (Actress) ("Supernatural" and "Star Trek Voyager"), Luvia Peterson (Actress) (Continuum and Battlestar Galactica), Marita Grabiak (Director/Writer) (Buffy, Firefly, and Lost), and Shannon Eichorn (Author) are all confirmed guests and that more continue to be added.
If you are interested in attending this event, then mark your calendars for the weekend of November 18-20, 2016 and plan your road trip to Columbus, Ohio.  The event will be held at the Hilton in Columbus, Ohio and you can follow this link 
and use the code: SCIFI 
for discounted accommodations.  There is also a crowd funding campaign HERE.  They are offering some pretty sweet perks for donating so grab them while they are still available.

And if all of that isn't what you wanted, then you can also check out the convention website for vending and volunteer opportunities.

Will you be attending WiSHCon this year? Let us know!