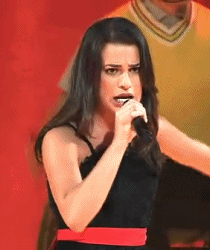 Courtesy of Tumblr
Carleen Slon
Staff Writer
@Carleen1991
In honor of
Glee's
100th episode airing on Tuesday night, I was inspired by
Entertainment Weekly
to write an article about my favorite performances from your favorite
Glee
characters.
Rachel:
"Don't Rain On My Parade" **This defined Rachel, and after this performance I knew she was a superstar.
Finn:
"I'll Stand By You" **This performance has always been a favorite of mine. Even after Cory's passing, this is the song I continue to listen to when I need it the most.
Artie:
"Safety Dance" **This song, for me, was the breakout performance for Mr. Kevin McHale.
Kurt:
"I Have Nothing" **Chris Colfer's performance took my breath away with his rendition from the Whitney Houston tribute episode.
Mercedes:
"Hell To the No"
**This performance defined Mercedes for me when I heard this song for the first time.
Puck:
"Beth" **I got to see a softer side of Puck that I think I've never seen before until this song.
Blaine:
"Teenage Dream" **This was the breakout performance for Darren Criss.  The entire time I watched this I got chills. One of the Best performances from Darren.
Santana:
"Mine" **This song made me realize that Santana has a bit of a softer side when it comes to her relationship with Brittany.
Brittany:
"I Wanna Dance with Somebody" **This performance showed off all of Heather Morris' strengths. I don't know about you but I sure wanted to dance alongside her.
Quinn:
"Never Can Say Goodbye" **This performance from the Michael Jackson episode was quite amazing.
Tina:
"Because You Love Me" **We finally get to see Tina singing. Even though Tina bumped her head and became Rachel, she still killed her solo.
Sam:
"Human Nature" **Even though this was a duet with Mercedes, this was one of my favorite Sam performances; it was sweet and just overall wonderful.
Unique:
"If I Were a Boy" **This performance is why I believe so many people have fallen in love with Unique and can relate to her.
Marley:
"New York State Of Mind" **Even though this song was split with Rachel in New York, "New York State of Mind" truly showed the audience why she deserved to be in the New Directions.
Kitty:
"Signed, Sealed,Delivered
"
**With Blaine on the piano, this was one of the best upbeat performances I think Kitty has given thus far.
Jake:
"My Wish" **This performance showed Jacob Artists' singing, along with dance moves, off. Accompanied by Harry Shum Jr., this performance killed it for Stevie Wonder weekend.
Ryder:
"Jukebox Hero
"
**With a little help from Finn, Ryder knew he was meant to be a part of something special.
Will
"Forever Young" **At the end of Season 3, we heard Will Sing this song to the departing Seniors. I feel like this song had a powerful message.
Favorite New Directions Group Performances:
Courtesy of Tumblr
Every season I've had my favorite group performances that I believe have defined the season. Here are my favorite New Directions group performances.
Season 1
: "Don't Stop Believin'"/"Keep Holding On"
Season 2: "
Born This Way"
Season 3: "
Loser Like Me"/"We Are Young"
Season 4: "
Some Nights"
Season 5:
  "America"/"I Still Haven't Found What I'm Looking For"
Keep Up With PopWrapped On The Web!
http://www.PopWrapped.com
http://www.Twitter.com/PopWrapped
http://www.SoundCloud.com/PopWrapped
http://www.Popwrapped.Tumblr.com
http://www.Facebook.com/PopWrapped
http://www.Instagram.com/PopWrapped
http://www.Pinterest.com/PopWrapped
http://www.YouTube.com/PopWrapped