Oh sweet lady-kissing joy! That's right my dears, I've got some plot spoilers for you for episode 6X03, "Jagged Little Tapestry." I, like so many other Gleeks, have been wondering hard about one of our favorite couples: Brittana. But let's talk about what else is going on in this episode before we rejoice over the glorious news about Brittany and Santana. ***Obviously, spoilers ahead.*** Veteran New Directioners Tina, Santana, Brittany, Quinn and Puck, decide to stick around and help their pals out for another week. But where are Artie and Mercedes? Kurt and Rachel continue to clash over who has the power. They decide to do the Alanis/Carole mashups as a compromise. Rachel demanded something modern while Kurt was angling for more of a classic approach. Poof: the Alanis and Carole mashups are born. Rachel accuses Kurt of letting his heartbreak over Blaine affect his work. Does she have a point? Yeah, she kind a does. Kurt and Rachel are frenemies again. Is Ryan Murphy's idea-well finally running dry? He certainly seems to be recycling a ton of old story lines. At this point, newbies Jane, Roderick, Mason and Madison are full-fledged members of New Directions. I suppose they haven't convinced out-and-proud Spencer to join in the gleeful fun just yet. Perhaps Sue really did get her claws in him and turned him against the glee club for good. Naaaahhhhh; I'm sure he'll come around eventually! In what is sure to be the most aca-awkward scene of the season, Kurt runs into his ex Blaine and Blaine's new boyfriend, Dave Karofsky. Yeah, we know.
Karofsky and Blaine
. It just doesn't seem right, does it?Anyway, they have a terribly uncomfortable exchange which prompts Kurt and Blaine to break out into a weird montage-esque number. I wonder if Karofsky worries if Blaine will be able to truly commit to him and if he'll always remain in love with Kurt-the guy he has claimed is the love of his life since they started dating way back in high school. That's enough to make anyone insecure, I would think. Santana and Brittany share an adorable scene together where they're snuggling in bed. Kurt comes in and tries to apologize for his little snit with Rachel in the choir room. He has just seen Blaine and Karofsky in the record store and is still a little raw from that. Brittany adds insult to injury by telling him that Blaine and Dave have actually moved in together; a fact she knows for certain as the couple asked Brittany to decorate their apartment. Is she a decorator now? I thought she was some sort of mathematician. Oh
Glee
and your utter lack of continuity. One thing we know about Brittany is that her moments of clarity and insight are truly show-stopping. She'll sometimes say things that are so spot-on that you're stunned into silence. She uses her infinite, albeit strange, wisdom and tells Kurt that he needs to move on and try to find someone else. He takes that advice to heart, but his struggle is far from over. Spencer expresses interest to Bieste in becoming the football team's quarterback. Bieste is skeptical about Spencer's abilities and doesn't really warm to the idea; despite Sam's support of the newbie. Sam, being the insightful goofball that he is, notices that Bieste is not acting like herself. He and the rest of the team start to worry about her. After doing a little digging, they find out that she is struggling with a heavy personal dilemma. Everyone, yes, even Sue, promises to support her and help her through her struggles. We have a Becky sighting, everyone! Yes, Sue's favorite "Becretary" is still around and gets her own little arc in this episode. Becky apparently needs help with a boy. Normally, this wouldn't be an issue; but Sue and Roz (
yeah boy, Nene is back!
) are concerned because this boy is NOT special needs. Could he have ulterior motives in liking Becky? Quinn and Tina team up to help Becky catch the eye of this mystery man. Solidarity, sisters. Okay, let's get to the part you've all been waiting for: the Brittana arc!
We have some seriously juicy news.
Santana PROPOSES to Brittany in the choir room in front of the whole glee club, and she says "yes"! The fact that she does it in the choir room is so beautiful and poetic, I think. I know they loved each other before glee, but that room is where they really discovered their inner truths, Santana especially. It's where she learned to accept and love herself; and to accept and allow Brittany to love her back. It's where she let her guard down (sometimes).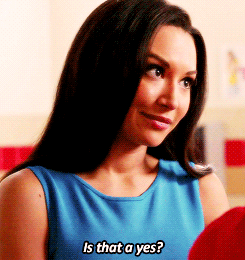 Unepetitecourge.tumblr.com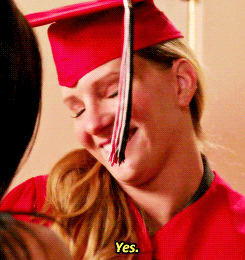 Unepetitecourge.tumblr.com
However, unsurprisingly, Kurt is not as thrilled with the news as everyone else. He rants that they're all still too young to be married; but I think it's safe to assume it has more to do with his lack of love than his genuine concern for Brittany and Santana. And, also unsurprisingly, Santana does not take kindly to Kurt's objections and goes all Lima Heights on his ass. So what do you think, Gleeks? Have these spoilers whet your appetite for season 6; or are you still thinking it's going to be the epic fail we're all expecting? Let us know in the comments below!
Keep Up With PopWrapped On The Web!
Twitter 
SoundCloud
Facebook
Instagram
Tumblr
Pinterest
YouTube