Hold onto your butts, Gleeks. This is bound to be a bumpy ride. We've got plot
spoilers
(all verified by 
Glee 
insiders) for "The Hurt Locker,"
Glee
episode 6X04 and it's...interesting, to say the least. Looks like this is going to be a predominantly Sue-centric episode. Her quest for total glee destruction continues, but her plots go deeper than just her typical, run-of-the-mill subterfuge. Looks like we're only getting a small smattering of originals and semi-originals in this episode, with Kurt, Sam, Rachel and Blaine taking center stage. It is implied that Artie, Santana, Brittany, Tina, Quinn, Mercedes and Puck have fled the Lima coup. However, we will get to see newbies Jane, Roderick, Mason and Madison as well as special appearances by the best Becretary ever and former Principal Figgins.
As said in the song spoiler post,
this is also when we get to meet Clint, leader of rival glee club Vocal Adrenaline, as played by The Wanted's Max George. In an underhanded move, Sue commissions an impromptu invitational at McKinley to try and defeat the struggling New Directions once and for all. She invited The Warblers and Vocal Adrenaline as an intimidation tactic. Rachel believes that losing this invitational would be the final straw for her New Directions, and she begs Mr. Schue to have Vocal Adrenaline throw it (remember, it is strongly implied that Will is now the director of VA), and, since he's a big softie and has a special place in his heart for the New Directions, he agrees. Rachel asks Blaine to do the same, but he refuses. Okay, let's stop there for a moment. I know that Ryan Murphy cares less than zero percent about continuity, but who else remembers Blaine telling Kurt that The Warblers don't have a director? In fact, he said they don't have a director on purpose and everything is decided by a counsel vote. But then again, Rachel's dads were also a black guy and a nerdy Jewish guy with glasses in the first season (as in, decidedly NOT Jeff Goldblume and Brian Stokes Mitchell) so I don't know what my issue is, really. But I digress...again.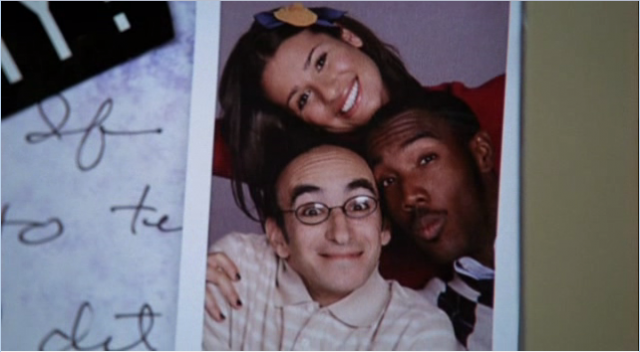 Crushable.com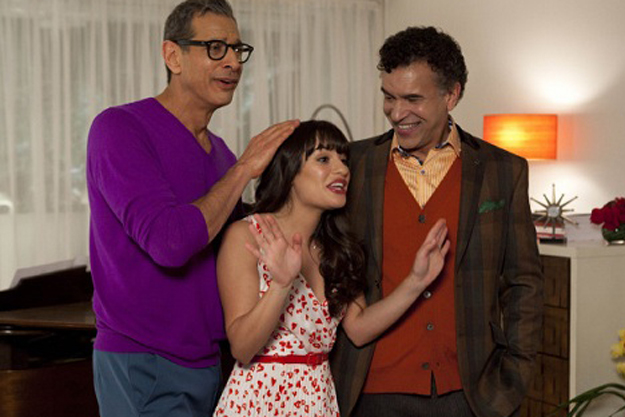 Popcrush.com
See? I wouldn't lie to you. But for real, moving on. Sue hypnotizes Sam into participating in her schemes. She convinces him to lead Rachel on resulting in a kiss between the two. Rachel feels a little somethin' somethin' and asks him out. Sam is still in a trance when the kiss takes place and ends up not remembering it. He declines Rachel's invitation as he is still head over heels for Mercedes (and who can blame him, she IS fabulous). Sue discovers Will's plans to throw the gleevitational (see what I did there?) and immediately reports him to the Carmel high principal. Clint and the rest of the group find out and insist that Will resign. Hmmm, I wonder if he'll end up directing the New Directions again? Sheesh. But wait! While under Sue's spell, Sam steals Will's mail. Will catches Sam but, per Sue's instructions, Sam claims that it was Rachel that put him up to it and that she's gunning for Will. Will believes him and declares that Vocal Adrenaline will give it all they've got at the gleevitational, despite his promises to Rachel. Except, did he resign? No? Oh who can keep up anymore. Apparently, Sue is not happy that Klaine is no more and makes it her personal mission to get them back together. Why? Why does she care? I have a feeling there are ulterior motives here. Which, OF COURSE there are; it's Sue. Apparently, Sue sends a bear cub to infiltrate Blaine and Karofsky's apartment. Okay, what? Like, an actual bear cub? Or is this a throw back to when Kurt saw Dave at the gay bar and he said that the older guys call him a bear cub because he's young, big and scruffy? I suppose only time will tell, but it certainly wouldn't surprise me if Sue really did release a woodland creature into their home. On top of that, when Dave and Blaine are on a date at Breadstix, the restaurant is populated with all of Dave's exes. Sue also takes the ancestry.com route and claims that Karofsky and Blaine are third cousins. Ew. Is this
Game of Thrones
or
Glee?
Come on now. Kurt is acutely aware of Sue's plots, and he is not amused. However, we do have a Klaine moment in this episode. Kurt tells Blaine that he's agreed to go on a date with a man he met online and the news bothers Blaine more than he'd care to admit. It finally hits him that Kurt truly IS the love of his life, though he chooses not to voice that discovery. Which, is this really something we can call a discovery? I don't know about you guys, but I've known from the start that Blaine and Kurt would end up together. So why even bother just enraging the fans by putting Dave and Blaine together? Anyway, Blaine tells Kurt that Sue's incessant plots have actually made him think twice about his relationship with Karofsky. Kurt leaves Blaine and heads out to his date. Kurt is distraught to discover that his date, whom he had only spoken with on the phone, is a man in his fifties with kids who had recently left his wife. First of all, how had they only interacted on the phone if they met ONLINE? I'm pretty sure most of those online dating profiles require a photo. People may not always submit current photos, but still! Sometimes the blatant discrepancies in this show are straight up too much to handle. Anyway, Kurt is a little weirded out by the idea of dating an older man, but he is attractive and respectful, so they decide to start slowly as friends and see where it goes from there. And that's that! I am dying to know what you guys think about all of this. I know that just writing it up sent me into a tailspin of emotional rage. Do you mirror my sentiments? Let me know!
Keep Up With PopWrapped On The Web!
Twitter 
SoundCloud
Facebook
Instagram
Tumblr
Pinterest
YouTube