Abbie Sedgeman Staff Writer @The_sedgetable
Throughout the past five years, there have been some adorable relationships, and consequently, adorable kisses. In true Gleekuary spirit, I have decided to round up Glee's top ten kisses. 10)
Rachel and Blaine
: Blame it on the Alcohol Before our Klaine dreams actually came true, we saw one of the funniest kissing scenes Glee has to offer. Drunk Rachel was good enough, but add a drunk Blaine to the mix, and a game of spin the bottle, and we receive a wonderful gift: Blachel. It lasts for that singular episode, but it was hilarious watching Rachel trying to prove to Kurt that her and Blaine were meant to be.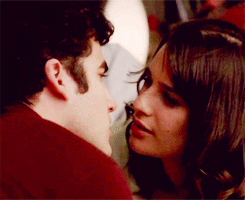 Courtesy of Tumblr
9)
Brittany and Kurt:
Laryngitis The ship name Kurtany usually refers to the adorable Kurt-Brittany friendship. Once, however, in an attempt to get his Dad away from Finn, Kurt and Brittany shared a wonderfully awkward kiss. It was sad to see Kurt so vulnerable, desperately craving attention, but when he turns to Brittany and says 'What do boys' lips taste like?' we know our Kurt will be back, and we can enjoy this weird moment.
Courtesy of Tumblr
8)
Kurt and Blaine:
The First Time The kiss I'm referring to in this particular episode is the make-up kiss, after the drunken Blaine in the back of the car incident. This reminds us all that Kurt and Blaine is not all lust, and is a really cute moment for all of us Klaine fans. Not to mention, the really cool spin we get to see Darren Criss perform at the beginning of the scene.
Courtesy of Wikia.com
7)
Will and Holly:
Sexy The episode title says it all. I enjoyed seeing Will finally get back into the game, especially with Gwyneth Paltrow's character, Holly Holiday. After performing
Kiss
as a tango, a feat that nobody thought could be done, Will succumbs to his feelings for Holly. Naturally, Emma Pillsbury isn't particularly happy, but we know she gets the man eventually.
Courtesy of Wikia.com
6)
Finn and Quinn:
Silly Love Songs As much as I love Finchel, I have always had a soft spot for Finn and Quinn. At least, when Quinn isn't stuck in crazy bitch mode. But I loved the way the Kissing Booth kiss was edited, including the clichéd fireworks, and it just screamed cuteness. I disliked the cheating on Sam aspect, but I feel the kiss is cute enough to make the list.
Courtesy of Youliveonlove
5)
Kurt and Blaine:
Love Love Love At the beginning of the proposal scene, I was honestly terrified that Kurt would say no. But with all the epic dance numbers with all the rival glee clubs, how could anyone say no? All I know is that when they finally locked lips, it involved a furious amount of tear-wiping on my part.
Courtesy of Blayneandkert
4)
Will and Emma:
Sectionals I love this kiss because Emma is about to leave as Will manages to catch her, and it's Wemma's first kiss. I also love that Emma is fairly new to kissing and relationships, which makes it better, as Will is only just out of his marriage and would be better off taking it slow.
Courtesy of Whatculture.com
3)
Finn and Rachel:
Prom-asaurus Rachel's face when she was called as Prom Queen was a mixture of shock, horror and elation. When Finchel were sharing their customary Prom King and Queen dance, I was a puddle of feels on the floor. I loved seeing how far Rachel had come, as Finn told her, and to make it that far in such a short amount of time is incredible, and I don't think I have been more proud of a fictional character in my life.
Courtesy of Lovecoryandlea
2)
Brittany and Santana
: New York I ranked this above Finchel because I loved the confetti kiss, and I feel Santana had accomplished a lot more that year. Earlier that year, Santana would be unlikely to hold Brittany's hand as they walked down the corridor, let alone kiss another girl in front of a large crowd. It also show's a lot about Glee itself; it is such a nice relief to be able to see LGBT couples on television.
Courtesy of lezpop.com
1)
Kurt and Blaine:
Original Song This one was an obvious, and almost everyone's favourite Glee kiss. Klaine's first kiss was one of my favourite Glee moments, seeing Kurt so happy, and Blaine so nervous. When Blaine said, "You move me, Kurt." I think I actually squealed; everyone had been waiting for this moment since Blaine was introduced in Never Been Kissed. Also, Blaine's hair is really nice and not as gel-y as it is currently.
Courtesy of fanpop.com
And that concludes my top-ten Glee kisses. Let us know if you agree with these choices in our poll below! [yop_poll id="3"]
Keep Up With PopWrapped On The Web!
http://www.PopWrapped.com
http://www.Twitter.com/PopWrapped
http://www.SoundCloud.com/PopWrapped
http://www.Popwrapped.Tumblr.com
http://www.Facebook.com/PopWrapped
http://www.Instagram.com/PopWrapped
http://www.Pinterest.com/PopWrapped
http://www.YouTube.com/PopWrapped