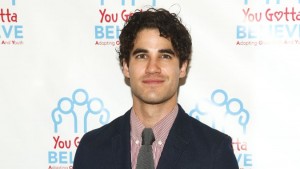 Courtesy of Hollywoodreporter
It seems Darren Criss is moving onward and upward and has scored a leading roll in the upcoming indie movie
"Smitten!"
.
Smitten!
is a romantic comedy centering around a young fashion executive (Criss) who gets kidnapped and is taken to the Alpine Mountains by three members of the mafia. The indie movie will be directed by Oscar winning screenplay writer Barry Morrow and is based off of his own script. This is Morrow's directorial debut. The film will begin shooting in Italy on Monday and will also star Madalina Ghenea, Angela Molina, Julia Rask and David Nichols. Criss is currently starring as Hedwig in Broadway's
Hedwig And The Angry Inch
 and ends his run on Sunday. On Thursday he was also nominated for an Emmy for outstanding lyrics and music for his original song "This Time" which was  featured in the series finale of 
Glee
. Criss has also voiced characters in the critically acclaimed animated movies
The Tale of The Princess Kaguya
and
The Wind Rises. 
This is Criss' second lead in a movie after he starred in the 2012 comedy 
Girl Most Likely 
alongside Kristen Wiig.