Shane Avery
Senior Staff Writer
There are 

currently reports circulating
that during
Glee
filming today, stars Lea Michele and Naya Rivera, who play Rachel & Santana, respectively, got into a major altercation. Sources close to Naya claim that Lea was holding up production constantly with her "diva like demands" and Naya finally snapped, heading to producers and complaining on behalf of the ENTIRE cast and crew. Lea then got wind of the accusations and stormed off the set.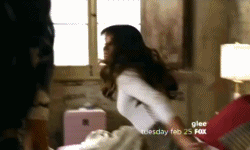 Courtesy of Itsnayarivera
According to Lea sources though, Lea and Naya were not even filming together, and an unknown circumstance led to Naya being tossed off the set. The latest rumor coming from Team Lea though? That Naya was actually FIRED from the show today, but that has yet to be confirmed. Ladies, ladies...This is NOT good going into a final season of your show.
Keep Up With PopWrapped On The Web!