Kate McHale
Staff Writer
Naya Rivera can do it all
! Aside from playing Santana Lopez on
Glee
and wowing everyone with her killer voice, Naya can now add director to her resume. Those who follow her on any form of social media will know that she has been working on a project that has a story near and dear to her heart.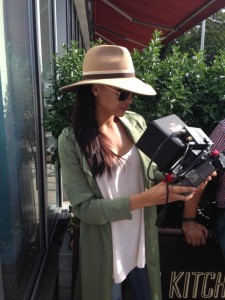 Courtesy of BuzzFeed
She directed a PSA that looked at the cultural side of immigration debate,  just in time for Immigrant Heritage month. The video is shot in NYC and has a common theme throughout: an envelope that is passed from person to person, its contents only  reveled at the end of the video. Rivera personally loved the way everyone was connected within the piece. "The way it weaved through people's lives, we're all interconnected. We wanted to make it fluid and beautiful." [embed]http://youtu.be/8Euy8D9h4ak[/embed] Undoubtedly, Rivera was successful in her mission to make a video that was beautiful. She put it best: ""Aside from being a Latina, my family immigrated from Puerto Rico and Yugoslavia so I know all about that. I wouldn't be able to do what I do today if they didn't come to America. Everybody has an immigration story." There are very few people who do not have an immigration story. That's what makes America so special: it's a true melting pot of people from all different walks of life, ethnicities, and all with plenty of stories to share. Rivera seems to feel the same way. "Immigration shows how beautiful America is as a country, how diverse it is." "Love, America" is a video that should be seen by all. It's a video that reminds people, especially Americans, that we have a diverse country, and we should embrace it! As for what's in the envelope, well I guess you'll just have to watch "Love, America" to see. Believe me, it's something that you will not regret. Congrats Naya! You have truly made a beautiful video that highlights what melting pot immigration makes a country. Do you have an immigration story? Let us know! We are dying to know all about it, because it's what makes everyone so special!
Keep Up With PopWrapped On The Web!