GLOW, or Gorgeous Ladies of Wrestling, premiered June 23 on Netflix, and it is a brightly colored, tumbling, energetic beast of a summer show to gobble up and enjoy. Created by Liz Flahive and Carly Mensch, it is a comedy of showmanship and competition and self-reflection, often having its characters infuse their stage personas with glimpses into their personal lives. It demands a lot physically of its mostly female cast, without ignoring the emotional ups and downs of living in close quarters, working long hours, and creating a new type of spectacle in a largely male world.
With over a dozen wrestlers of different shapes, ethnicities, and personalities, the show's writers (Flahive, Carly Mensch, Nick Jones, Jenji Kohan, Sascha Rothchild) have the immense challenge of giving each character her time to shine and grow, and largely succeed in either giving each woman real meat to chew, or setting her up for further emphasis in the next season. Throughout the season's ten episodes, a prevailing theme is the struggle to work as a team, at once sending up and countering the titillating catfight mystique of women working together.
Ostensibly, the show is about two frenemies, Ruth (Alison Brie) and Debbie (Betty Gilpin), who used to be best friends until a terrible decision involving Debbie's husband, Mark (Rich Sommer) drove them apart. Ruth is an unemployed actress desperate for any role that doesn't involve being a secretary, although to pay bills she will accept that.
She's been in Los Angeles long enough to know the pain and pressure of the industry, and her theater background is reflected in her bold gestures and delivery. Debbie is taller, blonder, and more striking than the mousier Ruth, and her biggest role - as part of the ensemble on a soap opera called Paradise Cove - ended when she quit over her character's lack of progress and also to have a baby. She still gets recognized as "Laura Morgan from Paradise Cove," and there is always that underlying anxiety of when the day will come when she won't.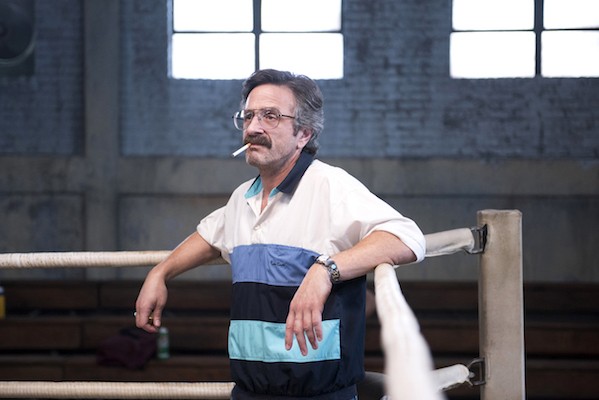 Ruth's persistence with a jaded casting director finally pays off when she is booked for an audition with a has-been "schlockmeister" of female-centric splatter films named Sam Silvia, played by Marc Maron who is absolutely captivating to watch. I listen to Maron's podcast and the way he interacts with his guests is reflected in his performance as Sam: he initiates the dialogue with a sardonic grumpiness tempered with a good-hearted approachability, and then just lets the other person talk.
He has fourteen women to keep together and convince to stay with the program despite bruises, hurt feelings, internal dramas, physical ability, and technical skill, so they have to trust him to be receptive to their suggestions and issues. Sort of a cross between Jon Lovitz's scout in A League of their Own mixed with Walter Matthau's baseball coach in The Bad News Bears, Sam has seen the ravages of show business and got his past projects made on his own terms, so he doesn't like to deal with suits and he wants his vision respected, but he also gets himself into trouble quite often. He smokes too much, drinks too much, and shits where he eats, but his war with himself reveals a loneliness and isolation with which many of the women can identify.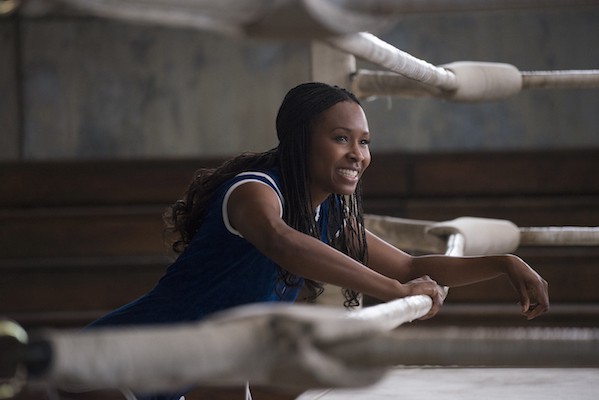 With so many characters in one ring, it's impossible to equally share the spotlight, but there are a few who shine early and others that break out later in the season. Most of the women have clawed and fought their way through the industry for years in supporting, background, or technical roles, which explains their fearlessness in accepting such a unique and, for now, unstable job. Sydelle Noel as Cherry Bang is marvelous as a former stuntwoman on blacksploitation pictures in the 1970s and with the decline of the genre in the 1980s, her options for lead work are far limited compared to white actresses despite her experience.
Every episode showcases this disparity: she shows up early, has more experience in physical stunts, doesn't mess around, and expects Sam to give her her due. "I want to be on camera," she tells him, "It's my turn." What happens? He makes her the teacher/trainer/resident advisor/babysitter of the group. He knows she is dependable, that she'll lift everyone up because failure is not an option to her. She's like the student that everyone wants to do the group project with in school because she will do the majority of the work and earn the A for everyone. Even in her wardrobe, Cherry comes to seriously play, and possesses both a poise and resilience from her background in stunt work that needs to be showcased more in the ring in Season Two.
Melrose (Jackie Tohn) is Cherry's adversary early in the season. Actually, she antagonizes everybody. Loud, raucous, incorrigible, and preening, she could straight-up pass for Lili Taylor's character in Say Anything… in a physical sense, sans Lily's soft, raspy voice. A former video vixen and admitted "Cezanne of bullshit artists," she flirts as a matter of course and maintains confidence through aggression and being outrageous. She prides herself on seeing everyone else's truth, and often putting their skeletons on display, but is flabbergasted when someone examines her.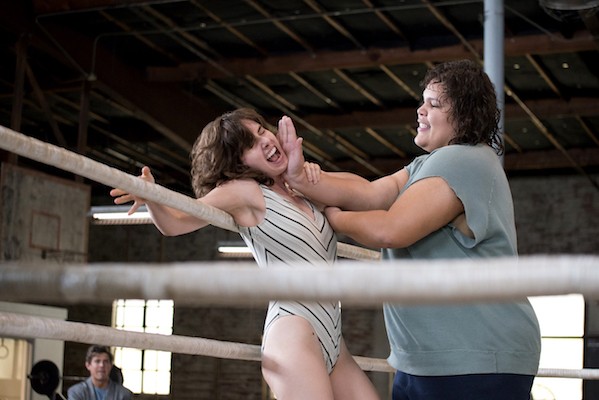 Carmen (Britney Young) is a gentle giant and comes from a famous wrestling family (her father and two brothers all compete) which excluded her from participating, so she is used to being a spectator. Initially, Carmen remains on the periphery of the physical space, watching the bolder girls practice despite knowing the most about wrestling out of the group. When her family name is recognized and she is called upon to demonstrate some moves, her awkward delivery is as much an indication of her lack of inclusion in the family business as her unfamiliarity with the spotlight. In a later episode, her father finds out about her new job and demands she quit, as he wants her to have a family over a career.
Since this is a wrestling show, much time is spent on the physicality of the actors, most of which have to fight against learned behavior as girls not to be combative. When an early male trainer demonstrates simple moves to the group such as forward roles, he says, "Just like preschool," to which Ruth responds, "Not like preschool." Of course!
That's where girls are told not to fight and boys are allowed to scrap around. As the women pair off to practice on each other, watch the hesitancy between them: it's natural to not want to hurt the other person, but these women have to break that invisible wall of being able to trust one another physically and know their own bodies. Cherry is the exception and has the most controlled athletic ability as is her background. Carmen knows the moves but is sloppy in execution as she wasn't allowed to fight growing up. A few may have watched wrestling on television and regarded it as a fake "sport," but did not realize the athletic ability behind the stunts.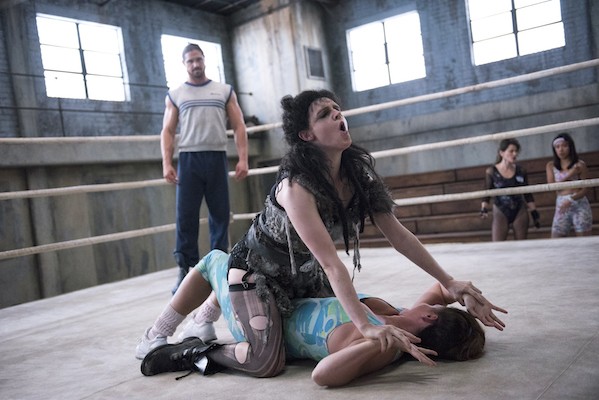 Sheila the She Wolf (Gayle Rankin) could have been written as the one-note kook of the clan, but as the series progresses more of her motivation and identity is revealed. For Sheila, her wolf makeup reveals her true self rather than disguises it; she says she has the body of a human but the soul of a wolf. She wears the same fur tunic, ratty black wig, yellow nail polish on her teeth, and smudged black eyeliner every day, and her interactions with others are sparse and measured. As much as Cherry is poised and controlled, so Sheila is hunched over and watchful. She doesn't hide in the corners, but she won't respond to initiated contact unless her defenses are set. Just by look alone, she is captivating, but as Ruth (who becomes her roommate when the group moves to a hotel) learns to respect her identity, she inches out of her protective shell a bit.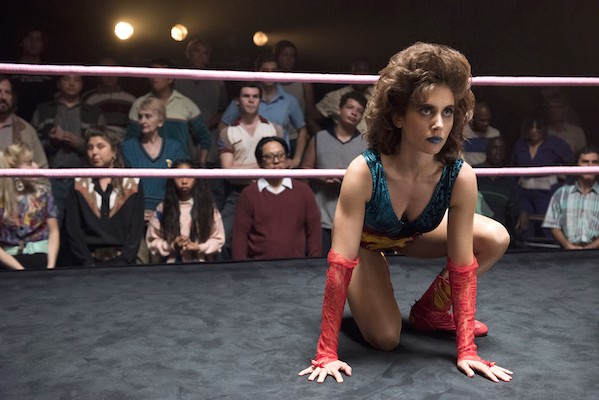 Sam communicates his vision to the show's brass as palatable to the whole family: identifiable to women, attractive to men, enjoyed by kids. He believes in "context, circumstances, and characters" for the show's success, and wants to create an overlying science-fiction story that incorporates all the characters. His initial script has the women as Thunderdome-style warriors in a post-apocalyptic wasteland that must battle for the last male survivors on Earth. Having been dumped by his ball-beating wife, his inspiration is pretty evident: he just wants to be needed and pursued. If he can expose female stereotypes in the process, then all's the better.
Unfortunately, his producer, Sebastian "Bash" Howard (Chris Lowell), wants to differentiate between a movie and a serialized program, and wants Sam to simplify the show into easily identifiable characters. While Sam is furious at this feedback, he agrees to compromise on the condition that future projects will be greenlit and funded. "Wrestling isn't about backstory; it's about type," he tells the group before assigning them their gender, ethnic, or socioeconomic stereotype.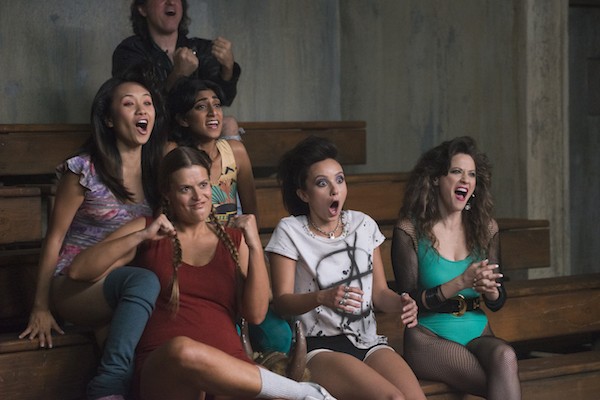 At this point, in the third episode, a sizable chunk of the tension shifts from interpersonal relationships such as Ruth and Debbie and Cherry and Sam to the inherent racism and/or sexism of the personas developed on stage. Heretofore, characters such as Jenny (Ellen Wong), Arthie (Sunita Mani), and Tamee (Kia Stevens) come more into focus. Even though she is Cambodian, Marc wants Jenny to play Fortune Cookie, a take on the docile, childlike Chinese female caricature (he keeps using the word "Oriental," much to her annoyance). Arthie is Indian but he wants her to play an Arab terrorist called Beirut (ill-timed as the hijacking of Trans World Airlines Flight 847 in June 1985 happens during preparations for the match). Finally, Tamee, the oldest of the group, is Welfare Queen, a brash African-American character flaunting her food stamps and feigning laziness ("She's our masterpiece," Bash tells Sam).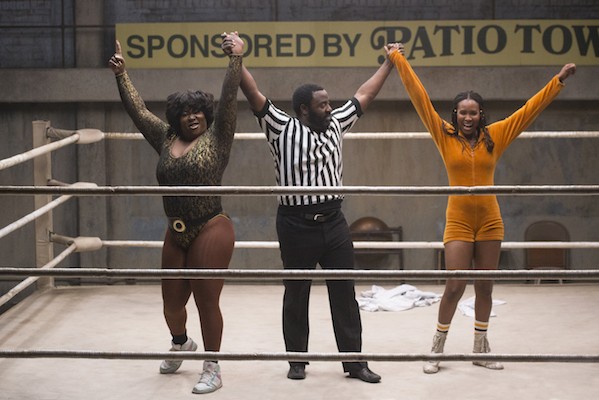 During a pivotal conversation with Marc, Tamee says the role is offensive but Marc insists it is "commentary on an existing stereotype," to which she astutely replies, "Yeah, but will other people know that?" She and Cherry see the possible impact of their stage personas on a deeper level than Sam: while they may be throwing demeaning and offensive stereotypes back in the audience's face, they tread a precarious line between controlling the act and losing its power to the crowd which may feed off its negativity, pushing it past commentary and into unsafe behavior.
Her concern is echoed in the later episodes as the women put on their first and second shows, especially in the final-episode match between Arthie's and Rhonda's personas - "Beirut, the Mad Bomber" and "Britannica, Smartest Woman in the World" - when the crowd fails to see the line between fantasy and reality and becomes hostile towards Arthie, spitting on her and chucking soda cans into the ring, one hitting Rhonda in the face. Arthie's fear at the crowd's reaction is stomach-churning, as she is visibly shaken backstage. "All those people hated me," she says as she dresses Rhonda's laceration. "But that's a good thing, right?" Rhonda asks. Arthie isn't so sure.
Thus, the show within the show has evolved into a meta-commentary, an examination of the fluid relationship between actor and audience, especially concerning perceptions and boundaries. These women are put in the position of reflecting and deflecting stereotypes and preconceptions, but as Tamme remarked, will the audience pick up on that and thus engage? And how great a risk are these actresses taking within the spectacle once it is regarded as reality? So we see the precarious position in which these women start out, engaging in a constant tug-of-war over power in the arena.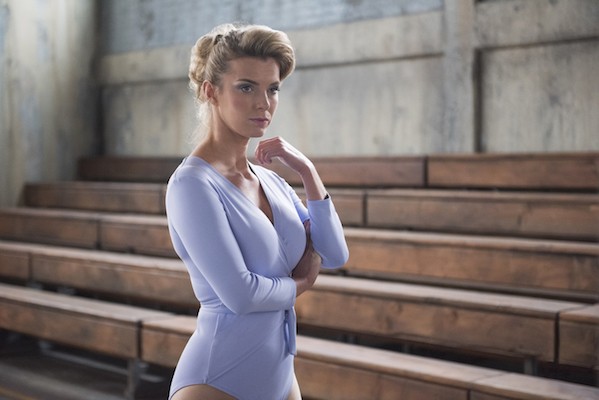 It is important to note Debbie's position in the finale, in which her moment in the spotlight is short-lived by Tamee in a last-minute surprise that recalls Bash's earlier "masterpiece" quote. Debbie is vulnerable, hurting, and self-conscious, but she is also bratty, selfish, haughty, and instantly captivating. "You love being a temperamental star," Sam says to his "Grace Kelly on steroids."
Being in the ring as her alter ego, Southern Belle, enables Debbie to be "back in my body that doesn't belong to Randy (her baby) or Mark," but it also feeds her ego and need to be the "Greek goddess of rage." Throughout the season, Debbie is touted as the star as she has the most recognizable face from her soap-opera days (and that isn't saying much), so she initially comports herself as the bruised and ethereal victim who slowly gains more agency and stage presence as her skill develops. For her, the battle is coming downward from her diva perch, while Ruth must climb upward.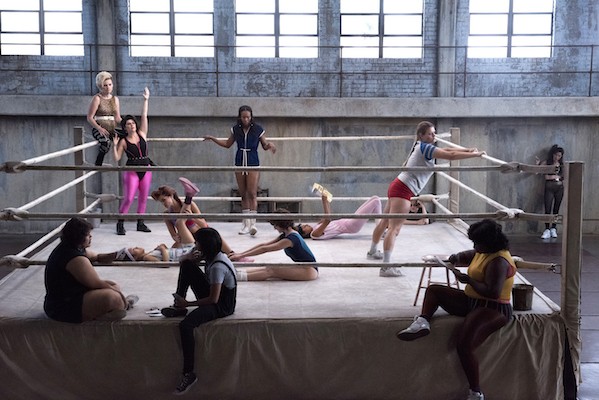 I have to give director Tristram Shapeero and the writers credit for the finale which doesn't tie the season up in a pink bow. Threads are hanging, arcs stop in midair, roles are reversed. Dreams have to be revised, realities faced, and decisions made. Ultimately, forgiveness has not yet been earned as the primary relationship between Ruth and Debbie is dead and a new relationship must be cautiously built. This is okay. They share a focus now. Things might get better. Thankfully, the season doesn't culminate with the Ruth and Debbie Show; instead, it focuses on the GLOW team, as it should.