Who is crazy for Star Wars?? Like, get your movie ticket months in advance crazy?? I bet most of you reading right now are… That's what we love about you! 
Because it is generally understood that one film after what feels like a century is not enough, you can now have MORE Star Wars in your life thanks to new features from Google.
On Monday, Google published a website filled with features that are completely devoted to your favorite franchise.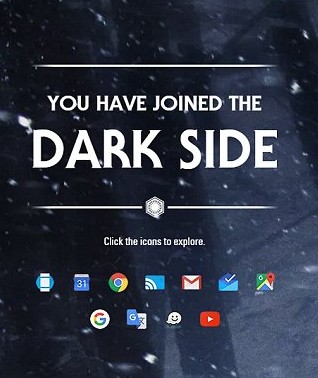 Courtesy of Google
If you have Chrome installed, you can add an extension, which lets you watch a Star Wars scene every time you open a new tab.
There's a special Gmail theme, which shows the loading bar in a light saber and you can switch the yellow pegman in Google Maps to a Stormtrooper. How cool is that?!?!
And that's not even all of it -- Google has promised to add small features until December 17th! Just go to google.com/starwars and have fun!