SPOILERS AHEAD! If you haven't seen the season finale of Game of Thrones, stop reading immediately!
So, if you watched the season finale of Game of Thrones, you may be left feeling confused, betrayed, heart-broken and perhaps, like some of my friends, you're ready to take your ball and go home. Last night, we witnessed what was probably the most heart-wrenching death since the Red Wedding as we saw our beloved Jon Snow fall at the hands of his men of the Night's Watch. The mutiny was truly Shakespearean and not completely unexpected. Jon's decisions of late had not been very popular; his choice to set aside years of hatred and war in favor of reaching out to the Wildlings in an attempt to unite against a common enemy, turned his men at The Wall against him. As each blade fell with the words, "For the Night's Watch," the pain and confusion in Jon's eyes likely reflected your own. Because although we kind of saw that one coming, I don't think we fully believed it would happen.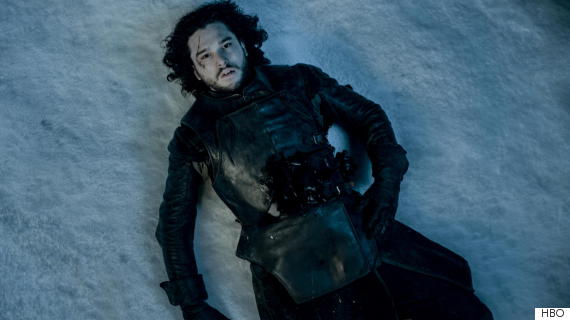 Courtesy HuffingtonPost.Com/HBO
But is dead always dead in Westeros? As the credits roll, denial sets in and we take to the internet.
To further squash our hopes, shortly after the episode aired, Entertainment Weekly published an interview with Kit Harington, the actor who plays Snow, in which he confirms that yes, Jon Snow is absolutely, positively dead and he will not be returning next season. Furthermore, he told Vulture.Com, "Jon dies. It's final. He's Dead," adding, "It's actually Jon's fault. He's concentrating on the big picture, missing the little hints all around him. If you let a whole bunch of fucking wildlings through your gates, it's like Israel letting through a whole bunch of Palestinians, or Palestine letting through the Israelis. It's two warring factions who hate each other, and so you're going to have dissent, and that dissent comes in its fiercest form, with the final blow."
But is he really dead? I mean...really, REALLY dead? Showrunner Dan Weiss told EW, "Dead is dead. We would hope that after seeing the scene and the way it's shot that the answer to that will be unambiguous in the minds of the people watching it; it should be pretty clear what happens by the time you're done seeing that scene. It's not an, 'Oh what just happened scene?"
Okay...that seems pretty conclusive. But George R.R. Martin said about Jon's death in an interview way back in 2011, "Oh, you think he's dead, do you?" What makes matters worse is that we don't have a new book to tell us whether or not Jon will back in some form. What's more, HBO has already confirmed they will be deviating further from the books. So the torture continues and fan theories are flying on the internet!
My favorite theory asks: What about the arrival of Melisandre, the Red Priestess? Her presence at The Wall during Jon's assassination is not merely coincidence. When Stannis's men deserted, her faith was shaken. She abandoned Stannis and could have just disappeared into Westeros without anyone noticing. But she returned to The Wall. And we have seen resurrection before in the form of Beric Dondarrion. You remember him, right? He was the leader of that merry band of rebels with the stylish eye-patch who stumbled upon Arya and The Hound a few seasons back. He'd been killed in battle and then resurrected by the Red Priest, Thoros of Myr. So, could Melisandre do the same for our dear Jon Snow?
Courtesy Fanpop.Com
Other fan theories speculate that Jon warged out of his body and into his direwolf, Ghost. Which would save his spirit if not his body.
Some believe Harington is actually trolling the fans and there is no way he's actually dead. Is it poor story-telling to kill off a character before his potential is fully realized or is Jon simply that tragic character who is undone by his own mission and idealism?
If Jon really is gone for good, this begs the question: What about The Wall? There is an army of White Walkers coming and if Jon is dead, do we really care? There is no one left of the Night's Watch that we wouldn't love to see eaten alive by those frosty zombies because the mutinous jerks deserve it! They have no choice but to return us to The Wall next season because from a story-telling perspective, this leaves one big, dangling loose end should they just put it down and walk away. The problem is, there isn't a single person at The Wall capable of defeating the Walkers. Nor is there a character important enough to carry that storyline alone. Sam has gone off to become a Maester. Ser Davos Seaworth, Stannis's "Hand of the King," is a great character but not important enough to drive the story ahead on his own nor is he prepared to face the While Walkers since he knows next to nothing about them.
The way the stories wrapped up this season or, more the point, DIDN'T wrap up, we can assume next season will pick up exactly where this one left off. There are a ton of questions that need answering and a very long time for us to wait.
So what do you think fans? Is this just a massive effort by HBO, the producers, George R.R. Martin and Kit Harington to simply toy with our emotions until next year?  Or is Jon really, truly dead? Leave a comment below or fire off a tweet and we can chat!