Roxanne Powell
Senior Content Editor
Once Upon a Time
will be able to register for an all-new fan experience. In an exclusive email from Mayor Regina Mills herself, PopWrapped got a first look at Storybrooke Live--and now we're sharing it with all of you!

Courtesy of townofstorybrooke.com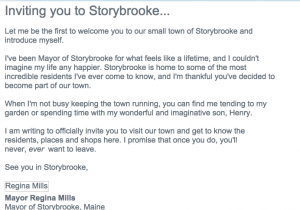 Courtesy of townofstorybrooke.com
Did you envy Emma her immersion in the fairytale world in the Season 3 finale? Once you're registered for Storybrooke Live, you will be able to create your very own pre- and post-curse personas, and start your journey from the Enchanted Forrest to Storybrooke, Maine! You'll be able to start from the very beginning, planting yourself in the middle of the action, whether it be to help everyone find their happily ever afters or not.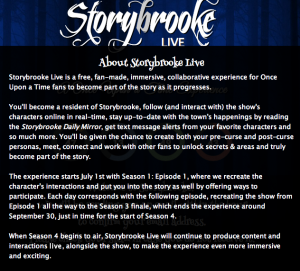 Courtesy of storybrookelive.com
Who needs Mr. Gold and his magic portals when you can make your own without leaving your room? Best of all, Storybrooke Live is free for fans--no deals involved! Become a resident of Storybrooke, eat food at Granny's alongside your favorite characters, befriend Red and Snow White, and even help a stubborn Emma Swan find her true destiny. Be prepared to give yourself plenty of time for the move! Storybrooke is a magical place, and once you cross the town line, you may never want to leave! So what are you waiting for? Head on over to
Storybrooke Live
, give your guest reservation to Granny, and prepare to live out your own fairytale!
Keep Up With PopWrapped On The Web!