Warning you now, Gracelanders! There are many spoilers ahead for Graceland: 03x13, "No Old Tigers."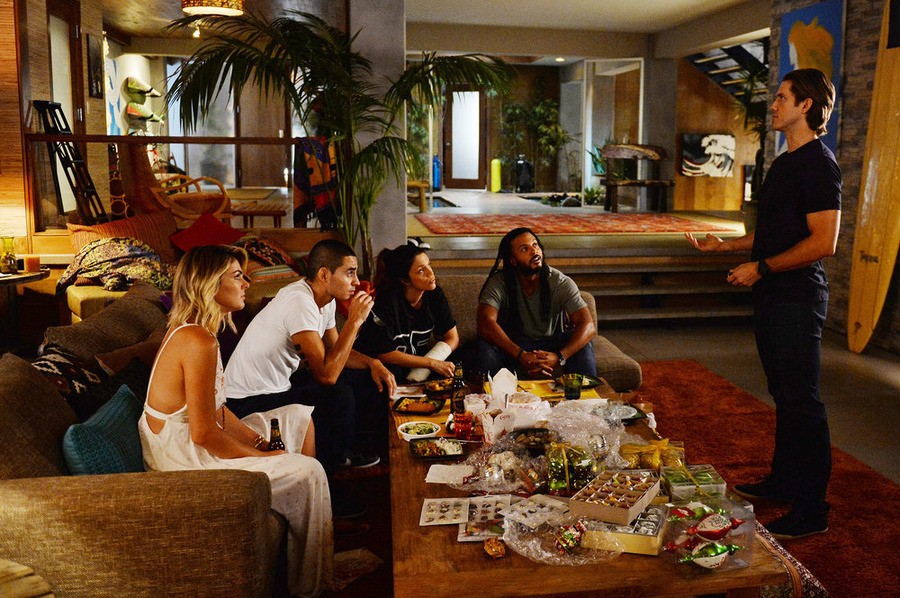 GRACELAND -- "No Old Tigers" Episode 313 -- Pictured: (l-r) Serinda Swan as Paige Arkin, Manny Montana as Joe "Johnny" Tuturro, Vanessa Ferlito as Charlie DeMarco, Brandon Jay McLaren as Dale "DJ" Jakes, Aaron Tveit as Mike Warren -- (Photo by: Jeff Daly/USA Network)
Did. That. Just. Happen?!?! Are you still crying? I don't even want to think about it. 
We all knew the season finale was going to be insane, but Jakes? Jakes?! "No Old Tigers" had nothing on Hector's Tacos because THIS shit was REAL!
Vanessa Ferlito, who plays FBI special agent Charlie DeMarco, shared with PopWrapped that when she first read the script, "a million things" were running through her mind. "What's going to happen to me? What's going on? How do you come back from that?Look at what happened with Paige," Ferlito said. "Yes, she's come back, but we don't know if that's ever going to come back to haunt her. That's just sitting on the back-burner for now."
Brandon Jay McLaren's performance in the finale was nothing short of stunning and Ferlito was ecstatic for audiences to see his work. "I really want the world to see what an amazing actor Brandon is," she said. "So I was loving the depth of the stuff that they were writing for his character. He was really getting to show his chops; I was really excited about that, but I was like 'How do you come back from this?' We don't know what's going to happen. In the episode before the finale, Briggs takes the money, but you don't really know what's going to happen. But I was shocked because Jakes is pretty much like, even though he's really crabby, he's a goody two-shoes. I mean, other than always paying back this debt with Briggs…he's pretty much—I just didn't expect it to be Jakes. But you know what? When you lose your family and everything falls apart, things change."
RECAP:
At the top of the episode, it's two weeks since "Dog Catches Car," and we see Dale Jakes (Brandon Jay McLaren) and Courtney Gallo (Annie Ilonzeh) in their gorgeous hotel suite in Miami. Apparently #TeamCakes is still going strong. I guess Courtney is supporting the packing of million dollars in cash into a sketchy black duffel bag?  Seriously, Jakes? What kind of lies are you telling her now.
Briggs (Daniel Sunjata) has his victorious, yet somewhat fabricated take-down of Martun Sarkissian (Peter Stormare) typed up into a perfect little binder, but Logan's not having any of it. Briggs turns the tables back on him with a very Briggs-like speech that results in Mike (Aaron Tveit) having the power over the HSI Report.
"This isn't about winning or losing, Mike. This is about keeping Martun Sarkissian off the streets," Briggs says. Is it though? Mike's not convinced by Briggs' efforts. Verifying that Mike had in fact, been investigating a keg of air for weeks, Briggs continues to convince his young prodigy. Thank you, Mike, for calling Briggs an asshole, but maybe Briggs is right? Maybe?
Jakes reveals to Paige (Serinda Swan), Johnny (Manny Montana) and Charlie (Vanessa Ferlito) that he's told Courtney he's a money launderer. Completely unaware that he's actually skimmed millions of dollars from the banking job, they agree to support his cover while meeting Courtney for the first time.  "Johnny, I need you to pretend that you're a criminal. Can you do that? Have you done that before?" Funny, Jakes. Funny.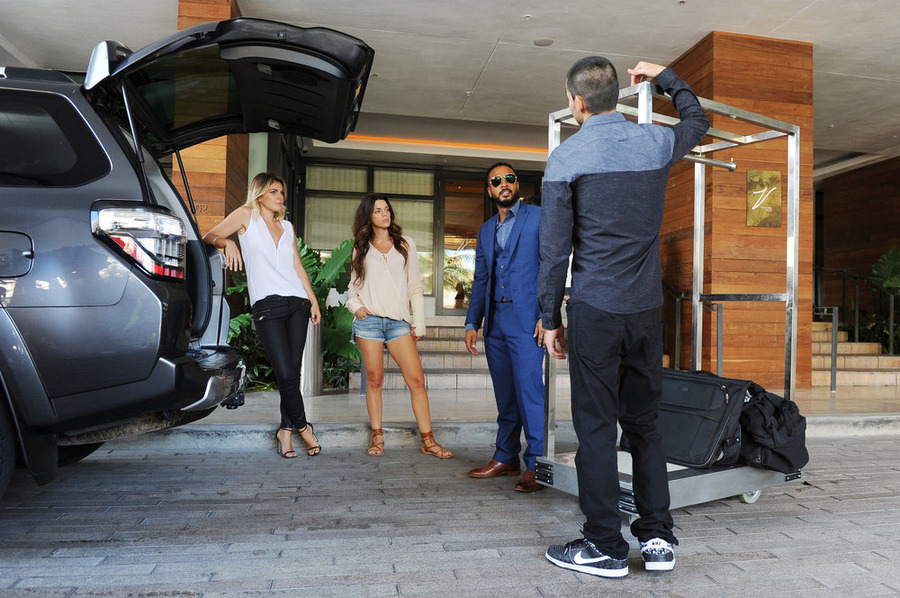 GRACELAND -- "No Old Tigers" Episode 313 -- Pictured: (l-r) Serinda Swan as Paige Arkin, Vanessa Ferlito as Charlie DeMarco, Brandon Jay McLaren as Dale "DJ" Jakes -- (Photo by: Jeff Daly/USA Network)
Jakes admits that Courtney is very important to him, and the agents buy into the brunch, leading to the reveal that it's Charlie's birthday. Outside of the hotel though, Johnny and the women question Jakes' motives with the lawyer, and the viewers see that he has the black duffel bag with him in California. 
The bag is promptly delivered to Briggs, and once again, the audience is hearing about this "debt" that Jakes owes. Knowing Briggs' intentions, Jakes tells him that he no longer has any respect for him as an agent nor as a friend. And so the unraveling of Jakes from his ties to the house begins. 
Mike breaks into Gusti's apartment, which has been torn apart by the FBI. Mike's giving us all the feels about how Gusti was used as a pawn this season, but I'm still hopeful that Mike will come to his Bali buddy's rescue.
What's up with the Christmas ornaments, Chuck? It's not winter, right? Mike said that Briggs taking the sarin gas in Santa Barbara happened in June so... just a collection of ornaments? A metaphor for a longing of some kind of family bonding? 
Mike isn't playing around and announces that he's not signing the report. But rather than reporting solely Briggs, he's intending on reporting events that would lead to trials for all six of them.
And that's when shit starts to hit the fan.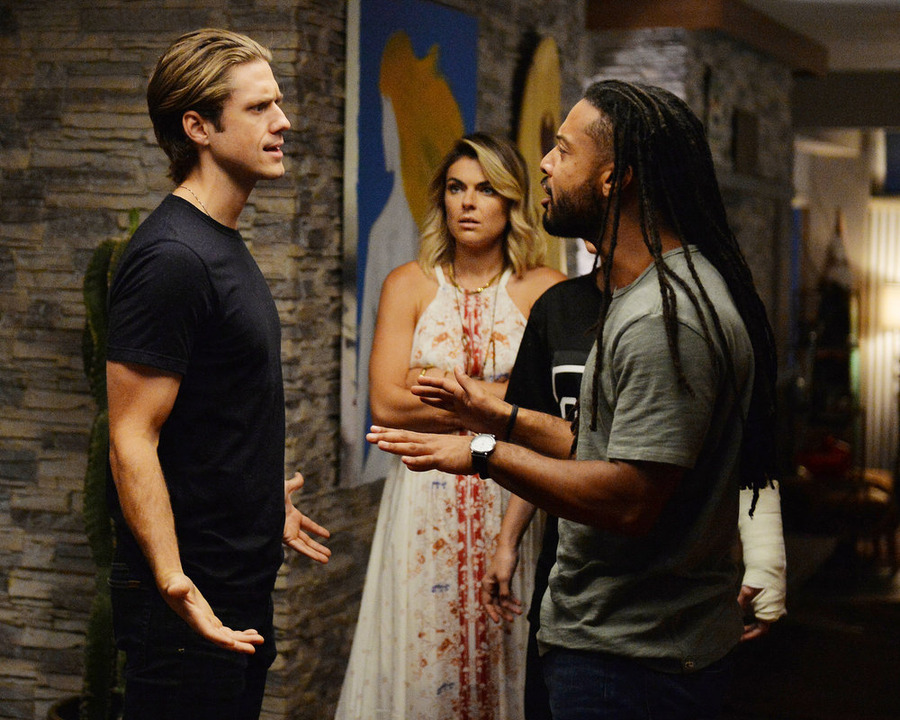 GRACELAND -- "No Old Tigers" Episode 313 -- Pictured: (l-r) Aaron Tveit as Mike Warren, Serinda Swan as Paige Arkin, Brandon Jay McLaren as Dale "DJ" Jakes -- (Photo by: Jeff Daly/USA Network)
Jakes once again makes it clear that Mike can report Briggs, but that he needs to leave out anything that points to the rest of the housemates. Does Charlie not know that Johnny shot Briggs?! Has she just not noticed that he's limping? Maybe Briggs fed her a line about being hurt while working with Ari? I would love to have seen what went down in those two weeks after she returned from Miami. Mike tells Jakes to lawyer up and Charlie's calling Mike out as well, but Paige (surprise, surprise) is being supportive of Mike's decision (#pike).
"We have to acknowledge that we are acting the same exact way as the criminals," Paige says to Johnny and Charlie. The argument ceases when Jakes shockingly drops the bag with $9 million dollars down onto the floor in front of them. He ventures into this stunning flashback about the debt that he owes Briggs, which turns out to be his murdering of a convicted sex offender who had moved next door to his son. Jakes mentions that he turned to alcohol when he was suffering through how to help his son, and I'm wondering if that's why we saw him fall back to alcohol last season after being denied visitation rights to see Daniel.  Jakes tells his housemates that he still doesn't know what Briggs did with the man's body and that he owes him the favor of keeping him out of prison. Jakes wants to split the money between the five of them and run, but Charlie's still in the dark, screaming about keeping the house together. It's Paige who halts the intensity and Jakes warns him that he will do what he needs to do to stay out of prison.
"Hey, guy..." Yes, Ari!! Oh, I'm going to miss him and his twisted comedic one-liners next season (#GLSeasonFour).
Ummmm... Jakes. What are you doing? Talk about a character transformation. Jakes has SHAVED his head?! I have to say that I dig it though. Courtney seems to be the one who had given him the idea, and they have a beautiful moment together discussing what they truly want: happiness and romance. Jakes asks Courtney to do "something really stupid" with him. Oh, this can't be good.
Briggs still has his cover with Ari Adamian (Rhys Coiro), and Ari knows that he's backed into a corner.  Ari calls Briggs out as a bad luck charm and a whispering snake, but Soto St. interrupts their date and chases them into an abandoned warehouse (because every epic shoot-out needs a quintessential warehouse scene, right?).  Somehow the humor continues as Ari curses his way through the halls and whines as he's shot. Can we get an Adamian & Guy spin-off please? Maybe a serialized cop show? A sitcom?
It turns out that Mike HAS signed the HSI Report and he presents a classic Warren speech to Logan about why he's done what Logan has asked. Mike calls Logan out as being the true villain, more so than Briggs, which is perhaps why he changed his mind about signing the "tidy lie." He has demands though, and we see Mike visit Gusti (Mahedi Rakib) in his holding cell. No one knows better than Mike how good Gusti/Vin's heart is, and -- he's there to break him out! Leaving Vin a backpack of cash and a US passport, he's presumably able to escape his conviction as a terrorist. And there they are: the 47 red birds. Briggs used Mikes' vulnerability as a pawn in his game of chess, but maybe the birds just needed more time before they were ready to appear as a sign of triumph. 
Still waiting for back-up, Ari and Briggs discuss what it's like to be at the end of your tether. "Tigers aren't meant to get old," Briggs says, but Ari's not feeling much like an old tiger. Upon hearing Paige's voice, Briggs creeps up out of the warehouse room with Ari on his heels.
Johnny's putting those symbolic Christmas decorations to good use for Charlie's birthday, which is apparently going down "Johnny-T style" aka, bounce house and strippers?
Jakes seems angered that Johnny's downstairs, standing in-between himself and the bag of cash, but tries to act cool and simply walk out with the money. Johnny's reaction to Jakes' new look is just priceless, but when Jakes starts to leave the room with the $9 million, Johnny gets confrontational. He doesn't want to have to chase down and arrest his best friend. 
Jakes is convinced that they're going to prison, even though Mike has in fact signed off on the HSI Report. Johnny tries to persuade him to see what he's leaving behind and that his relationship with Courtney will never work, just how his own relationship with Lucia was impossible. "I came out here to raise my kid," Jakes says. "I can't even see my kid. I don't have a good life out here; I've got no life." Damn, Jakes. Johnny tells him he won't let him out the door and Jakes pushes into him... and here we go.
Oh, this too much for my emotions. After a bout of wrestling like brothers, Johnny gets swung into the Christmas tree, destroying any kind of representation that the house was still united as a family. But then Jakes says it; he tells Johnny that he loves him, he always has and he always will. This bromance has been brewing since season 1, and watching the tears run down Jakes' face as he admits his brotherly love for Johnny was giving audiences all the feels. Johnny cries as he watches Jakes leave Graceland for the last time(??) and drops his head in defeat on the floor. Did anyone keep it together during this scene? How many tissues have you gone through so far? 
Charlie and Paige have in fact, come to save Briggs from Soto St. and Ari's desire to kill more of the Mexican gang members results in Briggs needing to shoot him, finally killing his cover. Paige twists Charlie's perception, telling her that they need to kill Ari to prevent him from challenging the statements given in the HSI Report, but Charlie is fuming, screaming that she refuses to cover up another murder. Her intensity with Briggs only gets her dismissed from the room, as Paige softly escorts her out upon hearing Briggs' command for them to go downstairs. 
I'm starting to doubt the brilliance that was #TeamCakes, because now they're running off together with the money. But, Jakes did leave the house for a stint last season when Mike returned, and no one seemed nearly as agitated and emotional about it as they do now. The tune of stealing $9 million dollars of laundered money makes this departure much more significant though... 
Finally. Ari knows that Briggs is an FBI agent. "I knew it from the moment I met you," he says. Ari tries to play the angle that he liked Briggs' company because Briggs is just like him, but Briggs is quick to correct him saying that he understands Ari, but isn't a raging psychopath. Touché, Briggs. He ties his speech back to the season's themes of karma and accountability, and Ari argues that he's born into his own life, but Briggs gets to choose it. Then for the first time since their initial meeting, Ari actually calls him "Paul," and jibes at him about being a bad actor. Seriously, who do I talk to about this spin-off?? It wouldn't be an Ari moment without him taking a smoke of his Dunston cigarettes. Wait!! Now, you use your right hand to light the match?! We see how it is, Ari...
Is anyone else not really wanting Briggs to kill him? Can we just exile him somewhere and keep all of his one-liners, please? Ari addresses himself as one of the "old tigers", and Briggs fatally shoots him in the head, prompting a beautiful final montage of the agents. 
Briggs, Paige and Charlie return to Graceland to find the boys (has Johnny not moved this whole time?) sitting next to the fallen Christmas tree, sunken and withdrawn. Mike explains (I'm assuming, because the dialogue is muted) that Jakes has taken the money and is on the run, prompting Charlie to comfort Johnny. 
The final scene of the season is a tableau shot of the five remaining housemates. Charlie is in a maternal role with Johnny's head on her shoulder. Briggs picks up the symbolic Christmas tree (did they go to the hospital? wasn't he just shot?) and sits to contemplate his roll as the king. Fans will undoubtedly notice that Mike and Paige are also standing as perfect opposites.
There are still huge secrets on hold: Paige's betrayal of Mike at the end of season 2; Johnny, Mike, & Paige holding Briggs hostage (and shooting him) during their investigation of the sarin gas; the rest of the house learning the truth about Charlie's pregnancy; Johnny confessing to the others that he shot Sid. To be honest, I'm starting to lose track of who knows what about whom around here. But unlike the end of season 2, the season 3 finale has opened up a HUGE amount of room for any kind of undercover magic to happen next season. #RedFolder #FindingJakes
We need season 4, Gracelanders! Was this your favorite season of the series?! Tell us in the comments below!