Unfortunately there are some enthusiasts of the macabre who can't differentiate between fantasy and reality. German news outlets have reported the corpse of Nosferatu director F.W. Murnau has been violated, with thieves stealing the head from his embalmed body.
The disturbing scenario occurred at the plot of Murnau's family at a cemetery in Stahnsdorf, Germany, near Berlin. Thieves opened Murnau's metal coffin to gain access to his corpse. The adjoining graves of his two brothers were untouched. Spiegel Online reports that authorities found wax residue near the desecrated grave, indicating the burning of candles. So far no other leads or potential suspects have been announced. It was also reported that Murnau's grave had been disturbed on prior occasions.
Murnau's vampire tale Nosferatu, loosely based on Bram Stoker's Dracula novel, is regarded as one of the most well-crafted horror movies all of time. The silent film has also influenced thousands of creative minds in the genre since its release in 1922. Murnau's complex romantic drama Sunrise: A Song Of Two Humans was also highly acclaimed, winning several Oscars at the first ever Academy Awards presentation in 1929.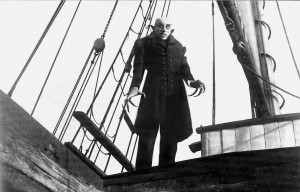 Courtesy of io9.com
Murnau died at the age of 42 from a car accident in California in 1931 and was buried in his home country of Germany.