Grease always seemed like such a happy movie. Just a bunch of teens dealing with their typical teenage problems through great songs and finding love along the way. But what if it wasn't as cheery as it appeared? What if the main character was dead?
This a fan conspiracy theory that's making waves on the Internet and making me actually want to give the smash hit movie a rewatch. It's from a Reddit thread dating three years ago, but only now has it made its way to the rest of the world and is raising some eyebrows. A Reddit user started it by thinking about the movie's ending where Sandy and Danny get in a red car that magically flies away. Even for a musical, that seemed weird. It didn't fit in with the rest of the movie, but it was the very last clip, so no one really cared too much. But these theorists wonder if the reason why that weird ending is there was that it's signaling Sandy waking up from a coma that she was apparently in the whole time, and Grease was all just a dream.
Weird, right? But there's more! Fans think that Sandy's coma came from almost drowning, as mentioned in the song "Summer Nights" when Danny sings "I saved her life / she nearly drowned," and she imagines Danny in her dream/coma because he was the one to try and resuscitate her. 
Fans tried to offer their own theories, with one user suggesting that Sandy kills herself at the end of the movie, as hinted at by the line "goodbye to Sandra Dee" at the end of Sandy's reprise of "Look At Me, I'm Sandra Dee," as well as the fact that the movie's happy ending seemed a little too perfect and sweet, just like Sandy would have liked; another user suggests Danny was the one to have drowned and dreamed the whole thing, and the beach setting was why her name was "Sandy".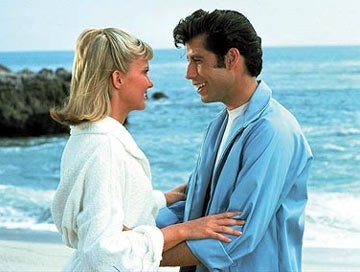 metrolyrics.com
Not everyone agreed with these ideas, though. Several Reddit users mentioned the fact that Grease had a sequel, and that the "it's all a dream" theory is a bit overused. Also, in Grease, the auto teacher says offhandedly about the car that, "if it was in any better condition, it would fly!" But that's the thing about theories, they're open to interpretation!
I surely won't be able to watch Grease the same way ever again, even if these are just crazy fan theories. Do you think there is any truth to these theories? Do you have your own weird Grease theory?