Dani Strehle
Senior Manager
distributing thousands of household products
including Tide, Gillette, Crest, Duracell and Pantene, among many, many others. Today, one of their many products is the
topic of protest
. P&G's headquarters, known as P&G Towers, is located in the heart of Downtown Cincinnati. But today, there are a couple of extra decorations hanging from the famous buildings: banners and protestors dressed up as tigers rappelling between the two spherical dwellings.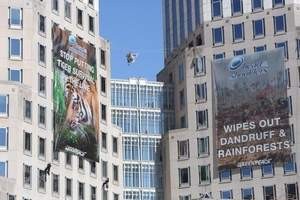 Courtesy of Amanda Rossman/Cincinnati Enquirer
Greenpeace is protesting P&G's business relationship with BW Plantation Group; a group that Green Peace claims is razing Indonesian rainforests with their irresponsible extraction techniques. Joao Talocchi, a Greenpeace palm oil campaigner, stated that "
P&G is buying palm oil linked to rainforest destruction, to make everyday  products like Head & Shoulders and Oil of Olay. Rainforest destruction is endangering species like the Sumatran tiger and orangutan. We should be able to wash away dandruff without wiping out tigers. P&G prides itself on being innovative. Yet companies like L'Oreal, Nestle and Unilever have already made strong commitments to prevent dirty palm oil getting into their products, leaving P&G trailing behind.
P&G vowed last week to investigate Greenpeace's claims further, with spokeswoman Lisa Popyk stating that, "P&G is committed to the sustainable sourcing of palm oil – We are working with our suppliers to ensure we deliver this commitment. We also agree that deforestation is a significant issue and take any allegation of impropriety by our suppliers very seriously." Stay tuned to PopWrapped in the event that any other jungle cats decide to dangle from the sky, or just for updates about these particular jungle cats.
Keep Up With PopWrapped On The Web!
http://www.PopWrapped.com
http://www.Twitter.com/PopWrapped
http://www.SoundCloud.com/PopWrapped
http://www.Popwrapped.Tumblr.com
http://www.Facebook.com/PopWrapped
http://www.Instagram.com/PopWrapped
http://www.Pinterest.com/PopWrapped
http://www.YouTube.com/PopWrapped